Every now and then we see something that gives us a glimpse of how the future is going to roll out. Arthur C. Clarke looked at a radio antenna and imagined that it would be a much more effective communications tool if it were floating in space at the same speed as the Earth; Robert Oppenheimer saw dark times ahead with the first nuclear detonation; but Jon Landau saw a much more rosy future for Rock n Roll when he first watched Bruce Springsteen take the stage with his E Street Band.
For me the iPod Touch, which came out a year or so before the iPhone, was a real game-changer. I'd heard a lot of ostentatious blah-blah previously about how phones were going to become some sort of super amazing combination of cellphone, Blackberry, landline and desktop computer – but it all just seemed like telco hot air. Everything at the time was big, clunky and ugly – until an early-adopter mate brought along his brand new iPod Touch to Pub Quiz and I instantly became an iBeliever. Even though you couldn't make a call on it yet, it didn't require too much imagination to see how this sleek new super user-friendly device would change everything. Forever.
An electrifying change
I felt exactly the same sense of excitement when I first test drove the all-new Battery Electric Lexus RZ 450e on the steep and twisty roads around the Queenstown district – I felt like I was experiencing more than just the cold winds off the Southern Alps, there were winds of change on my face too. This was an electric vehicle that wasn't just an option for the environmentally-conscious consumer keen to do their bit to help save the world – this felt like I was behind the wheel of MY car. Something I hadn't felt from any fully electric vehicle until now.
This is really good news because the truth is; electrified vehicles are about to replace internal combustion engine vehicles. Completely, and very soon. This is an unstoppable reality happening in a similar way to how digital cameras took over from film cameras a decade or so ago. It is simply due to the march of progress; better technology is here and now its progress has reached the point where it is overtaking the old.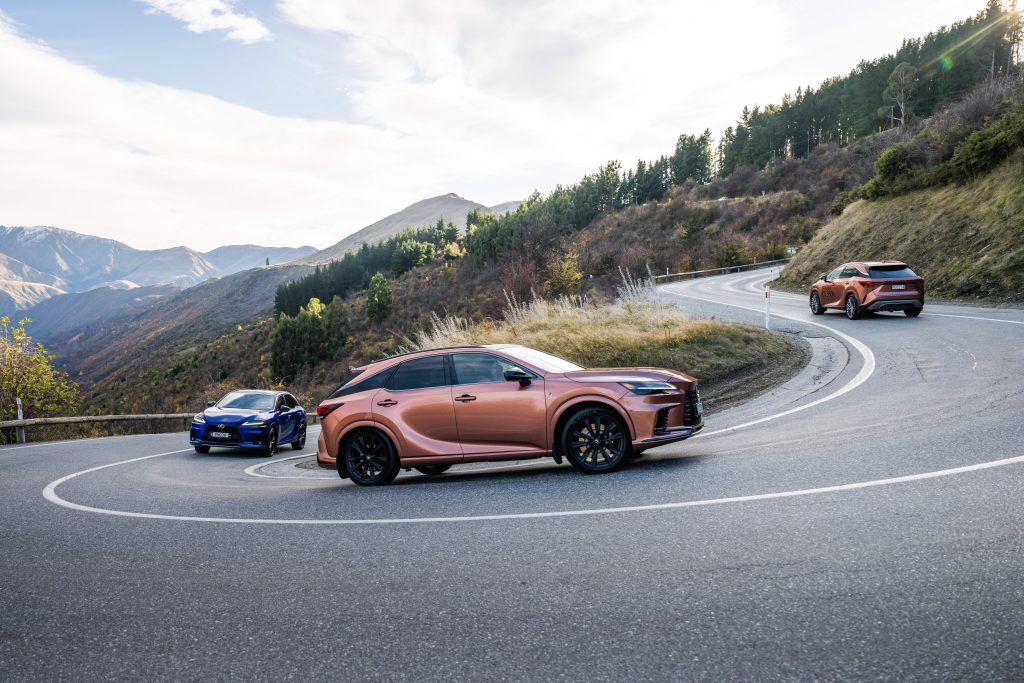 Why this change is happening
Of course, there is a lot more going on in the background with the automotive industry today than what the photography world ever went through in the Noughties. First and foremost, here is the ubiquitous issue of Climate Change. Right across the world it is becoming increasingly intolerable for the general public to accept any device or process that pollutes the Earth's atmosphere. And, because the burning of fossil fuels in internal combustion engines is imperfect, there are waste emissions of carbon dioxide and monoxide along with nitric oxides and unburnt hydrocarbons and even flecks of carbon. Sure, there have been great improvements in recent years in emission reduction but, with the worsening state of the Earth's health, this is no longer deemed to be enough. Real action is being demanded and, after decades of just 'tut-tut'-ing by governments across the world, they are now furiously enacting legislation to enforce this change. In New Zealand this takes the form of the Clean Car Discount; which is designed to enforce change by punishing purchases of vehicles with high emissions with fines – and rewarding the purchases of vehicles with little or no emissions with rebates. The message to car manufacturers is crystal clear; no emissions = good; and unlike hybrids, electrical powertrains have no emissions at all. You do the math.
The rise of new tech
But it isn't just about the environment, there are other factors at play here too. In case you hadn't noticed, technological progress is raging almost out of control across every aspect of our lives, most notably recently in AI, but it also features heavily within the automotive industry:
Obviously, the electrical powertrain of a Battery Electric Vehicle (BEV) is a major difference from a century of internal combustion engines which allows car manufacturers to rethink their vehicle interiors. For example, as a BEV has no need for a clutch, gearbox or drive shaft, this removes the need to intrude on cabin space to accommodate their bulk. Plus, as batteries have replaced the need for a large block of an internal combustion engine, they too can be placed in different formations to create more driving and/or efficiency-friendly weight shapes. Even the batteries themselves are likely to change in composition with today's lithium-ion variants not expected to remain the go-to solution forever. Already there has been experimentation with solid state batteries – like the ones used in pacemakers – in BEVs.
Then of course, there are the advances in autonomous driving we've all heard about, where our cars will be able to drive themselves. Part of this advance is in the field of 'connectivity', key to autonomous driving as it is about the ability of the vehicle to communicate with other vehicles, infrastructure, comms networks and even pedestrians out there on the road. This connectivity with other cars, bridges and traffic management systems could help to improve traffic jams, safety and even provide detailed case studies to help improve our in-car experience.
And these are just some of the tech-derived changes we know about now, let alone what the near future has in store!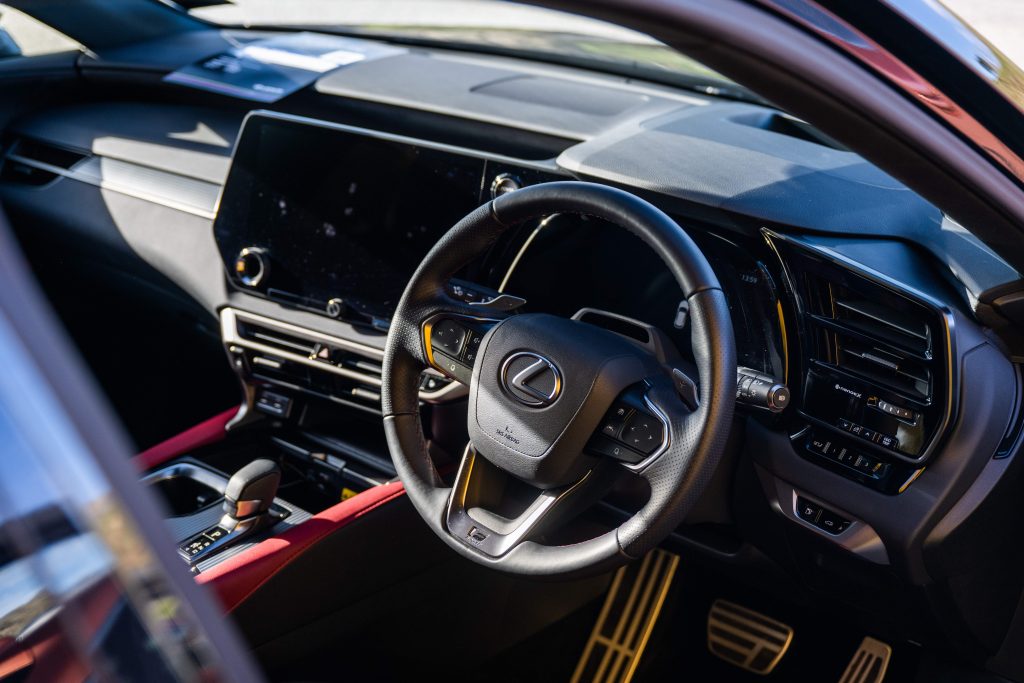 Beyond individual concerns
Woah, but cars talking to each other? How is that going to work? And how is that going to affect us as drivers?
These are good questions as we've spent the last century or so as individual units behind the wheel of our own cars, being responsible for our own safety – and being on full alert for the other homicidal fools on the road. It will be a massive change to suddenly become part of a driving 'society' where our vehicles are working together to eliminate danger and time-wasting gridlock snarls. Are we being forced to conform?
There are no easy answers to these questions so, rather than just guess, Lexus' parent company Toyota has decided to find out by creating two new facilities to test both the new tech in their cars and also how these advances will affect us as people.
The former is a purpose-built track at Shimoyama which also houses a host of engineers. The reasoning here was that this new tech is now coming out so fast that Lexus didn't have time to wait for a test track booking to trial it. So, by housing the engineers on their own track, they can download a new prototype into a test vehicle and trial it instantly – perfecting it as they go.
The latter takes the form of Toyota's Woven City, a 'living laboratory' of a town built from the ground up where new tech like autonomous vehicles, shared mobility, connectivity and AI are the norm rather than just theories or experiments. Here Lexus hopes to learn not only how to weave together all the tech they – and also that created by other scientists and companies from around the world – have developed, but how it all will work with us as individuals too.
The Lexus RZ 450e
So how does all of the above translate into the all-new battery electric Lexus RZ 450e? The first thing you notice on the outside, especially if you haven't driven electric cars before, is the grille. That spindle grille you've become used to seeing on the road – the most obvious signal the car you're looking at is a Lexus – has largely disappeared on the RZ. The outline is still there and is still unapologetically Lexus, but it's mostly smooth panel instead of black grille, as you don't need to cool down an electric motor the same as you do a combustion version.
It's a similar story inside where there is a lot more legroom than you're used to in an internal combustion engine vehicle due to the lack of a drive shaft. On the road there are no discernible gear changes when you accelerate as there are none, so the RZ 450e just accelerates smoothly and instantly. Powerfully too it must be added, and lot quicker than another similarly-sized petrol-powered car I drove the previous day! The weight of the flat raft of batteries at the base of the chassis give the RZ a low centre of gravity which helps it grip the road, and it needed to, given the ridiculously narrow and windy roads I was throwing it around in the hills above Queenstown.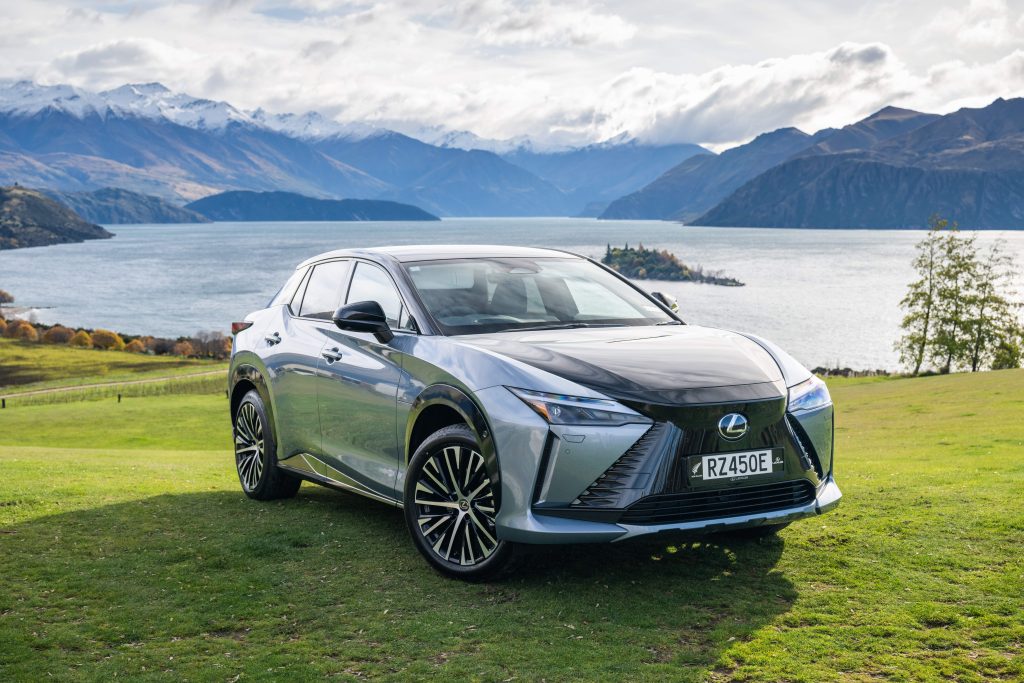 As the Lexus RZ 450e is the halo model of a luxury marque it also carries a lot of features that set it apart from the rest. As you might expect, these are pretty novel and futuristic-feeling such as the radiant heaters which project heat down onto your legs from under the instrument panel – very handy when in the deep south in winter! There is also a panoramic roof where the glass intercepts infrared radiation to keep the car cool in summer and warm in winter. It can also be instantly dimmed to block unwanted exterior light which is very cool! A beautifully crafted element is the shadow illumination which projects light onto the door panels in patterns that change with the external light outside the car. A truly remarkable safety feature is the driver monitor – this keeps a hawk-like vigil on your eyes and sounds an alarm beep if your eyes drift away from the road for any length of time. A truly jealous mistress!
All in all it was an impressive drive and one that has completely changed how I view electric vehicles and indeed, our shared future in motoring. The Lexus RZ 450e isn't just a new car, it's a sneak preview into the completely new attitude the world is beginning to take towards vehicles and how we drive. If this truly innovative product of Shimoyama and Woven City is any indication of the direction we're headed, then that is very good news indeed.
Discover Lexus RZ at lexus.co.nz