Okay, so we all know that the Cordis Hotel Auckland is one of the premier places to stay if you are looking for somewhere to stay in Auckland. But this isn't the only string to its bow. Not only is the new Pinnacle Tower and its art collection a destination in its own right, but Cordis Auckland is also home to more great food and beverage options under one roof than a Texas mall.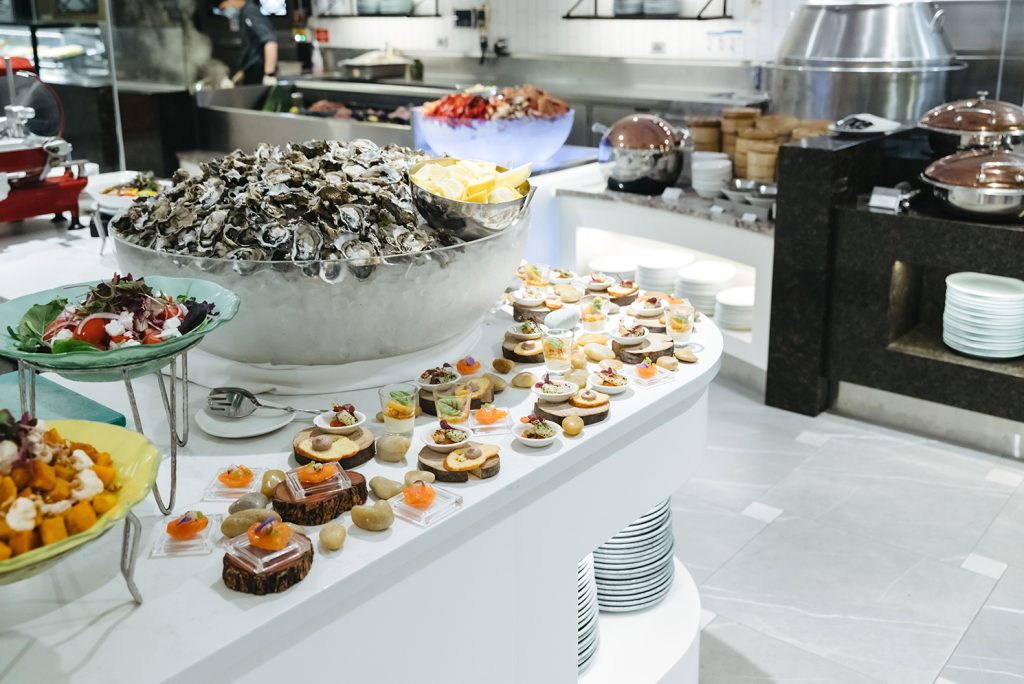 Number one on the list is Eight Restaurant. See what I did there? A bit of numerical order humour. Anyway, unlike my writing, Eight Restaurant is a sophisticated journey through a world of culinary styles and cultures courtesy of eight international kitchens that you can call on as often as you like during your dining experience. If big cuts of game meat are your thing, then Eight has you covered. If you prefer seafood and salad, all good. If you just want to skip the savoury stuff and spend all evening dunking bits of fruit and marshmallows in the chocolate fountains, no one is going to stop you. Except maybe for your wife, as in my case. 
You know those really poncy hole-in-the-wall style bars that you have to enter via a telephone booth while reciting a password that you heard from your brother-in-law's yoga instructor? Hmm, maybe that's just me. Anyway, Our Land Is Alive is not one of those pretentious bars, it is welcoming and comfortable, creative and irreverent. There is a real focus on quality local produce for food and local ingredients for an awesome range of cocktails. The result is just a lovely and literal taste of New Zealand across both the food and beverage elements. I recommend the Nah-yeah Meatballs: Pomegranate molasses and honey-glazed beef meatballs, potato gnocchi, oyster mushroom and the Karangahape Side Cocktail made from Lighthouse Gin, Lime Juice, Cucumber, Mint, Oleo Saccharum and Elemental Grapefruit and Hops Bitters.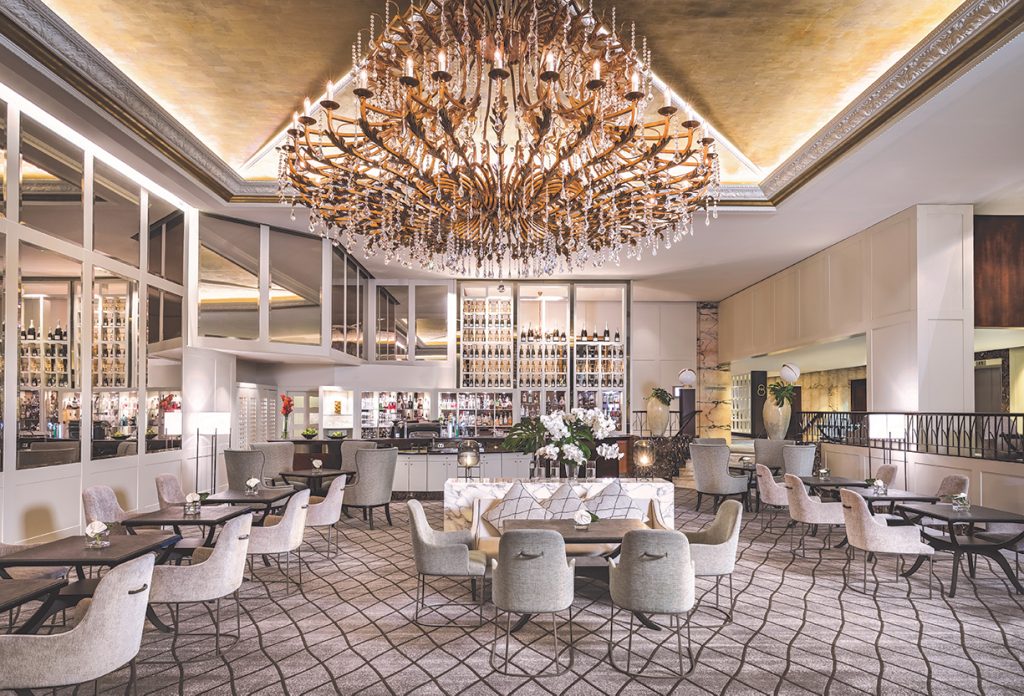 Just off-topic for a moment, but I think chandeliers have become very underrated in interior design. I think minimalist lighting designers and their bulk LED kits have a lot to answer for. Sure, chandeliers have a lot of extra bits and pieces, but there's a certain magic that they bring to a space. This is actually relevant to the Chandelier Lounge. Not only do they have a giant chandelier, but their approach to creating an experience for guests goes far beyond the basics into a detailed offering with all the frills. A wonderful example of this is their High Tea. An experience they describe as an autumn harvest. And a harvest it certainly is. This three-tier offering includes an array of sweet and savoury delights including carrot panna cotta with goat cheese crumble; classic salmon gravlax, gherkin marmalade, dill and sablé; and truffle brie tartlet, port wine glaze and hazelnuts, brûlée mousse cacao nib sponge; almond, mascarpone and roasted apple log and pumpkin St. Honoré. There are also delicate sandwiches and freshly made scones served with artisan jams and clotted cream. Yep, this might just be the chandelier of high teas. Over the top maybe, lots of frills and bits and pieces but stunning in its detail and grandness.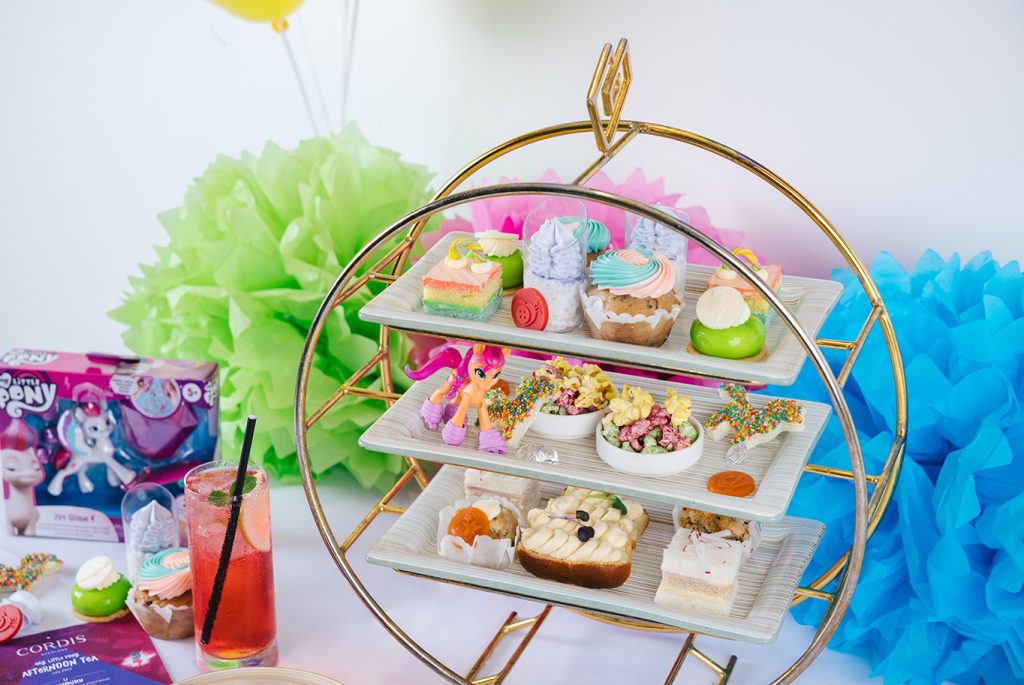 Okay, not exactly a food and beverage destination in its own right, but my 7-year-old daughter was so amped about this that I felt it deserved its own section. So if the aforementioned high tea sounds a bit adult for you or you have some kids that you would like to do something special for, I would highly recommend the awesome My Little Pony high tea. Somehow Cordis have partnered with Hasbro to create this offering and I can't imagine what kind of licensing negotiating was behind this, but I like to imagine a really long boardroom table and an array of middle-aged suited lawyers duelling out with a My Little Pony toy and a high tea in the middle of it all. Anyway, the result is a truly magical experience that had my daughter buzzing all week afterwards. And that wasn't just a sugar rush. Although maybe partly. Each element of the high tea is inspired by My Little Pony characters, including Pipp Petals' fairy bread, Izzy Moonbow's veggie popcorn, Pegasi milk roll with egg mousse, Sunny Starscout's berry flavoured cupcake with chocolate ganache, Cloudpuff's vanilla cake with buttercream and Zipp Storm's lime mousse dome.
The My Little Pony High Tea is available at the Chandelier Lounge from the 9th to the 24th of July 2022.
If you really want to raise the My Little Pony stakes a bit more there is also a My Little Pony High Tea Event to celebrate the new Netflix animated special, My Little Pony: Make Your Mark.
As well as the high tea, there will also be a My Little Pony watch party, an 'Always Better Together' storytelling session, a colouring in station, a pink chocolate dipping fountain and a Sing and Skate Sunny toy for each child to remember the day with.
The My Little Pony High Tea Event runs on the 16th and 17th of July 2022 at the Crystal Room, Cordis Auckland. Bookings are essential for both the High Tea and the My Little Pony event, phone 09 300 2924 or email [email protected]