Announced in July, G-Shock revealed a line of three new GM-B2100 shock-resistant watches. These are all a contemporary reinterpretation of the original G-Shock, the DW-5000C first released back in 1983. The new 2100 line is simpler, streamlined and light, everything the contemporary watch wearer looks for in their timepiece. It uses stainless steel across its case, bezel and band. Shock resistant design elements are squirrelled away in the form of buffering components made of fine resin. It wouldn't be a G-Shock without world class shock resistance, and in that regard the full metal structure spares no expense in creating a strong protective shell that looks good in the process.
Each metal piece on the body and band have different surface treatments; the bezel with a circular hairline finish, the band with a vertical hairline finish, and the rest with a beautiful mirror finish. I particularly love the strength of the design on the bezel with its full-metal construction which lends itself to an iconic solid and stylish look.
Looking back at the original DW-5000c, you can see how far G-shock has come as a watchmaker, and how much of its design language it's willing to bring with it into the future. DNA of the DW-5000c can be found in the 2100's metal strap, which has reproduced the dimpled structure of the original strap this time in fine metal.
Not many smartwatches have made it onto M2's watch guide this year, but the GM-B2100 line flies in easily with its Smartphone Link connectivity via Bluetooth, making alarms, countdown timer, world time and other functions easily accessible from the CASIO WATCHES app.
It's available in three colourways starting with the silver GM-B2100D with stainless steel gleam. Next there's the moody chic GM-B2100BD with black ion plating, and finally the bright copper GM-B2100GD. So something for every occasion.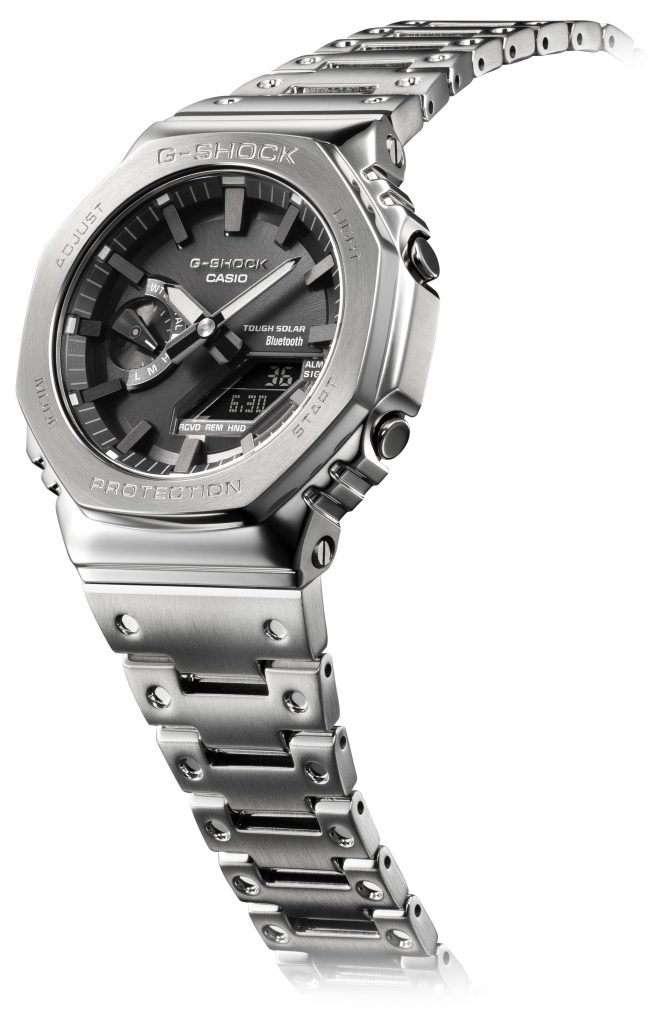 Find out more about the G-Shock GM-B2100 watches here.