In an age of automated production, there is something special and timeless about hand crafted processes, craftsmanship and techniques that have been passed down from generation to generation. These skills are painstaking, time intensive and harder to achieve at scale compared to machine-based processes, but there is a human touch and a connection to a legacy of skill that is impossible to replicate any other way. 
The Grand Seiko Elegance Collection is a testament on many levels to this concept and incorporates skills and knowledge that go back hundreds of years and even further back in the case of Kaga maki-e. Traditional Kaga maki-e lacquer craft techniques are an intrinsic part of Japanese culture and considered by many to be one of the most exquisite among traditional Japanese art forms. It is an art form that traces its roots back to the Nara Era of 710-794 and has been kept alive by generation after generation of artisans that have dedicated their lives to learning the craft. One of those is Mr. Isshu Tamura who is considered to be Japan's greatest maki-e and Urushi lacquer artisan and a leading expert in its fine techniques. The "GS" brand logo and hour markers of the Grand Seiko Elegance Collection models SBGK002 and SBGK004 were handcrafted by Mr. Tamura, who combined his original fine technique with a technique known as taka maki-e (or raised maki-e).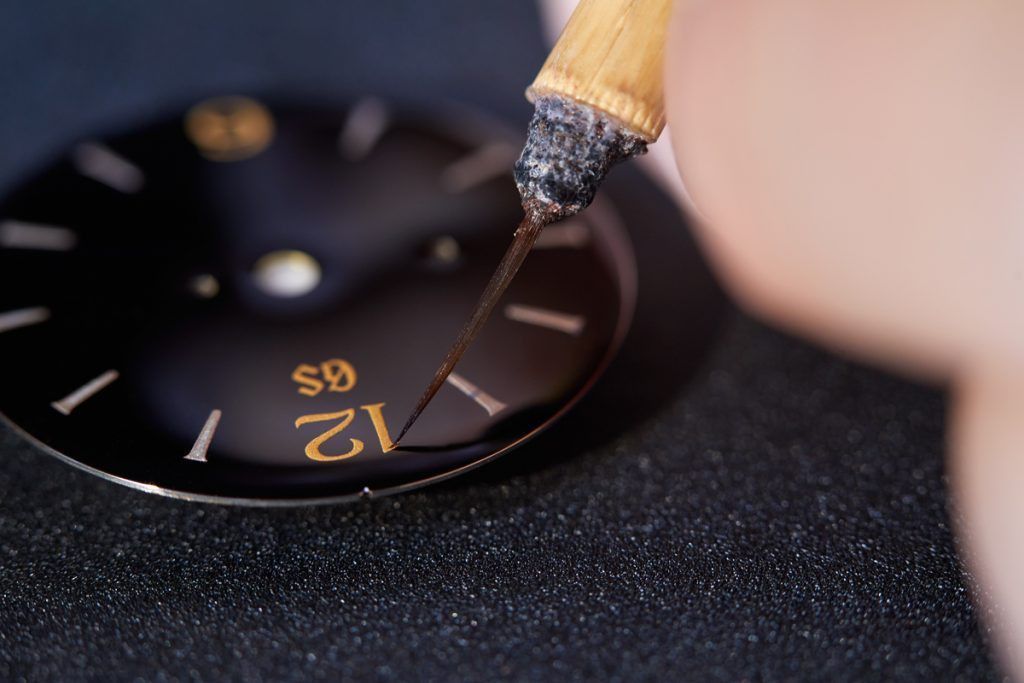 The designs for them were executed in an extremely sticky and resilient lacquer using a microscope at a magnification of 30 times. While the lacquer is setting, Mr. Tamura sprinkles gold powder on the 'GS' brand logo and the hour markers at the 12 and 6 o'clock positions, and platinum powder on the other hour markers. Since the gold and platinum powders sink a little when sprinkled on lacquer, he repeated the process, building them up after they sink until every last grain of powder stops sinking.
According to Mr. Tamura, drying here means "hardening through the catalysis of the laccase enzyme found in urushi tree sap." After hardening comes the process of polishing the maki-e surface sprinkled with gold and platinum powder. And this is no simple affair.
"Usually, I apply the mixture of rapeseed oil and polishing powder onto cotton to polish them, but with that method for watches, the contour of the sharp hour markers characteristic of Grand Seiko would crumble. This is why I polished all the sections where maki-e was applied using the fang of a sea bream. It is an ancient kintsugi (the Japanese traditional art of repairing pottery) tool, and there are only one or two fangs per sea bream that are of the ideal size for polishing the Grand Seiko maki-e dials. Using this fang, I polish slowly and deliberately so that the contour will not crumble—a unique style of finish I adopt. The resulting taka maki-e relief generates all manner of shadows depending on the angle from which you look at it, all the while maintaining legibility, and it will go on aging to shine in many diverse ways. I think that this is one of the charms unique to taka maki-e."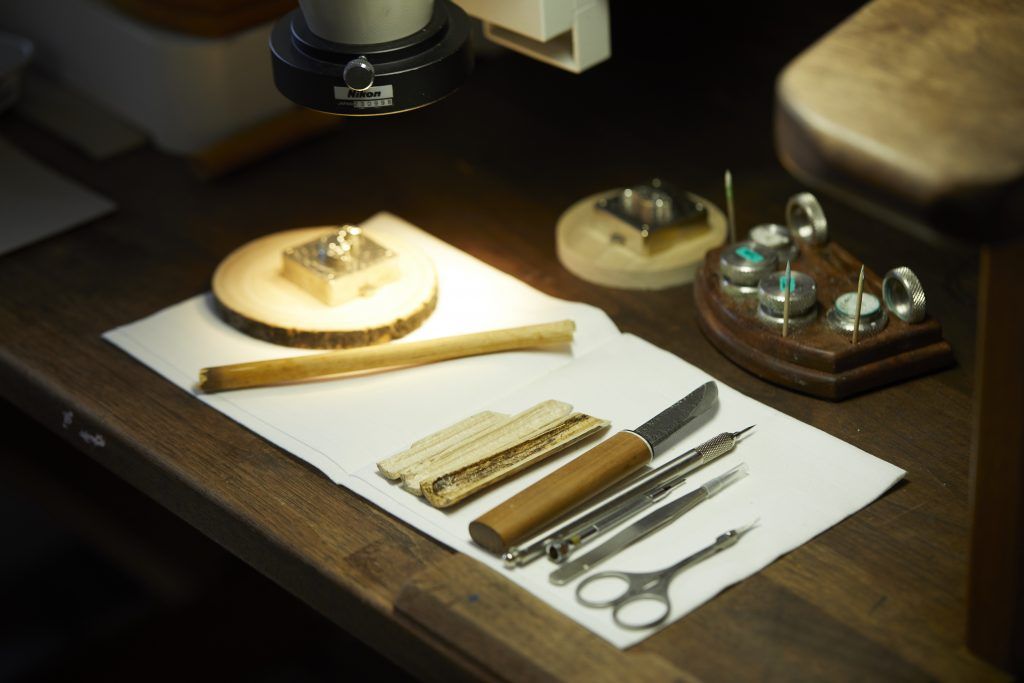 Underneath this exquisite and history-steeped face is another testament to the power of craftsmanship in the form of the manufacture. The studio's craftsmen oversee the design, manufacture, assembly, adjustment, inspection and shipment of critical mechanical watch components. With some 200 individual parts for each movement, Grand Seiko mechanical watches must exhibit a near-perfect consistency of functionality in each of these parts to ensure the precision of the final timepiece. Often these precise adjustments are made purely by hand to tolerances of up to one hundredth of a millimetre making each movement something special.
Mechanical watches in general have an element of generational legacy to them, but for Grand Seiko mechanical watches, this legacy goes back a thousand years.
Experience the handmade mastery of Grand Seiko for yourself in New Zealand at Partridge Jewellers in Newmarket and Wellington.
To read more about Grand Seiko, find out here how they are celebrating 60 years of the brand.