Drum roll, please… The highly anticipated 2023 BMW M2 is here and as well as having the coolest name in the industry it has a lot going for it. As the final petrol-only M car in BMW's lineup, the new M2 holds a special place in the hearts of motoring enthusiasts and thanks to a sneak peak courtesy of Auckland City BMW and East Auckland BMW we take a look the all-new 2023 BMW M2
Just sitting in the car park the M2 looks ready for action with its squared-off kidney grilles at the front and three lower square-shaped intakes. From the side, the M2 retains its athletic proportions reminiscent of its predecessor and the 1M coupe. Wider arches accommodate performance-oriented wheels, brakes, and suspension. At the rear, a kicked-up boot lid leads into large outer bumper pieces that are also square-shaped, housing a quad-exit exhaust beneath the rear diffuser. Two new paint colours, Zandvoort Blue and Toronto Red, make their debut on the 2023 M2.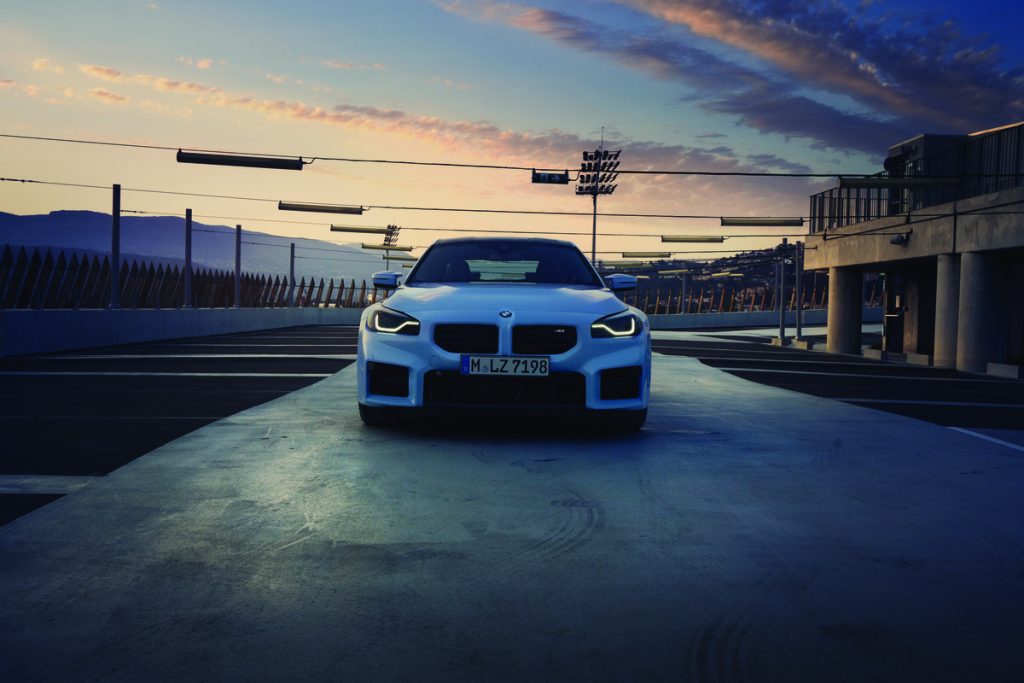 Under the hood, the 2023 BMW M2 boasts a 3.0-litre twin-turbocharged inline six-cylinder engine borrowed from the M3 and M4. This powerful engine produces 338 kW of power and 550 Nm of torque. You have the option to choose between an eight-speed automatic transmission or a six-speed manual, catering to driving purists.
With the automatic transmission, the M2 can sprint from 0-100 km/h in just 4.1 seconds, while the manual takes slightly longer at 4.3 seconds. The top speed is electronically limited to 250 km/h but can be increased to 285 km/h with the optional M Driver's Package. The new M2 also features M Traction Control, which allows drivers to select from ten stages of wheel slip limitation for a customised driving experience.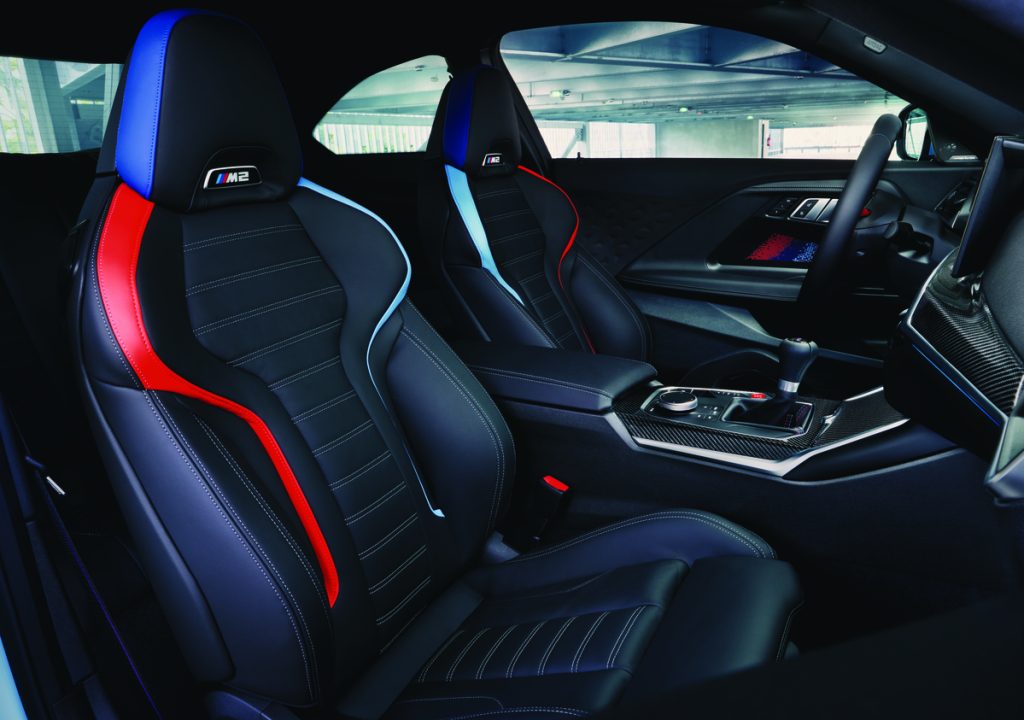 The 2023 BMW M2 boasts a nearly perfect 50:50 weight distribution and a short wheelbase, providing precise, controllable handling thanks to its stiff body and chassis structure. The M2's handling prowess is further enhanced by comfort and sport steering settings, adaptive suspension, and adjustable brake-pedal feel, all accessible via the on-board M set-up menu. The M2 rides on 19-inch alloy wheels at the front and 20-inch units at the rear, with the option to upgrade to track-specific tyres.
Inside you are greeted with M-specific readouts, controls, and set-up options, as well as a curved display. A 12.3-inch digital dashboard provides driver information, complete with shift lights. The central 14.9-inch display showcases vehicle set-up information, tyre condition, and a host of other performance-related readouts. An optional head-up display is also available. There is also a wealth of customisation options, allowing you to tailor the car's performance at the press of a button. The set-up button on the centre console provides direct access to engine, chassis, steering, braking, traction control, and gear shift assistant settings, with two set-ups storable on the steering wheel M buttons.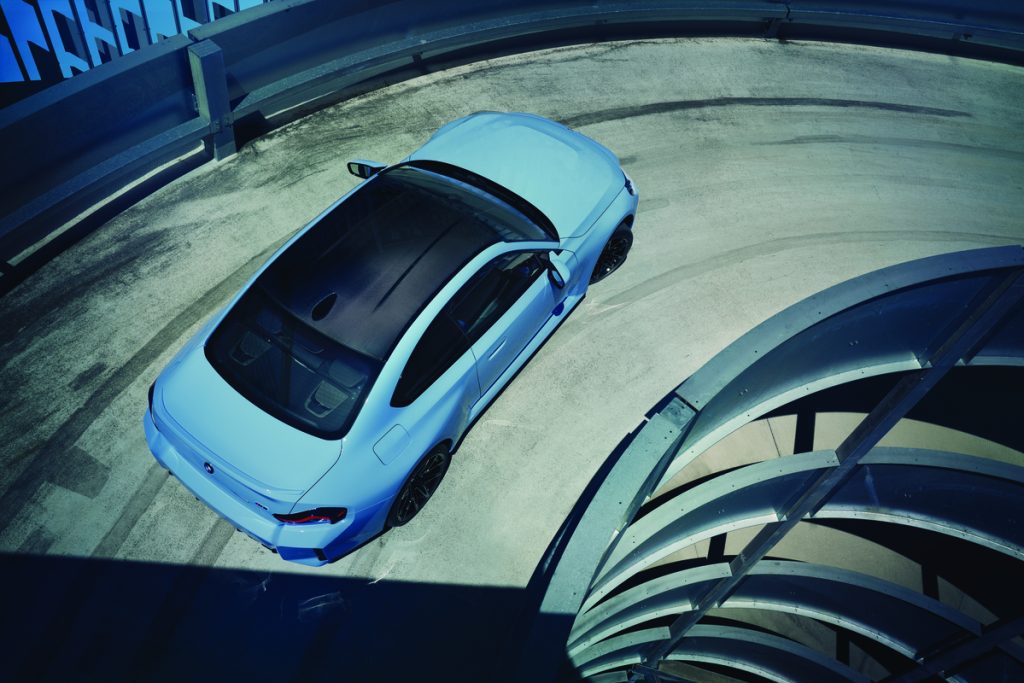 Entertainment and connectivity are taken care of with Apple CarPlay and Android Auto integration, supported by a 5G antenna for improved reception. The M2's cabin is adorned with sport seats for the driver and passenger, with the option to upgrade to M Sport or M Carbon bucket seats. Three-zone climate control, BMW's navigation system, ambient lighting, and a Hi-Fi speaker system are also included in the M2's luxurious interior.
In addition to its performance capabilities, the new M2 is equipped with a suite of safety features, including Front Collision Warning, Speed Limit Display with no-overtaking indicator, Lane Departure Warning, and Park Distance Control functions as standard.
Optional extras for the M2 include the M Race Track Package, which consists of the M Driver's Package, a carbon roof, carbon bucket seats, carbon fibre interior trim, and track tyres for those seeking an even more performance-oriented driving experience.
The 2023 BMW M2 really is a stunning sports coupe that blends performance, design, and innovative technology to create a stellar driving experience. With its powerful engine, driver-focused interior, and customisable performance features, the M2 is the perfect choice for driving enthusiasts and lives up to its name. Even if we say so ourselves.
Test drive the BMW M2 today at Auckland City BMW and East Auckland BMW.
East Auckland BMW, 8 Beale Place, East Tamaki, Auckland 2013
Auckland City BMW, 7 Great South Road. Epsom, Auckland 1051