2021 had two major plagues, both swept the globe and both made a very small handful of people uber rich. Now as we're on the tail end of both of them, everyone's playing catch-up.
2021 was a big year for NFT funding. In 2020, venture capitalists put just $145 million into the NFT scene. Last year, due to incredible hype around the technology, over $4.6 billion dollars in venture capital was poured into the field. Venture capitalists are banking on future advances in the field to bring in massive returns.
The Investments
In mid-March Yuga Labs, the parent company of Bored Yacht Club, announced a $450 million funding round, with the company valued at $4 billion. One of the gateways to the NFT scene, OpenSea, raised $300 million, with its own value hitting $13 billion.
These valuations are of course not based on current ecosystem of goods for sale, but rather what the technology applications may be able to achieve in the future.
The dream is that NFT's will be an inextricable component in a metaverse platform, also a major buzzword of 2021. Yuga Labs is using its funding round to bring on more creative and engineering teams to work on their projects, which also includes a metaverse platform called Otherside.
It's expected that the industry will be worth $35 billion by the end of the year, with it over doubling to $80 billion by 2025.
"We're paid to take risks and make bets on things we believe will have value in the future," says Jason Heltzer, managing partner at Origin Venture. "But I'm excited about this next phase of NFTs."
The Downturn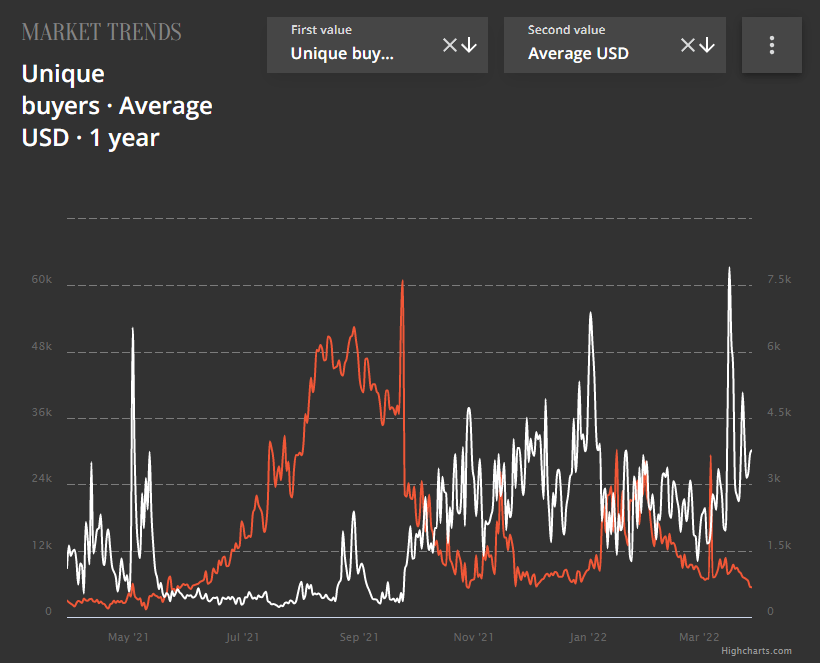 Others are less excited and the numbers might reflect why. Daily sales are plunging from a high in January of 922,832 unique buyers down to 464,190 in March according to data pulled from Cryptoslam. According to Coinmarketcap.com, the monthly market cap for NFTs has gone from $23 billion down now to just over $10 billion.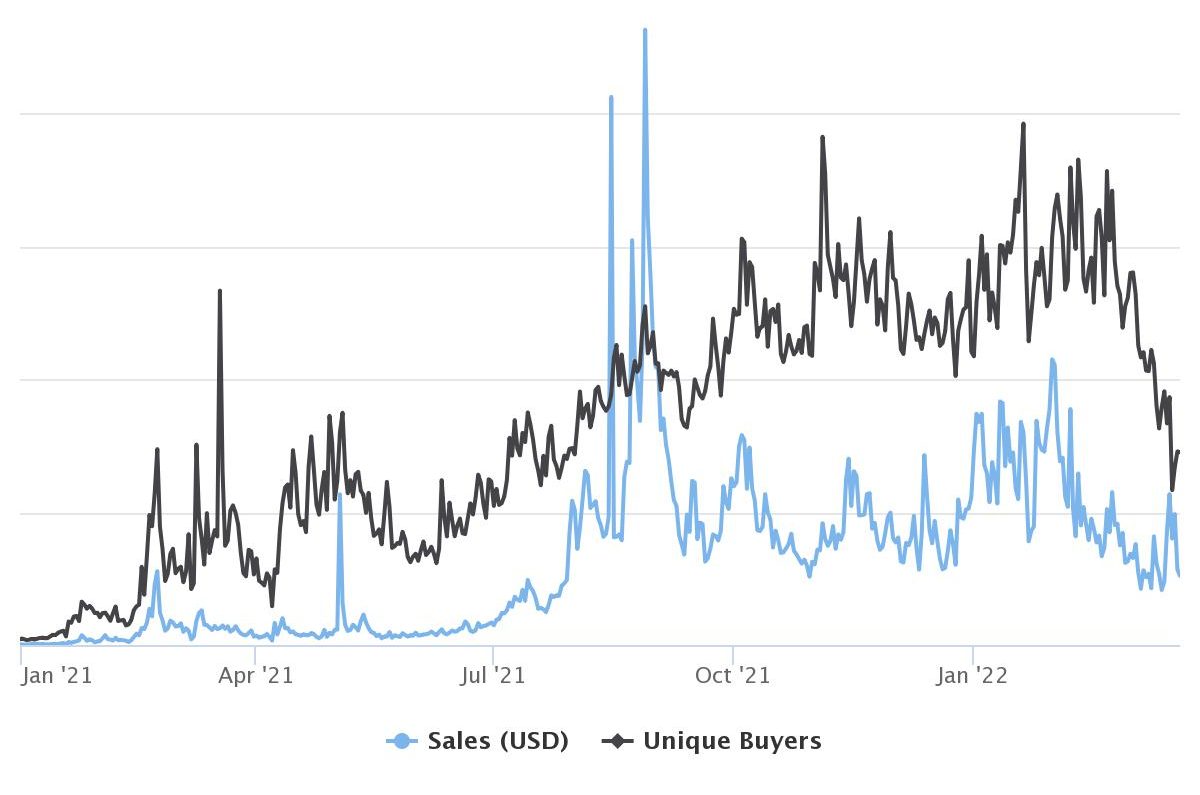 Some people are also citing numbers from Nonfungible.com comparing a 6.8k high in January of average sales being worth more than the average of March. Since those articles were written, a new high was achieved of $7.9k. It appears that sales figures are increasingly being held up by a few whales.
These numbers also track with interest as a whole. Google search queries match the graph above almost beat for beat. Crypto has always lived and died by its exposure, hence why those who have bought in have a vested evangelical interest in converting you to the way of the crypto. Without a Beeple sale in sight to generate more headlines, NFTs are in for a rough time. With that said, NFTs are attached to everything these days, even the crisis in Ukraine is cause for minting.

Fortune has pointed out that NFT holders have outperformed Bitcoin in general, but neither did very well against conventional holdings, underperforming the S&P 500, which has dipped 10.5% itself year to date.
But why the dip? Can we really make a call based on a two month trend?
This year has seen an easing of pandemic era stimulus and tensions abroad play a role in how people spend their money. The decline has possibly also been pushed by the invasion in Ukraine. Then of course there is the blowback in Russia causing a stir. Russian content creators online have started pushing their crypto wallets as a way to allow supporters to continue to give them donations as Paypal and credit card companies flee the country. This method may be closing as countries start looking at ways to close this loophole though. Japan announced that it would be doing just that, and America has very harsh words regarding the matter.
"What we want to make very clear to crypto exchanges, to financial institutions, to individuals, to anyone who may be in a position to help Russia take advantage and evade our sanctions: We will hold you accountable," Deputy U.S. Treasury Secretary Wally Adeyemo told CNBC.
The law is also becoming more savvy in dealing with crypto in general, which makes it less appealing to anyone who was hoping for a monetary wild west.
"Trading volumes are down in general, but the demand measured by the number of unique traders and sales count is increasing," said Pedro Herrera, senior data analyst at DappRadar to Bloomberg. "So while we're seeing less volume, there's more activity, even though Ukraine's conflict is definitely driving away the attention from trading."
Personally, I think we need to wait for more data before we can get out our shovels to bury this particular trend. NFTs have had more than its fair share of cynics and justifiably so. Two months out from an all time peak is just too soon to say. Often peaks like this can hit resistance before continuing to grow. If this was something we could reliably predict at this point, all the pundits would be writing from their private islands right now.