Since its genesis in 2013, Crimson Education has gone big, really big. It is the world's leading US/UK university admissions consulting company, it operates in 20 locations, supports students from 35 countries, reaches millions of students with its content and assistance, it is backed by the giants of investing and has the sort of board that would make most Fortune 500 companies envious. This kind of trajectory probably wasn't a tough bet for even the most conservative VCs when you consider the kind of drive behind the company. Its CEO and co-founder, Jamie Beaton, not only applied to the world's top 25 universities while at high school in New Zealand, but he was accepted into all of them including Harvard, Yale, Princeton, Stanford, Columbia and Cambridge. And as much as the story of Crimson is about its scale at present, it is also about the individual stories of the students who, with some support, can reshape their ambition and take a step on a pathway to create intergenerational opportunities.
And now with the launch of the Crimson Global Academy, the only fully Ministry of Education-registered private online high school in New Zealand, Jamie and his team are hitting that pathway earlier. We talk to Jamie about creating the future of education, a community that supports ambition, and the power of compounding yourself.
In the early days of our Covid response, New Zealand had a bit of a global spotlight shining on it. What's the sentiment now?
For some context, around two months ago, I landed in Manhattan, and here there's high vaccination rates and you can go out to any restaurant, any cinema, any theatre and show your vaccine card and your ID and that lets you get in. There is the expectation of wearing masks on public transport. But other than that, you basically have total freedom.
If you contrast that to New Zealand, it's almost dystopian in contrast. It's very surreal because for a long time, New Zealand was in this great position with no cases and then the world flipped and there's all these liberties taken away. It's particularly challenging. I've got a 91-year-old granddad who I'm very close with and every single year since I was little, I would have Christmas with him and my family. This year, it's very difficult to even get into the country, which is very sad and many more families have much more challenging situations than us.
I think in a nutshell, if you compare it to what's going on in other parts of the world, it does seem like our Covid management has not been so in line with global procedures lately. There's good reasons for some of that, but I do think it is a bit of a sad contrast for Kiwis.
At one point, we were the global safe haven for wealthy Silicon Valley investors buying bunkers in Queenstown, but it seems to have shifted. What does that mean for how we navigate the next few years, and are there things that we should be aware of?
Covid or not, a high-performance society tends to have a couple of characteristics. It's got a great sense of community, great tolerance for individual liberties, a rocking education, and compelling career opportunities. I think what's really exciting about the last little while is that New Zealand companies and entrepreneurs have been able to attract capital on the world stage and take their ideas to global markets very quickly. We should continue to embrace it.
Where I think there are more concerns would be around the quality of our local education system compared to global standards. We struggle in math and English and we've seen some of our local universities falling in rankings recently. It's so critical that our young people can be globally competitive.
A very specific example I'll give you is one of our alumni is a boy who went to Hamilton Boys' High School, a good NCEA school in Hamilton. When he was 15, he had no exposure to computer science in his school. We taught him computer science and a lot of extra subjects outside of school; international A-level curriculum. Fast forward, he was Dux and Head Boy and got into Harvard, Stanford, and a bunch of other Ivy League schools. And then just recently he's launched his own company in Silicon Valley, raising some fantastic funding. That's a good example of where education done powerfully can actually equip you to that globally impactful career.
For a long time, Kiwis have been a bit nervous about the idea of our young, talented individuals going offshore. However, many of them want to come back and just build the calibre of our people on the world stage. It means that in the future, we've got stronger leaders that could come into government with global perspectives. We've got international business leaders with real experience.
Kiwis are really proud of this country, but I do think, having that more global mindset and doubling down on our education system, is critical for that next chapter. That will end up attracting great companies to come here.
Recently, we saw Google open up shop in New Zealand. If we've got better computer science education, they'll make even more hires, even more investment in the country. It's a very rosy future for New Zealand, but there are things we can do to make it even stronger.
With this concept of a high-performing community and the attributes that you talk about, how much of that is attitudinal? Do we need to look at how we, as a community, can celebrate success and drive that ambition in our young people?
For sure. Your performance as a young person is often a function of who you surround yourself with, the kind of influences you're getting at home, at schools, from your friends. The more we can make those really impactful relationships, the more we can connect our young Kiwis to fantastic mentors that can unlock that path of success.
I think about one of our young Māori scholars, Sam Taylor. We gave him a lot of different mentoring and support and now he's at Harvard and he's on a fantastic financial aid program there. He's a good example of somebody that was surrounded throughout his journey, through high school, with many different types of mentors that really enabled him to aim super high. Not just to get into university, which is also a very respectable goal, but aiming for the world's best universities. From the age of 14, being very intentional about pursuing different academics, extracurriculars, leadership roles to build his profile and experience for the world stage.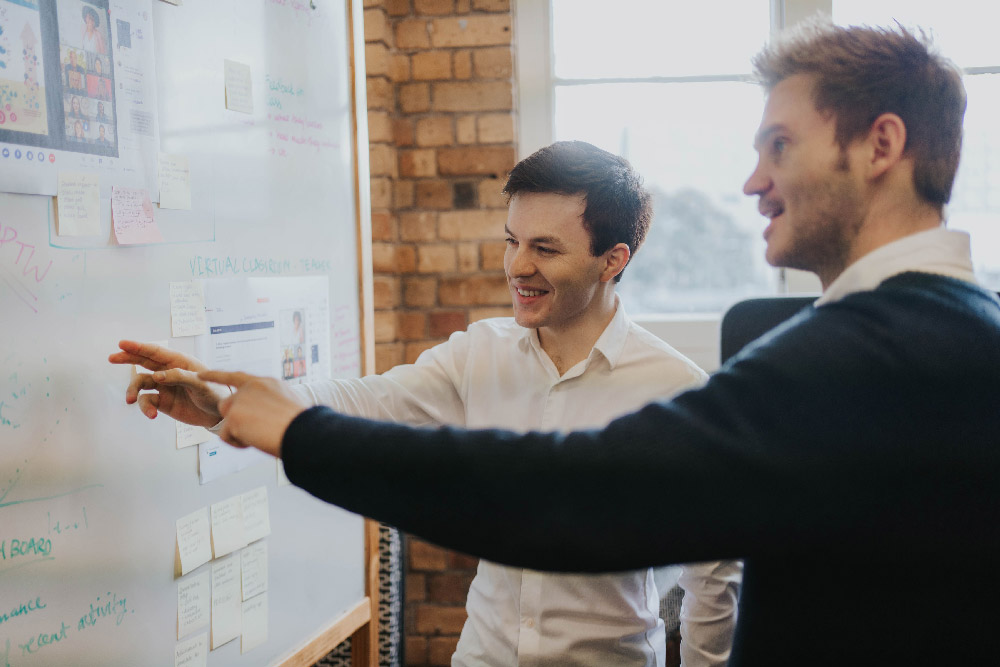 It's so important that we normalise ambition amongst young Kiwis, we normalise competing on the world stage and we're not afraid to embrace that. I do think New Zealand is a place where if you take a different path as a young person in high school, you'd get teased by your buddies. It's obviously fine on a one-off basis, but at an aggregate level, it suffocates some of the ambition that I see many of these Crimson kids who are ambitious outliers.
We do want to encourage that global positive ambitious culture. Potentially America takes it a bit too far, but I think I'd rather move closer to there as far as being bold and ambitious and being confident to sell yourself, than being too understated and settling for modest ambitions.
How do you think we start to cultivate more of that? As a broader community, and even as parents, what are some of the things that we can do to minimise some of that friction along the way and celebrate ambition?
I'll give you a really simple example of what we're trying to do with Crimson Global Academy. Most students, the major mentors they have outside of their parents are going to be their teachers and teachers obviously do a brilliant job across New Zealand. But the level of experience and career insights teachers have varies enormously. Many of these expanding fields, such as artificial intelligence, robotics and biotechnology, are really outside of the scope of many of our traditional educators in New Zealand.
One of the initial things you can do is surround young people with mentors that have that global context of international training and experience and can offer perspective into the wide world and many different fields you can pursue.
A simple example with me is when I went through high school, I never considered taking computer science a single time. Even though I was strong at math, no one taught me about careers with technology or data science, artificial intelligence. I knew nothing about this. It wasn't until I landed in the States at Harvard that I saw these kids from Silicon Valley who had been doing computer science since the age of 12. Even though I was an ambitious and curious person, I'd never been exposed to that.
I think the first thing is making sure that through online channels, whether it be through our online high school or many other great platforms that exist, we expose young Kiwis to talented mentors that can crack open those ambitions and help them see what those paths look like. Some of the most impactful moments I had was meeting this mentor of mine, Ben. He was 18 when I was 14, and he got into Yale. He went off to work for a hedge fund and when he described to me the world he was entering, it was totally foreign to what I'd been experiencing and made me aim a lot higher in my own life.
It's all about digital access to fantastic mentors, both for career insights, but also teachers that can push you to be the best version of yourself. The last thing that I'll just chuck in there is about removing artificial barriers to progress. In traditional schools, you have to move through school based on your age, not your ability. For example, many of my young people across the country at Crimson, our younger students, they're really strong in math, but they're artificially constrained to only go one year ahead. The problem with this is New Zealand is not one of the leading countries in the world with math education. If you're a good student and you're actually kept to only be one year ahead of your peers in New Zealand for math, but you could be 3, 4, 5 years ahead, that's a real waste of your potential because you can be on a lot faster. Kids will get bored in class if they're not stimulated and challenged.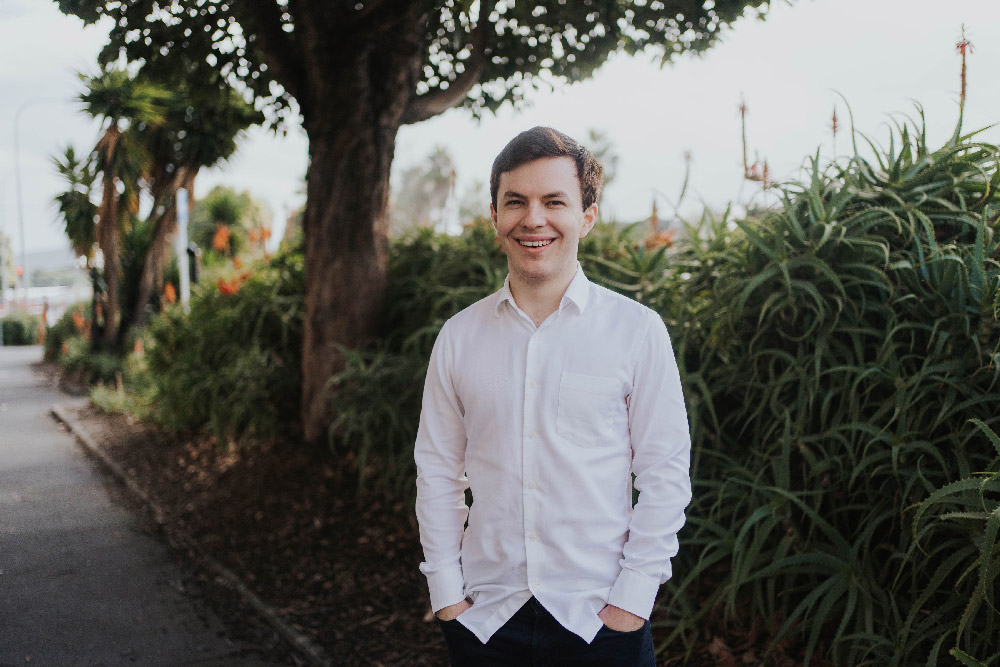 The more we can move from an age-based model of learning to a competency-based model of learning, where you can go through each subject at the pace you want to, maybe you can go slower in English if you don't like that, or faster in economics if you're really excited about that. That unlocks that personalised experience and it can help kids really compete on the world stage.
One of my young boys from Shanghai, his name's Andrew and he just got into Harvard in September. He's now studying there at the moment. When he was 16, he was taking the same math that I did at Harvard when I was 21. Math is one of my better subjects, but that's an example of just how radically advanced some of these countries are in terms of their math standards. We don't need to be competing like Shanghai, but I do think we do need to pull our socks up and aim globally with the ambitions for our young people's education.
I want to go back to that moment when you're talking to Ben and he was describing this experience at Yale which seemed so foreign to what you had experienced up to that point. What were some of the triggers within that, the catalyst that made you broaden your horizon?
Growing up, my family always really valued education and my mum actually put her degrees on the wall of my bedrooms. Every day I'd wake up and I'd see her law degree and her MBA and her commerce degree and her chartered accounting qualification. I got the message that I had to push hard academically, because that was this empowering path forwards. For my mum and I, what that meant was maybe going to Auckland University, maybe doing medical school, maybe doing law school; one of these professions that are quite academically challenging.
For many years, that was the ambition. I never thought about what it took to even get into these foreign universities that I heard about in movies, like Harvard. When I spoke to Ben, he was the Dux of our school; a goal that I also had. He said, 'Hey Jamie, you don't need to just look at local opportunities. You should be thinking about Cambridge, thinking about Yale, thinking about Harvard. Here's what the process looks like. You should really give it a go'. That really shifted my ambition dramatically and it meant that throughout those four years of high school, I was holding myself to a much higher standard. I was taking extracurriculars that were out of my wheelhouse, like theatre or launching a Young Enterprise team, which helped me discover my passion for business.
In a nutshell, it was his elevation of ambition and showing me through his personal examples of success, getting into Yale, that a Kiwi person from a Kiwi school could do this. That changed the game for me. From there, I came back really bursting with excitement, told my family about this, and it really became the new goal. We started to think about what I could do to improve my academics, what other things could take me on that path.
When mentors theoretically talk about pathways, young people can become quite disengaged. But when a young person is introduced to somebody who's only four or five, six years older than them, and they've gone from a similar background to one of these awesome environments and now they're thriving in an awesome career, that levels up their ambition.
When you're talking about this ambition gateway that Ben provided you and you're now doing the same thing now on scale for others, is that part of the same trajectory? Does it become this exponential momentum?
Totally. There's a well-known Silicon Valley entrepreneur called Sam Altman and he talks about the importance of compounding yourself. In the same way, you'd compound interest in a bank account, compounding yourself is about systematically improving your academic skills in different areas, building extracurricular skills, building skills like communication or leadership, or public speaking. Every year, looking back in the mirror and being able to get tangible improvement, getting faster and faster, more effective.
Ambition and then going step by step in a way that compounds your potential is critical. Functionally, what that looked like for me was, when I was in my first year at King's I thought, 'Okay, I'll do my four subjects, my four A levels, that's the norm to get into the local universities'. I ended up finishing ten and over the course of the tenure I just kept adding more and more subjects. I use those to discover fields like economics, that I loved; that became my major at Harvard. That's a good example where hearing that there was actually a purpose to going deeper, going harder, really motivates you to push.
I think young people need a combination of intrinsic and extrinsic motivation. I wasn't just doing this to try and get into Harvard, but I wouldn't put in all of this effort if there wasn't a clear impact on my future that I could see and tangibly connect. Giving young people these opportunities where they can find authentic passion, and then push towards quite a structured goal, really unlocks that.
King's is obviously a privileged school, and there were kids who wanted to create businesses in the future, but they genuinely didn't understand how studying at high school played any role in that. They saw these things as almost completely unrelated worlds where they don't need these skills; they're going to be a businessman.
What I've actually seen over the last four to eight years is that if you go down a rigorous academic path, you build skills in math, English, communication, accounting, economics, finance, computer science, data science, etc; you can go out there today and you can raise millions of dollars as a young person. You know you can play a massive role in a great organisation. You can understand more aspects of the business world and be able to compete there and have more industries that you can enter.
I think for many young people that aspire to go into business, if they saw the connection between your academics and then the world stage and what that does for them, they'd be much more motivated. But without that context, school seems boring and mundane.
For a while there as well, there was almost a glorification of the Ivy League dropout who then goes on to create a Unicorn.
Take the most famous examples of dropouts. A good example would be Bill Gates and Mark Zuckerberg; both of these guys went to Harvard and then dropped out to build their transformative companies.
We've actually studied at Crimson, all of the Y Combinator founders that have created unicorns, $1 billion-plus private companies, and many of the characteristics that define them. In general, there's a big difference between say Mark Zuckerberg getting into a place like Harvard and then dropping out, and somebody just dropping out in general, because that means throughout high school, they put themselves through this really rigorous academic path. They're often top of their class, they had many different activities. They've got this well-rounded skillset, then they're able to get in and then compete for a number of years at Harvard effectively, and then go build their company. That's a very different person on average and that says a lot about different entrepreneur characteristics than if you, for example, didn't apply to university in the first place.
In our data, a lot of these unicorn founders, first of all, have degrees. They often have master's degrees, as well as undergrad degrees from great institutions. The dropout people that then hit the unicorns, that's a very small minority of cases. It's very dangerous for young people to look at the example of Bill Gates and then interpret that as, 'Oh, this means I don't need to go to university'. Because going to that institution meant that he could tap into investors, employees, for example. He hired Steve Ballmer from his Economics 2010 class, a class that I also took, which was pretty cool. They achieved number one and two at Harvard in that class, so he was working ferociously hard at Harvard, meeting classmates who became his early Microsoft co-founders that helped to build the whole story.
I think this dropout mentality is dangerous. Young people don't often realise many of these connections actually were behind the scenes for these entrepreneurial heroes. Take Elon Musk, he went through all his degrees, or Jeff Bezos, he did his Princeton degree then did some training at an advanced hedge fund called D. E. Shaw.
What are some of the other traits you discovered when you looked through that list?
What I was primarily looking to identify was what are the traits that define young founders who can be successful. Because we now have a whole cohort of alumni that have gone through our training, have gotten into these top schools and are graduating and looking to create companies. We've already made some investments in some of these young people that have launched these companies.
Now, some of the traits that typically define effectiveness at this age would be grit and resilience. Building one of these companies necessitates a huge amount of failure and rejection and this needs to have a thick skin. A lot of young people who've been successful up to say a certain point academically in life, they often haven't experienced that much failure, but actually being an entrepreneur is about daily, systematic failure, rejection, employees rejecting you, investors rejecting you, clients rejecting you, all kinds of different phases of rejection. That grit and resilience is quite critical.
A lot of those founders are from international backgrounds because often the journey of going from a place like say New Zealand or Australia to these institutions to Silicon Valley, that's a big risk in itself. That's doing something quite outlier and deviating from the herd and in a meaningful way. That's quite a powerful signal as well.
From an academic lens, a lot of these founders, over 70%, have a STEM academic background; science, tech, engineering, or math. Particularly those with a computer science or math background, they tend to have a bit of an advantage because if you have that math background, you can often understand financing more effectively. You can often play a leading role in building the product that you're going to create in your company. The Stripe co-founders, for example, built their own product in their earlier days as Harvard and MIT computer scientists.
The academic background in STEM would be one. And then some self-awareness combined with soaking up knowledge. The thing that makes some of these young people very effective, like that boy Sam from Hamilton, is that he soaks up knowledge. If you give him advice, if you give him an insight, he doesn't just blindly accept it but he hoovers it up and he's really open to asking questions and taking on feedback.
A lot of these young entrepreneurs, they've got no idea when they start, but what you're betting on is this rapid rate of learning, of skill acquisition, of not making the same mistake twice. That's where that academic learning agility can be very powerful.
There are a couple of traits that I would say are quite systematic in some of these outlier success cases that I've seen in our alumni and in Silicon Valley.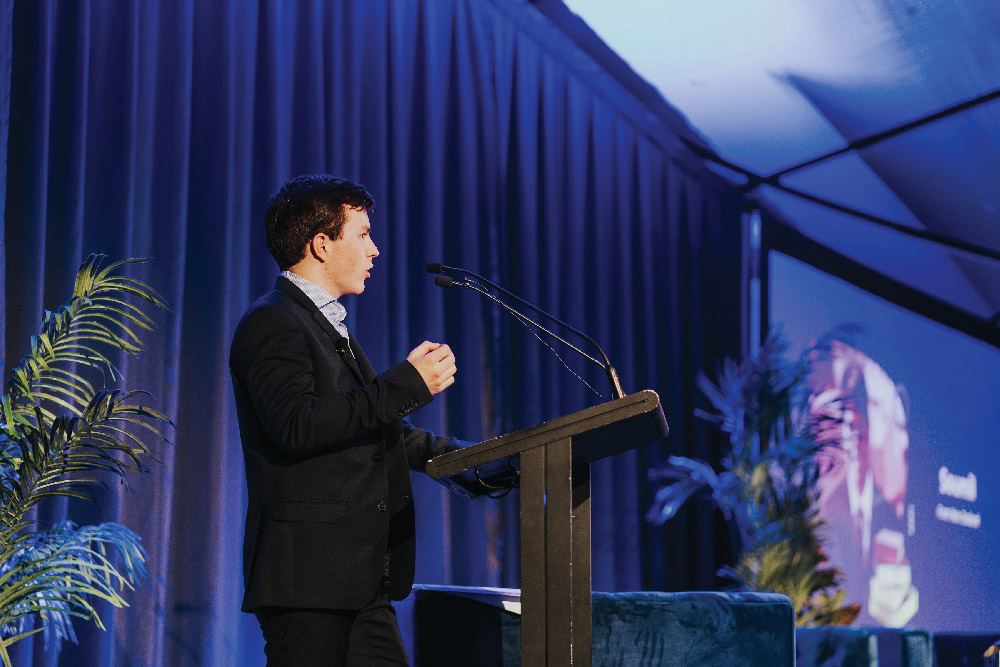 That self-awareness when you're going through these traits, what are you seeing in yourself?
Great question. First of all, I started with very few of these traits. The first thing is leadership. Leadership was not my strength in high school. I wasn't a particularly senior leader in my school, I wasn't prefect or anything like that. I had some different entrepreneurial ventures that I launched, but I wouldn't say that I was a natural leader or natural communicator at all.
I think at Crimson, I was able to initially get people to buy in because of the passion that I had for education, my academic track record, and those of my co-founders. That got some early people on the bus. We really had challenges going from say 50 to 150 staff, because a lot of the trust that I built with early employees, they don't know me personally anymore. We're in different time zones and that created a lot of friction with getting through that critical growth milestone and the series B level. So I had to level up as a leader at that point.
I did my MBA at Stanford. I took a lot of coaching. I had board members training me and giving me feedback on different scenarios. I had a great people leader called Penelope Barton who came from Vend and Xero and she helps to mentor me and our other co-founders. I'd say leadership was a big blind spot generally. How you bring people along for the journey who don't have this direct connection to you at the beginning, that'll be one.
I think the strengths that I do have is grit and resilience. From a young age, at high school, I was used to pushing back against rejection to get approval, to take more subjects, launch these clubs, to challenge norms around what age you could do certain things. That experience of taking the role and ignoring it a little bit and pushing and pushing and pushing until you get that yes, is quite relevant to Crimson.
Recently, we're able to get the first-ever online high school license to operate Crimson Global Academy. That took two years of work, more than a thousand pages of application material and putting together a pretty crack team between John Morris and Keisuke Shibata and advisors like John Key. And then continuing to build that relationship with key stakeholders so they can understand this unique model we've been building. That's a good example of hustle and grit.
The final thing would be learning agility. I do think at Crimson, we really try to foster that level of ethos. I continued to do formal education as I built Crimson and I really soaked up insights through our fireside chat series, where we invite global business leaders to come talk to our staff internally in quite a closed-off Q and A environment, which can be quite unfiltered.
Seeking a lot of feedback and radical candour from our teams so we can keep growing and then benefiting from the experience that these seasoned people are bringing on board. For example, this guy, AJ Tills who recently joined Crimson Global Academy from Uber. He launched Uber in New Zealand and I've learned a ton from him and his experiences that he's had. Learning agility would be something that I'm always working on, as a relative strength of myself and of Crimson by extension.
It seems like such a no-brainer to move away from an age-based curriculum into competency. But how much inertia is there in the current system?
I would say massive inertia. For the first several years of Crimson, in 2016, about 75% of Kiwis that got into the Ivy League were trained by Crimson and every single Harvard and Stanford academic admitted for undergrad was trained by Crimson as well. Despite this, for years, some of these top Auckland private schools will be very difficult in letting students use Crimson through the school.
What would happen is you'd have a school with a principal who would say, 'Our guidance counselor knows what they're doing. It's all good'. In reality, they have no real insight into the process. They don't have enough time to even advise the kids on competitive domestic applications, never mind these super challenging international ones. We would have 70 kids in a school where the school was telling the students, you don't need the service, but 70 kids would go and sign up with us independently and realise that this is radically different from what the school was saying.
The main reason why these organisations do this is because they are scared of change. They're scared of anybody else engaging with their students. That's not a really good attitude to have because we partner with many of the world's leading high schools and they are so open to embracing our college guidance support to make sure their kids are getting into the best possible universities.
That's a good example where the school has every incentive to actually encourage the kids to use value add services, but they're so protective and territorial and quite archaic in their approach. That just is a disservice to the students.
So the short answer is yes, there's huge institutional inertia across many, many schools. The idea of competency-based learning because it's a new change, it's harder for the teachers to adapt to it. It means they've got often more streams. They've got to get better at diagnostics.
We've had to build a pretty advanced data science capability to test all these different students, place them at the right levels and seamlessly move them into the right classes over time. That's challenging and hard work to do. School hasn't changed for more than 200 years in a material way, despite every other industry really radically changing, apart from maybe healthcare, which is starting to see innovation in the last couple of years. that's because of all of these institutional constraints all over traditional high schools.
Fortunately, now the revolution has begun. We've got John Morris, the best headmaster in the country leading our school. We've got folks like John Key behind us. We've got more than a hundred top faculty from many of New Zealand's best high schools that have joined us, as well as leading high schools from the UK, from Australia, from Singapore, etc. Wwe're seeing this rapid growth and we're already past 600 students in our high school. Typically when a private high school launches in New Zealand, getting to a hundred in two years would be a great effort. We're just seeing this viral adoption with kids that really say, 'This is a no-brainer. Now I've got an option to be globally competitive. I can actually tap into a high school education at a fraction of the cost of a traditional private school. I can get global qualifications and I see this relative difference and efficiency'.
That's some of the ingredients of why this online high school is really moving heads across the education system. The good thing is now we're coming full circle where the establishment is now embracing this really positively. We're seeing great public schools actually referring students to Crimson for subjects their school can't offer, to streams their school can't offer. We're seeing schools that are practically recommending us to their students because they see the need to give them these qualifications they can't get inside their school.
We're seeing some of the leading schools in Australia directly integrating Crimson with their service offering to their students. After a number of years of pushing hard, we're seeing that tide meaningfully change. But man, it requires a lot of effort to keep pushing in the face of that institutional delay in inertia.
Do you find it difficult to take one day at a time when you look at what you are building and what you have the potential to be a part of?
We've had a bold vision since we first started Crimson that has largely been unchanged. In 2016, we turned it up a couple of notches because we were aiming to be the world's most effective college guidance company. But now we aspire to build that next education system for young people in the digital age. The ambition has really ratcheted up a lot, and we've seen really strong support from investors around the world.
Our students, our parents, and our staff are really excited about this and the momentum. But the way we were able to execute day by day, week by week, putting in the hard work to advance things step by step by step. You've got to have the bold vision, but you get there through decisive, focused, intentional work.
The same thing is true of academic growth. You can't become a good student overnight. You can't be the Dux of a high school with just a crazy dream when you're 14. You need to put in daily academic grinding in those core subjects and put in place the discipline and all of those techniques. And then, over years of hard work, the compounding result occurs.
I think the short answer is we do have this bold vision. People are really excited about that and they have confidence we can execute on this. We're seeing folks like Tom Hoshi, who's the head of the Stanford Online High School, spending time with us to help bring Crimson to the world stage, as well as folks like Larry Summers, the former president of Harvard. Leading global educators getting behind this.
We do execute day by day, week by week. We're very focused on the next step in the journey, the next rock climb on the mountain. This thing is really drilled into our culture at Crimson.
Do you get much of a balance? Do you break things up a little bit and just binge-watch something?
Oh, you bet. I recently binge-watched You Season Three. I'm a big fan of action movies. I watched the latest James Bond as soon as it came out. I don't want to spoil the ending, but that was a heartbreaker.
I do think the way to sustain high-performance over a long period of time, and I train this to all our students in our school and staff as well, is a combination of ambitious goals that push you hard and challenge you. Great sleep, a lot of fitness and health, both in what you eat and your sports and physical regimes, a healthy social life with meaningful friends you trust and can give you feedback and spend time with and just take some time out. As well as some hobbies that you can go deep and that take your mind off things.
For me, that's doing more studying. But also fun things like, I play Yu-Gi-Oh, I play Warhammer. I play paintball and tennis with my buddies here in New York. You've got to have that balance because you can go into overdrive and shut out everything else and just do nothing for a couple of weeks. But to sustain momentum over a decade-long period, you do have to have those self-regulation controls in place.
That's also part of the reason why we think a lot of our Crimson students have been able to sustain their performance, not only by getting into these elite universities, but we're seeing Kiwis now working at Facebook and Google. We've got one working at Tesla for Elon Musk, that boy who just raised millions in Silicon Valley. They've been able to sustain high-performance since the very early days of our interactions with them. There are a couple of techniques that I use in my personal life that I also hope resonate with our students across the world.
Is there a difference between a really good ambitious goal and one that is delusional?
Yeah, there definitely is. In my opinion, a great goal is one that is realistic and achievable over a decade-long period of execution and that requires you to keep innovating and getting things right. But there's a really clear path between where you are now and how you get there.
Abstract goals for what you cannot actually draw the link between today and the future, they're not authentic, your team doesn't buy into them, investors won't buy into them. You can't let the vision become too out of sync with reality. You have to keep checking what you're doing and the vision against reality and thinking about where you need to recalibrate and adjust.
I do think there has to be a very pragmatic lens applied to any vision. When a team gets excited, like our company is at the moment at Crimson, it's when you see a bold vision and you see momentum and there's a lot of work to do, but the path is very clear how you get there. That's when I think you get people really motivated.
I think good leaders have to tie a fine line between being ambitious and also being realistic and pragmatic, and helping the team understand how to connect the dots from where we are now to where we want to be.