As various watch events in Geneva and abroad wrap up we at M2 like to just take a step back and really absorb the incredible levels of craftsmanship that goes into each and every piece brought to the event. Every year, international watchmakers push the craft to new heights.
In many ways, watching making is to jewellery what Formula One is to motorsport. These artisans have developed brand new materials lighter and hardier than carbon fibre. They have found ways to cut wood by hand to just a tenth of a millimetre thick. They have reimagined the way we tell time like clockwork, year after year. With human ingenuity on hand, there's almost an infinite number of ways to tell the time. We only have so much of it, so we may as well have fun with it while we can.
Each piece in the collection we've selected brings something truly special to the table, even if it's just to set off your new look.
Rolex Cosmograph Daytona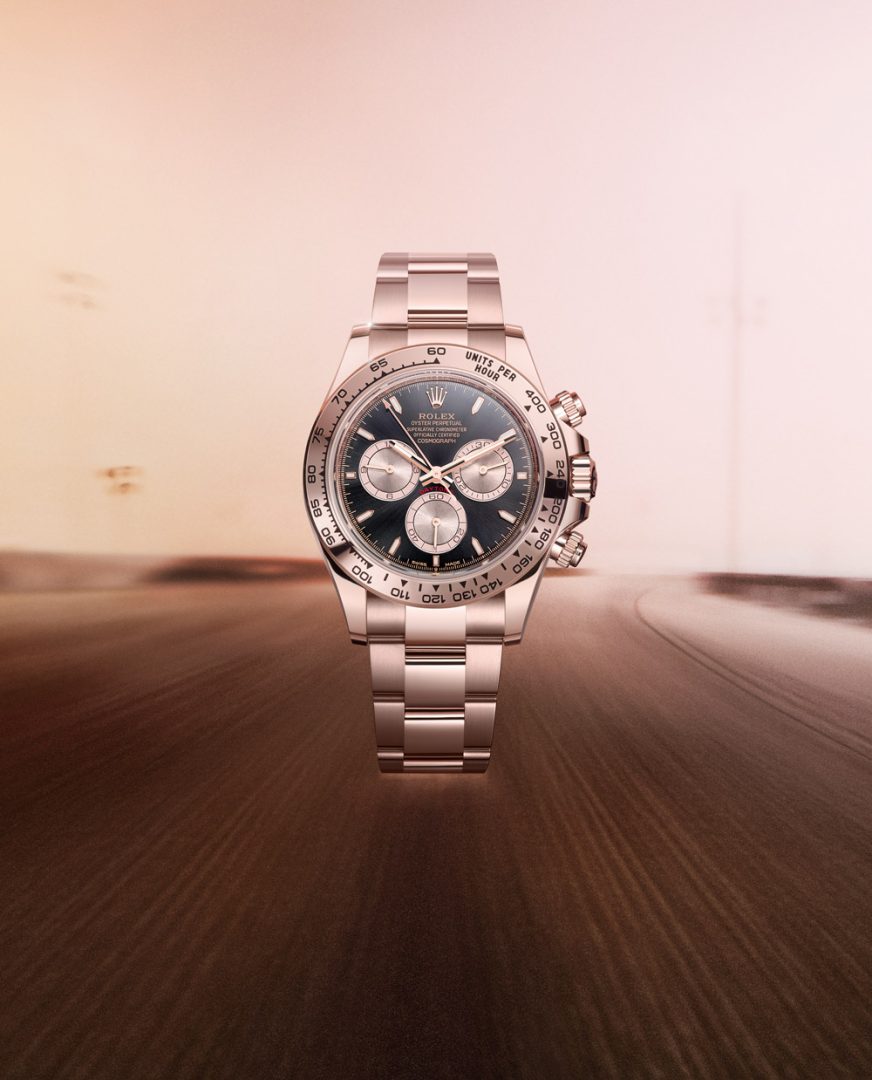 To celebrate 60 years of the legendary watch, Rolex is revisiting the Oyster Perpetual Cosmograph Daytona and giving the entire range a fresh new look, marking a new generation in the iconic brand.
Internally, the calibre 4130 will be replaced with the 4131 going forward. This new calibre features a slew of improvements, including the Chronergy escapement, Paraflex shock absorbers, and a range of elegant tweaks to its overall aesthetics. Telling time should be a beautiful endeavour. There's no easier place to see this philosophy than on the face, which has received harmonious colour combos and contrasts between the dials and the counters.
The monobloc Cerachrom bezels are made of a high-tech ceramic that is inert and cannot corrode. The 40mm Oyster case is guaranteed waterproof to a depth of 100 metres. Various versions come crafted from a solid block of Oystersteel, 18 ct yellow or Everose gold, or 950 platinum (also comes in yellow Rolesor and 18ct white gold). The crystal is made of virtually scratchproof sapphire and benefits from an anti-reflective coating. Exclusive to the 950 platinum model and for the first time in the Oyster Perpetual Collection, the new calibre 4131 is visible via the transparent sapphire case back.
Audemars Piguet Royal Oak Offshore Selfwinding Chronograph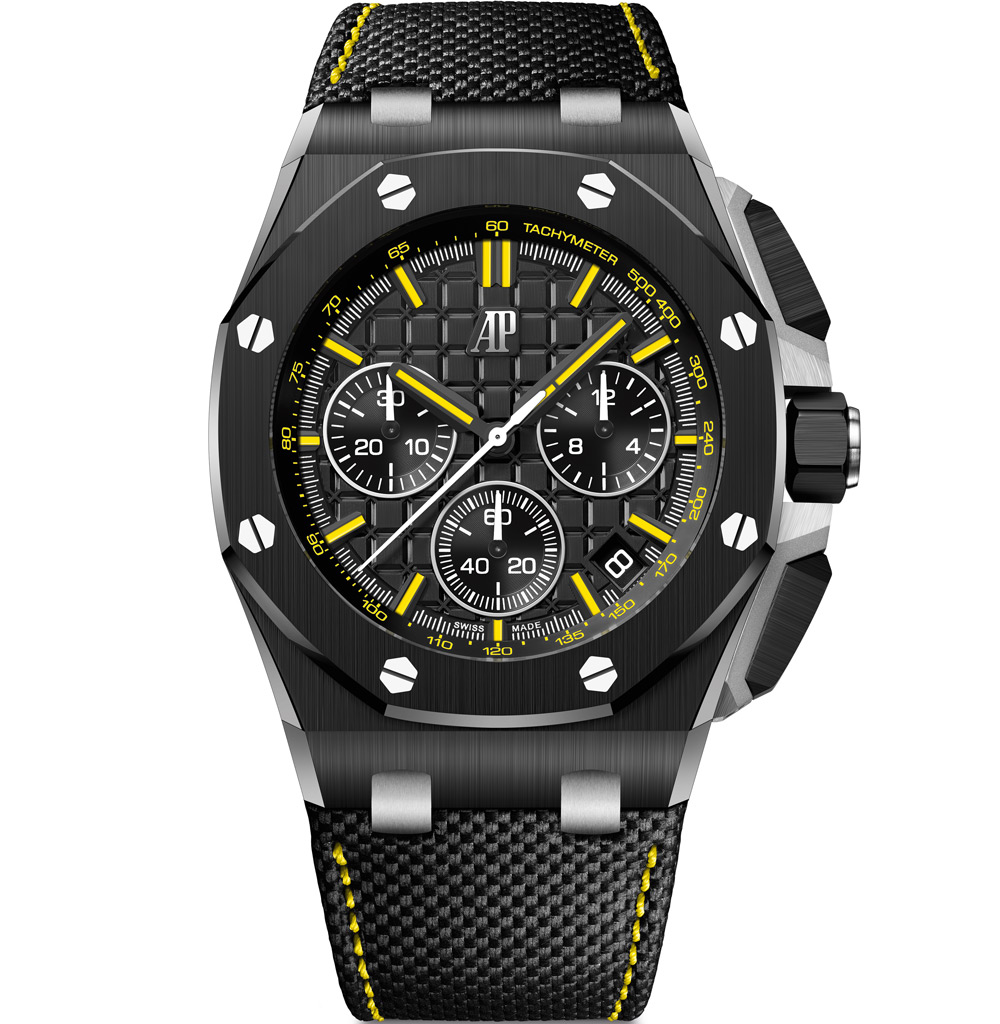 Believe it or not, the End Of Days arrived in 1999.The limited edition timepiece made in collaboration with Arnold Schwarzenegger, I mean. Its DNA is now infused with the brand new black ceramic Royal Oak Offshore Selfwinding Chronograph. It itself is made in celebration of the 30th anniversary of the Royal Oak Offshore.
This 43mm piece has a masculine chunky dark build with a flair of yellow details. While it's almost entirely made of black ceramic additional details are highlighted in titanium such as the studs, push-pieces and case back. Despite how chunky it appears, the choice of materials clocks it in at only 103 grams.
On the inside is a Calibre 4401, which is fully integrated with a column wheel and flyback function that allows for single press reset and restart of the chronograph. From the back, the oscillating weight made of 22-carat pink gold can be seen alongside the rest of the movements' refined decorations.
It comes with a black calfskin strap featuring a textile effect and yellow stitching. It can easily be swapped out for an inverted yellow calfskin version with black stitching.
This timepiece is limited to just 500 pieces. Don't miss the end of days again.
Cartier Tank Normale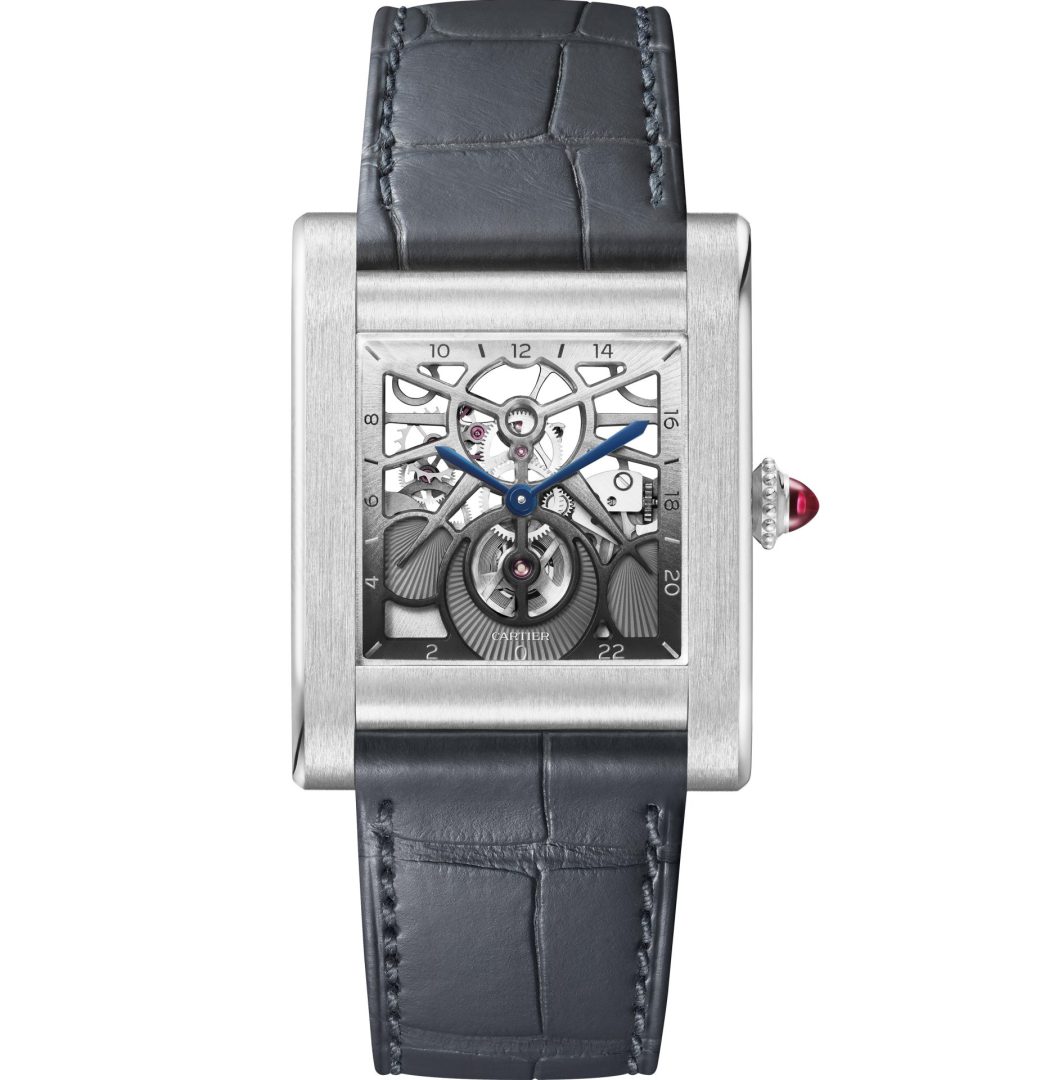 Cartier knows how to treat its collectors, and each year brings them new exquisite timepieces in limited editions exploring Cartier's rich line of models. This year marks the 7th opus: the Tank Normale. The Tank, first made in 1917 by Louis Cartier himself, has become one of the most iconic watches in the world. Its meticulous design and pure lines have made it an eternal watch capable of transcending time. Even 100 years later, it still looks just as contemporary as the day it was designed.
The new Hour/Minute version borrows the proportions and bevelled sapphire crystal of the original. Cartier has also brought together a skeleton movement featuring a 24-hour complication marked by a sun and crescent moon. You'll notice a gradient moving to the bottom of the face, slowly growing darker, this is to represent the hands moving into the nighttime period. The minute hand goes around at a regular one hour pace, while the hours hand takes a full 24 hours to do a full cycle.
A limited edition of 50 numbered pieces comes in yellow gold on a brown and green alligator strap with a blue sapphire cabochon on the winding crown, and in platinum on a burgundy and grey alligator strap with a ruby cabochon on the winding crown.
Armin Strom Mirrored Force Resonance Manufacture Edition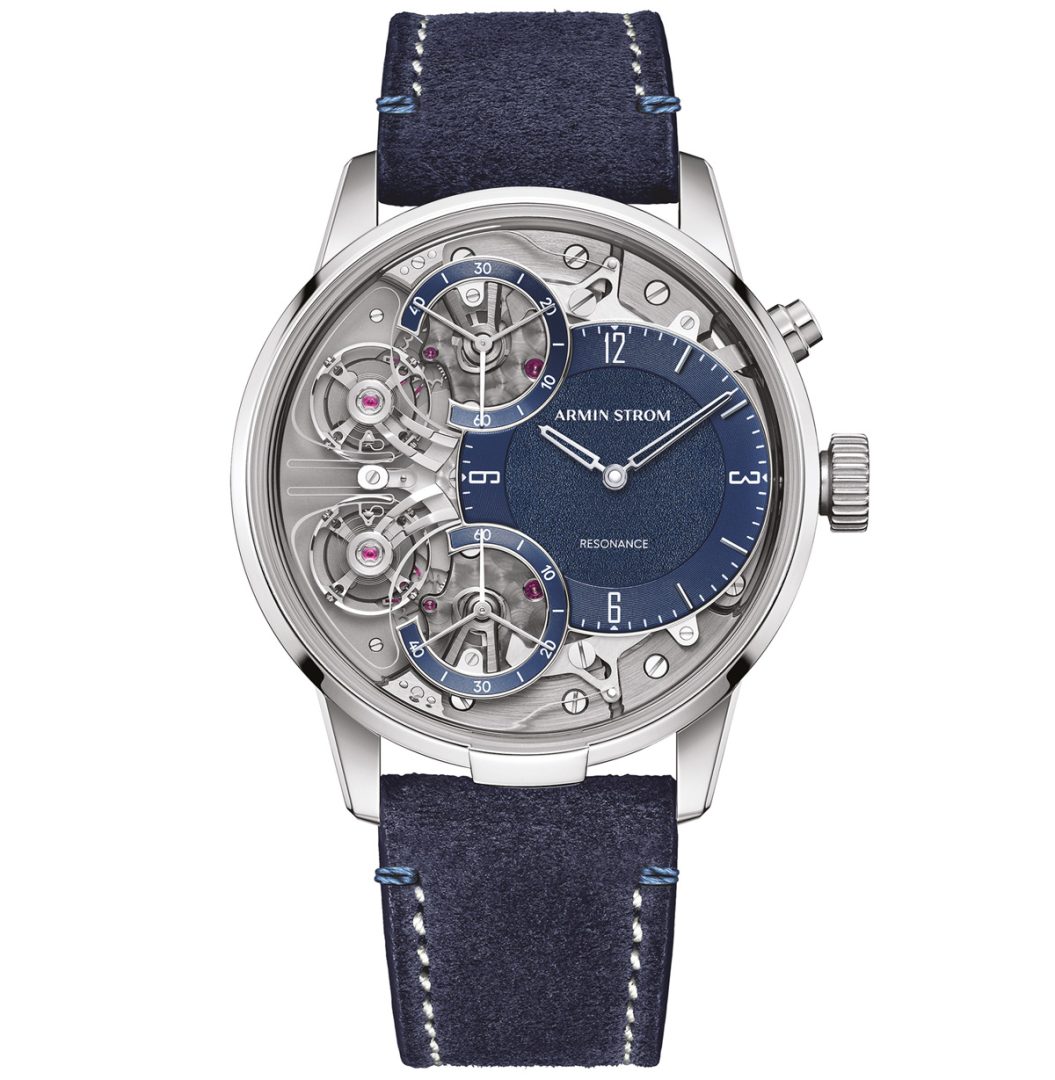 The first edition of the Mirrored Force Resonance was released in 2022. It was a smashing success, so Armin Strom is following it up with the Mirrored Force Resonance Manufacture Edition, a limited edition of 50 pieces with contrasting colour accents.
Each component is painstakingly hand-decorated by one of the manufacture's dedicated watchmakers. An off-centre dark blue dial is encased within a 43mm x 11.55mm stainless steel case. It shares space on the face of the watch with a movement Armin Strom found so beautiful they just had to display the inner workings of as much as possible. The pusher at 2 o'clock allows the two running seconds indicators – which rotate in mirrored clockwise and counter-clockwise motions – to be reset to zero and visually track the state of resonance. The twin resonance second counters are also finished in the same blue tone, painted with white numerals for maximum legibility. Finally bringing it all together is the matching dark blue Alcantara strap.
As they are limited to only 50 pieces, this will be a hotly contested piece.
F.P. Journe FFC Calibre 1300.3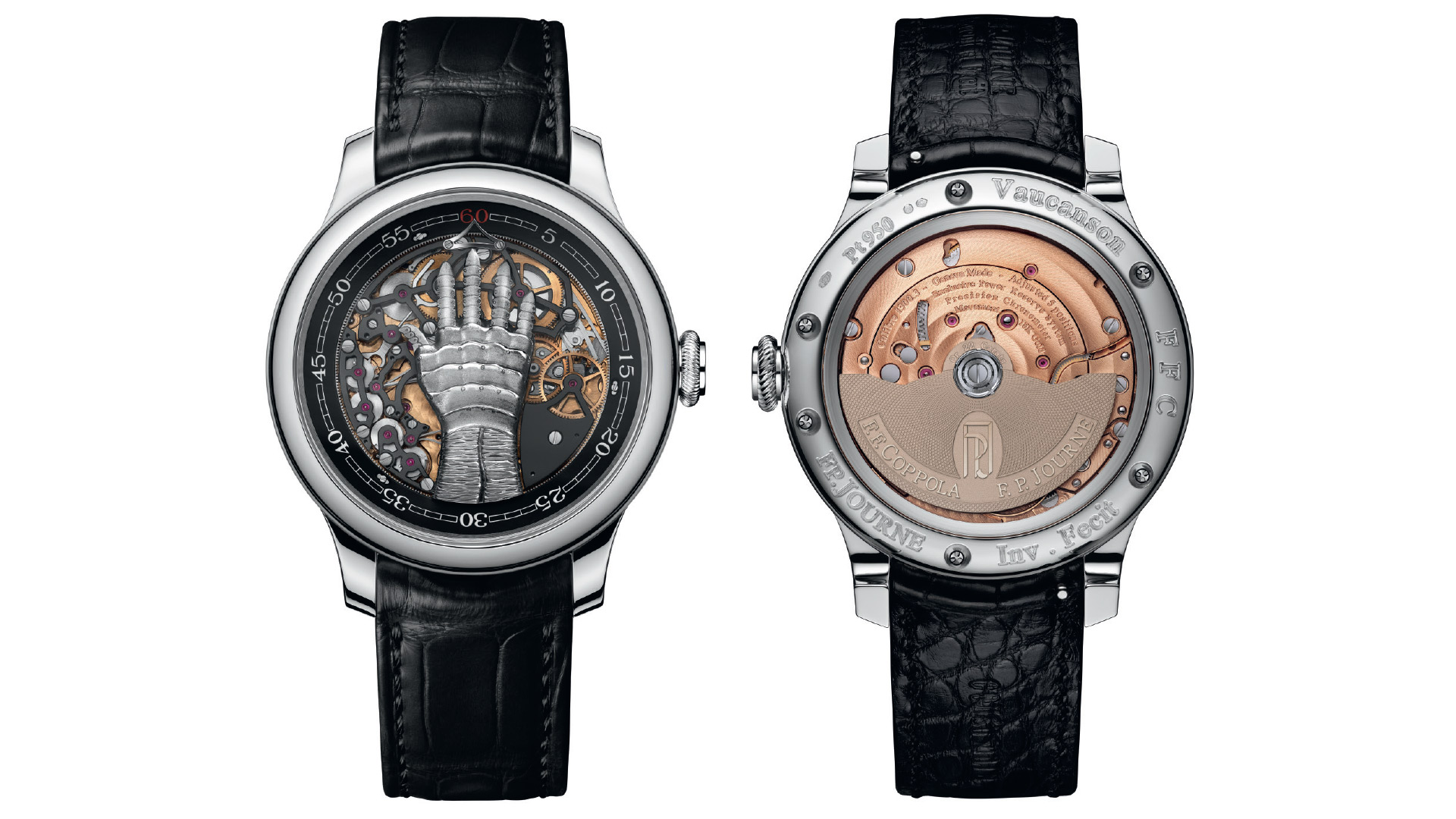 The new FFC Calibre 1300.3 by F.P.Journe may have perhaps the most abstracted way to tell time of any of the pieces we're looking at today. It's also a showcase of pure design and creativity. A literal hand sits in the centre, the titanium fingers of which mechanically move to tell you the hour. This is a triumph of design and articulation that shouldn't be taken for granted. They were able to achieve this via unorthodox lateral thinking without even increasing the size of the case or changing the movement to accommodate shuffling parts. As François-Paul points out, "The most important thing in watchmaking is what is least visible. In this case, it was a matter of getting five fingers to move with the least amount of effort ".
The calibre 1300.3 movement comes in 18K rose gold while the case is made of platinum.
A single rotating dial representing the minutes spins on a large extra flat ball bearing set with a fixed cursor at 12 o'clock. That means the minute is always displayed at the top, with the hand representing the hours immediately below it in the centre of the face. The method of counting to 12 on five fingers proved to be quite a challenge. It gets strange at six, with the thumb protruding to represent six through 9, a closed fist representing 10, single pinky moving to 11, and finally a kowabunga configuration representing 12.
This unique hour hand represents Ambroise Paré, a godfather of modern surgery and medicine. He was a master of everything he touched, whether it was trailblazing autopsies, life saving surgery, or even inventing artificial limbs. His legacy is worth celebrating.
De Bethune DB Eight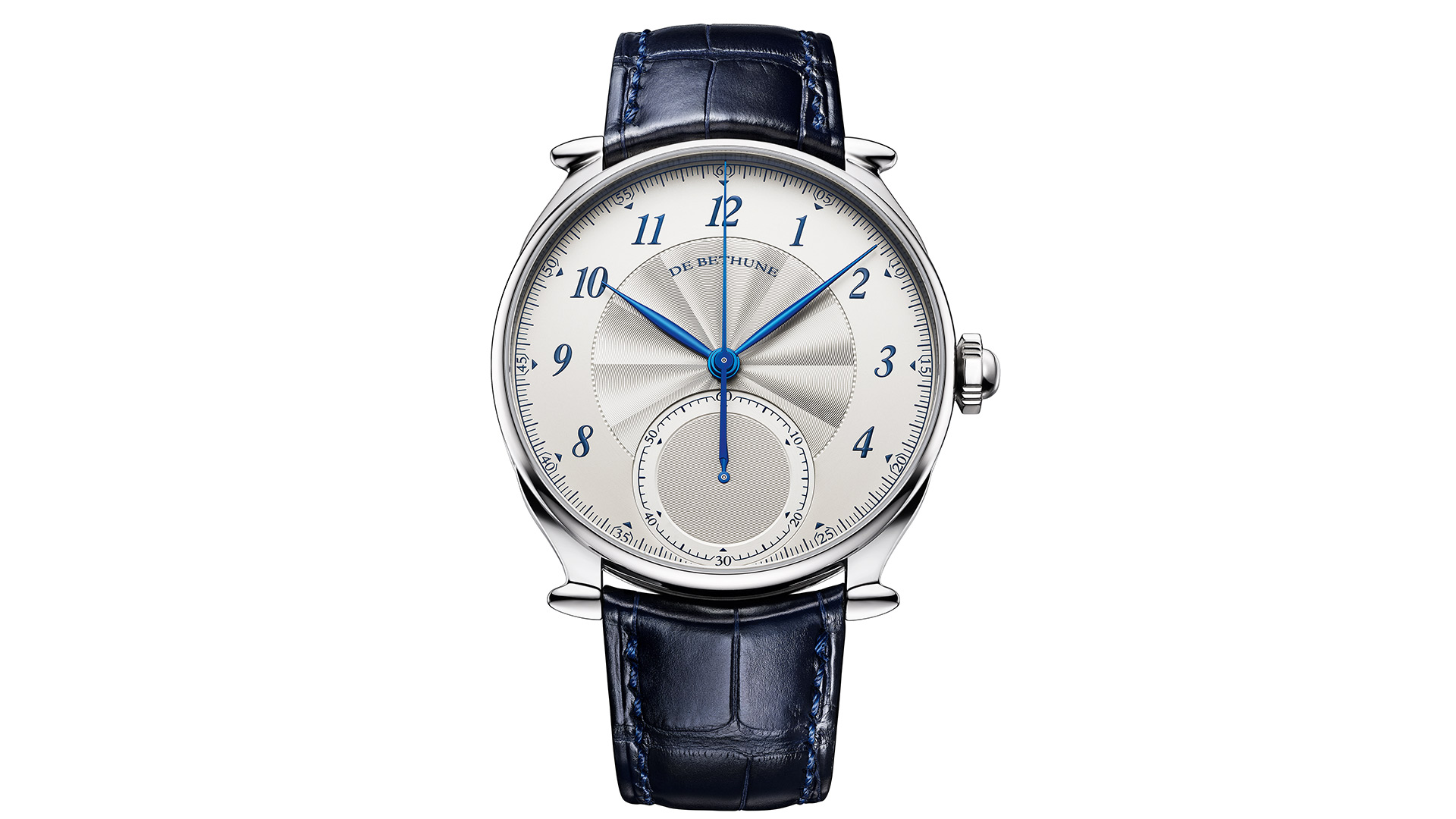 Not to be confused with a non-existent Aston Martin driven by James Bond, the DB Eight is the brand new in-house calibre by De Bethune. The DB Eight is an evolution of their experiments in single pusher chronographs, as they striving constantly for elegant purity. Where other watches may aim for gaudy flashiness, De Bethune instead strived for a supremely refined classic guilloché dial. At the six o'clock is a chronograph given maximum space on the face to provide a high level of legibility. Even here they developed the hands to hide behind each other when it's at attention at zero.
A railway style outer track for seconds inside the 42mm watch gives it a supreme level of legible accuracy and legibility. Inside the DB Eight is powered by the DB3000 calibre with its patented balance-spring with flat terminal curve, titanium balance with white gold inertia-blocks, along with the silicon escape-wheel.
Its pure design features all-titanium exterior elements including the case middle, case-back, bezel and hands. This results in an extremely pleasant light feel for the wearer and caps off what is a truly beautiful timepiece.
MB&F LM Perpetual Stainless Steel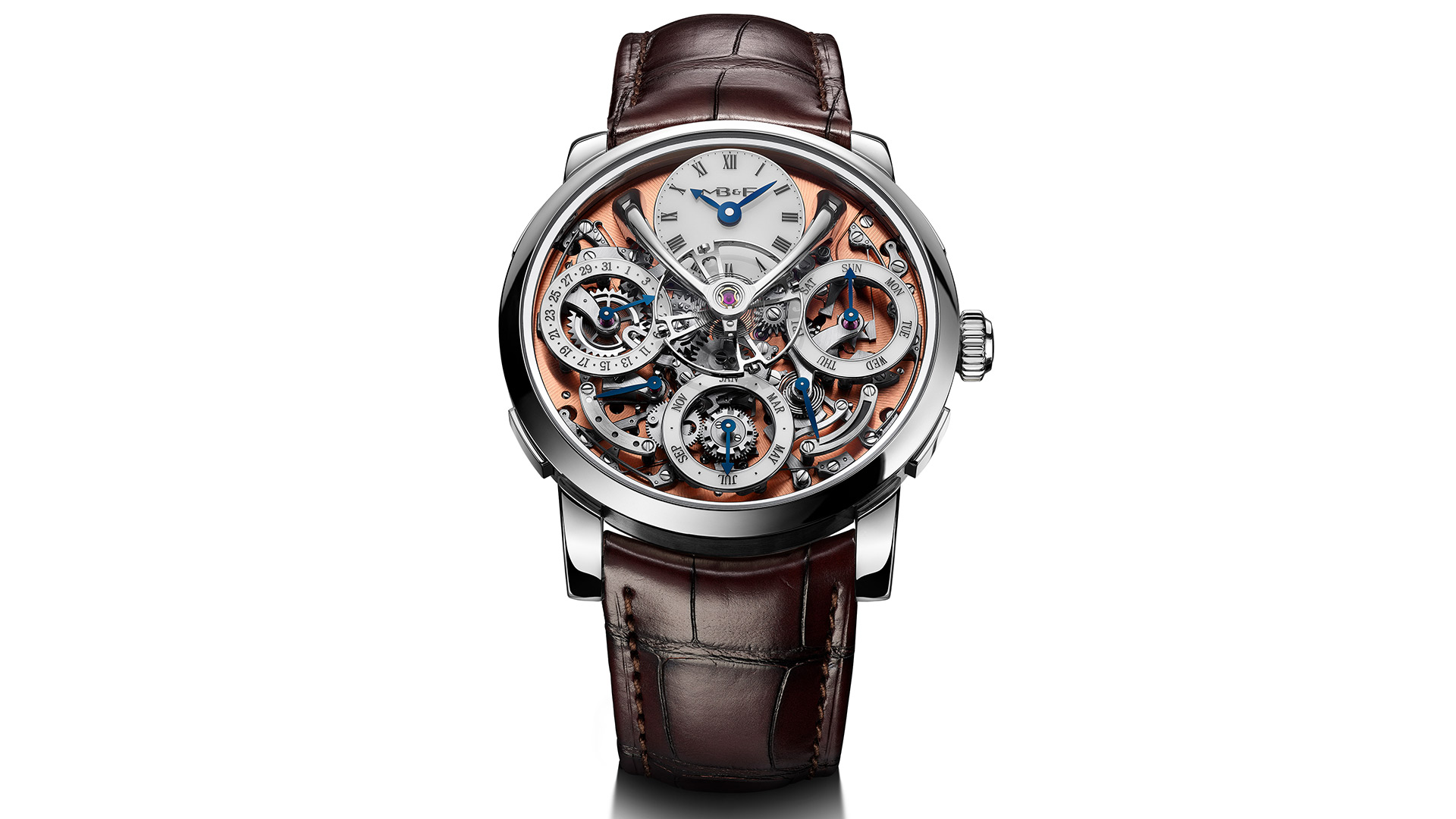 MB&F wants to wow you at first sight with an open dial revealing the full complication and suspended balance. We're talking about a 581-component calibre that uses a revolutionary system to calculate the days in each month.
Meet the LM Perpetual Stainless Steel, the latest in the LM Perpetual line that started back in 2015. This watch re-thinks the perpetual calendar, with traditional calendar mechanism working on a 31 day month system that deletes dates for months that have fewer. The LM Perpetual instead utilises a default 28 day month system that adds days as required. In essence, it means that it never has to fast-forward or skip redundant days like its counterparts. At the 12 o'clock is your day to day hours and minutes. Days of the week sits at 3 o'clock with just underneath it being the power reserve. Months sit at the 6 o'clock and retrograde leap year is indicated at 7. Finally the date rests at 9 o'clock.
This is a watch so beautiful you'll want it to count the days and months with you for years to come.
Urwerk Ur-102 Reloaded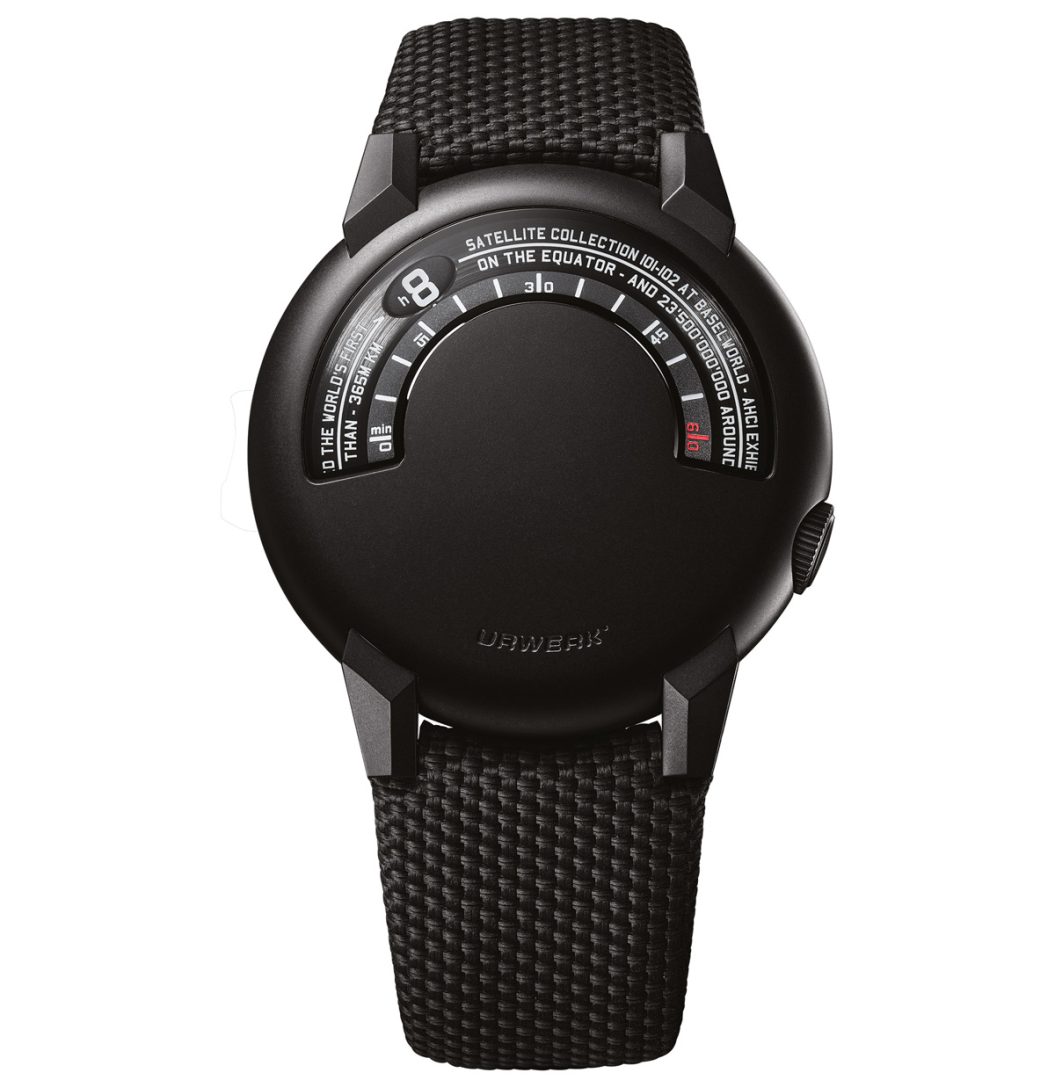 Urwerk make some truly fascinating timepieces. Believe it or not the UR-102 "Reloaded" above is rather conventional by contrast with the rest of their collections. The UR-102's still have hints of their 90s origins, but have been tweaked or "reloaded" if you will with a slight update to give it a modern edge. The UR-102 "reloaded" is presented in a boxed set containing its two versions: one in titanium, the other in signature URWERK black.
Its fascinating method of displaying the time starts with the hour mark that slowly revolves around the semicircular track. Immediately underneath it is the static minute dial, which the hour display indicates as it slides around the track.
Part of the updated design is that the crown now sits almost flush at the four o'clock. Design inspirations for the piece come from Sputnik, and its slow journey around the earth. Even the UR-102's lugs are larger, and recall attachments on the satellite.
On the titanium edition, the window displays a bright flame blue colour produced with a lovely bright, intense, anodised aluminium.
The UR-102 "reloaded" boxed set has been issued as a 25-piece limited edition.
A. Lange & Söhne ODYSSEUS CHRONOGRAPH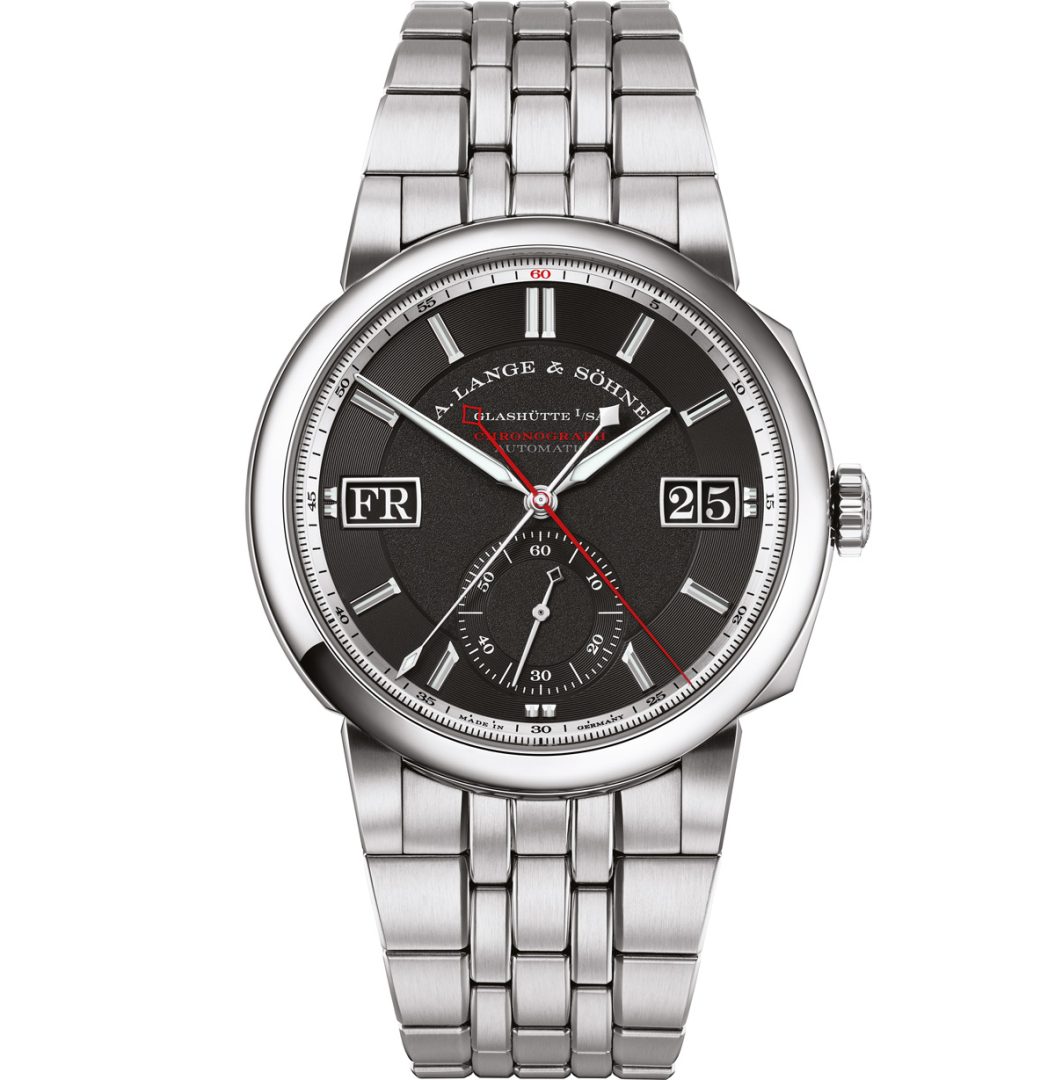 A. Lange & Söhne released the sporty elegant Odysseus four years ago. Now that they've had time to refine and hone the timepiece further the brand new Odysseus Chronograph is now landing. This marks the very first A. Lange & Söhne self-winding chronograph powered by the newly developed L156.1 calibre set inside a three-part stainless-steel case with a diameter of 42.5 millimetres.
As they pushed themselves creatively with the mechanisms they opted for a distinct and clean design on the face that favours high legibility. No unwarranted flare here. Just a contemporary appearance with bold prominent features due to a narrow bezel allowing for a large dial. An outsized date and day are maintained at the 3 and 9 o'clock. Specially sealed and tapered buttons have dual functionality. While the crown is screw-down the buttons operate the chronograph. While pulling the crown enables the buttons to be used for calibrating the date and day.
Due to the craftsmanship that goes into each piece, the Odysseus Chronograph comes in a limited edition of 100 watches.
Hublot MP-13 TOURBILLON BI-AXIS RETROGRADE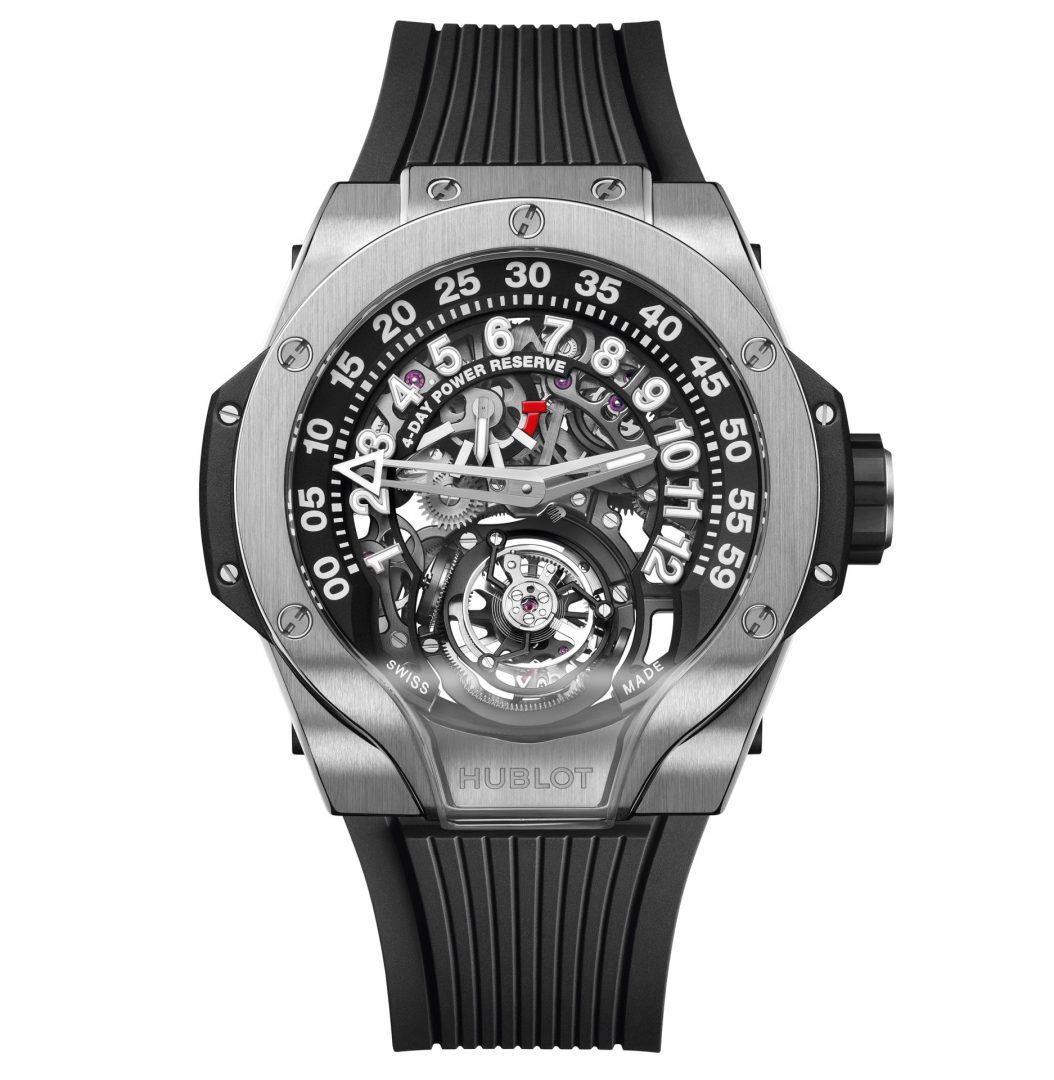 Thumbing its nose at superstitions around the number 13 Hublot is releasing the 44mm brushed titanium cased MP-13. There's a lot going on in this piece, as it features two complications the tourbillon and the retrograde display. The MP-13 features a double-axis tourbillon, Hublot is one of only a few watchmakers that are even capable of doing this entirely in-house. The tourbillon completes a full rotation every minute on one axis, and every 30 seconds on the other. This is enhanced by Hublot's celebration of the tourbillon by skeletonising and suspending it.
It comes with four days of power reserve making it weekend proof, and probably the largest power reserve of a double axis skeleton tourbillon on the market today. An interesting quirk of the piece is that the minute hands move steadily and smoothly while the hour hand skips instantly from one hour to the next, for an interesting twist of legibility. One does not usually consider the direction you read a watch, but this one is designed to be read from left to right, as the minutes band wraps the hour indicators.
To protect collectors winding only moves the hours forward. This is to create simplicity and also mitigate one of the worst weaknesses with retrograde displays, breakages when winding the hands backwards. Designed entirely in titanium with a black rubber strap, the watch has a full satin finish and contains 374 components.
Like all models in the MP series, the MP-13 Tourbillon Bi-Axis will only be produced as a very limited edition, with only 50 numbered pieces.
Ulysse Nardin Freak One
The brand new Freak One by Ulysse Nardin takes everything they've learned from the past 22 years of making these timepieces and distills it into a single essential piece. From the Freak Vision that released in 2018, for example, it took the highly advanced silicon balance wheel and a Grinder automatic winding system. From the 2013 Freak Cruiser it features its shapely, open-worked bridges for the gear train.
The black DLC titanium case is a large 44mm, although in profile it's thin and features comfortably tapered lugs. To give it that added little bit of flare, a rose gold architectural bezel offers a high contrast yet pleasantly subdued satin-brushed finish.
For those seeing the Freak line for the first time, these watches got the rule book and threw it out the window by making a watch with no hands, no crown, and no dial. The absence of these three normally very important pieces of a watch have come to define the Freak.
"…what is ultimately a Freak?" asks Ulysse Nardin's CEO, Patrick Pruniaux, "It is a person so ahead of their time, so capable of seeing what others cannot, that they threaten the very fabric of normality."
The Freak One certainly fits the bill.
Montblanc 1858 Zero Oxygen
Based on the oxygen breathing techniques required to make an 8000 metre ascent up the 14 highest peaks of the alps, four models make up the Montblanc 1858 Zero Oxygen "The 8000" Capsule Collection.
The hallmark of this collection is a Sfumato dark grey Glacier pattern dial which is replicating the colour of the rock and ice at 8000 metres. To pull off it's unique look the artisans had to employ a technique known as gratté-boisé as the base. This creates the illusion of depth, but involves 20 separate steps and takes three times longer than a regular dial. But truly great things are worth the time.
A flare of orange used sparingly across the design invokes the safety equipment used by mountaineers. The piece is powered by Montblanc's Manufacture automatic chronograph with worldtime complication, Calibre MB 29.27. Included is two 3D turning globes with the Northern Hemisphere at 12 o'clock and the Southern Hemisphere at six o'clock.
The case is made of Titanium fittingly with no oxygen, with the bezel made of bi-directional stainless steel and black ceramic bezel.
The special edition version is limited to 290 pieces.
Louis Erard Excellence Marqueterie
Limited to just 99 pieces, Louis Erard have developed a truly exclusive piece pushing artisans and handcrafted watchmaking to the limits. It all starts with the wood marquetry dial of the Excellence Marqueterie. It has a geometric pattern which must be cut by hand with a saw at a surgical level of precision – a tenth of a millimetre to be exact. There's no going back if any mistakes are made, and master craftsman Bastien Chevalier had to develop yoga master levels of conscious breathing to even be able to achieve a single cut. Even at such a small scale, he's working with two types of wood; grey-stained willow burl and tulip tree stained in three different blues for the cubes.
Chevalier understood the challenge he had set for himself: "Geometric design is the hardest thing to do. You have to be totally precise. The pattern won't permit any error — the slightest deviation is visible."
The dial uses more than 70 elements which are deposited via a scalpel tip under a microscope. Protecting this work of art is a polished steel 42 millimetre case with domed sapphire crystal and water-resistant to 50 metres.
On the inside, the movement is an automatic Sellita SW261-1 with hour and minute function. It can be admired from the open caseback.
It's all topped off with a blue grained calf leather strap featuring tone-on-tone attachment points, Louis Erard blue lining and a pin buckle.
Tudor Black Bay 31/36/39/41
Tudor is presenting four new offerings within the Black Bay line, equipped with Manufacture Calibres, a neo-vintage aesthetic, and a five link bracelet for maximum comfort and adjustability.
Set inside a satin-brushed and polished stainless steel case, the large and medium calibres are weekend proof with 70 hours of power reserves.
The curved cases feature a combination of finishes that elevates the watch in a contemporary fashion and offers a design language that slightly departs from the brand's iconic tool watch spirit to embrace a sophisticated, versatile, unisex chic look and feel. It's got all the swagger of the 60s, and all the cutting edge tech and standards of 2023.