Award-winning Milan-based Officina Armare have recently released an interior proposal that has has us all adding it to the top of our private jet wishlist. The proposal, suited to the Bombardier Global 6000, is utterly awesome. Priced at USD$38 million and owned by "a Brazilian client", the Bombardier Global 6000 was created by Bombardier Aviation. The superior long-range jet can even hit up to Mach 0.88 thanks to its dual Rolls-Royce BR710A2-20 turbo engines and is like the sophisticated gentleman of the skies.
Having drawn inspiration from their yacht-designs, Officina Armare has laid out the private jet so that it can host up to eight people comfortably with some wriggle room. There's also a touch of Art Deco styling in there too, making this private jet something to truly behold. The inside measures around 12 metres in length, 2.4 meters wide and almost 2 metres tall, so is quite spacious. With its many seating areas (including a lounge, dining room, rest area and bar), the multiple areas really highlight how the team has used space. The cabin interiors show off cream lounge seats with nubuck crocodile leather detail and cutting-edge design work. The bar, with a selection of stools designed by Glyn Peter Machin, allows guests to enjoy drinks above the clouds and can even be lowered and switched into a multimedia theatre that adds flexibility to the entertainment.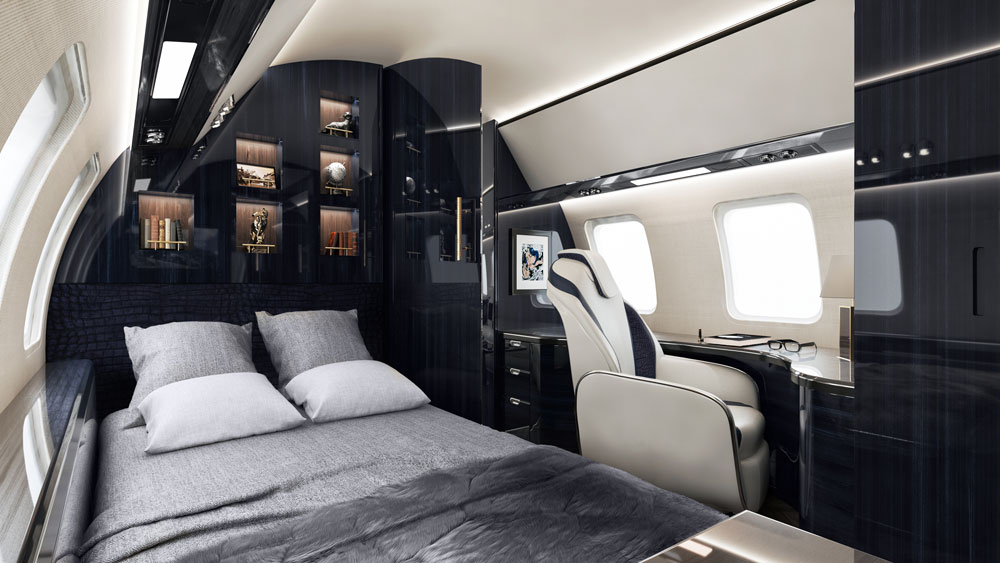 The owner's private stateroom includes a master-suite bedroom and full-beam bathroom with a walk-in wardrobe. Filled with the latest in tech gadgets, the plane is equipped fully with wide-screen TV's, wireless technology, surround sound (thanks to ALTO Aviation) and hidden devices stored in every nook and cranny. Oh, and the whole plane interior can be controlled using a smartphone device.
I know I'm not the first person to imagine myself 36,000 feet-above sea-level, lounging about my own Bombardier Global 6000 private jet, sipping cocktails and being treated like a king.
Quick Specs
Dual Rolls-Royce BR710A2-20 turbofan engines.
Top speed of Mach 0.88 (1050 km/h).
Typical cruising speed is 902 km/h.
Surround sound system by ALTO Aviation.
Accommodates up to 8 passengers.
Full master-suite bedroom
Full beam bathroom with a walk-in wardrobe.
Office area.