Flat tyres have been a fact of life for so long I don't think any of us really expected that one day they might not be. Michelin has been doing its best for over 15 years now to change that, and its efforts are finally paying off. First referred to as the Tweel back in 2005, The Michelin Uptis is finally making its appearance out in the wild. It's being touted as the future, and early real world tests of the tyre are promising.
On September 13th, Michelin took the wheels for a bit of a press tour at the IAA Mobility car show in Munich attached to a MINI Electric.
"It was an exceptional experience for us, and our greatest satisfaction came at the end of the demonstration when our passengers, who were admittedly a little wary at first, said they felt no difference compared with conventional tyres," said Cyrille Roget, Michelin Group Technical and Scientific Communications Director.
The Uptis has a ton of benefits and not many downsides. Internal spokes are hugely tunable, so getting ideal stiffness for acceleration, braking, and cornering is easy. Apparently they can even negate the need for separated suspension in some cars due to its bump handling.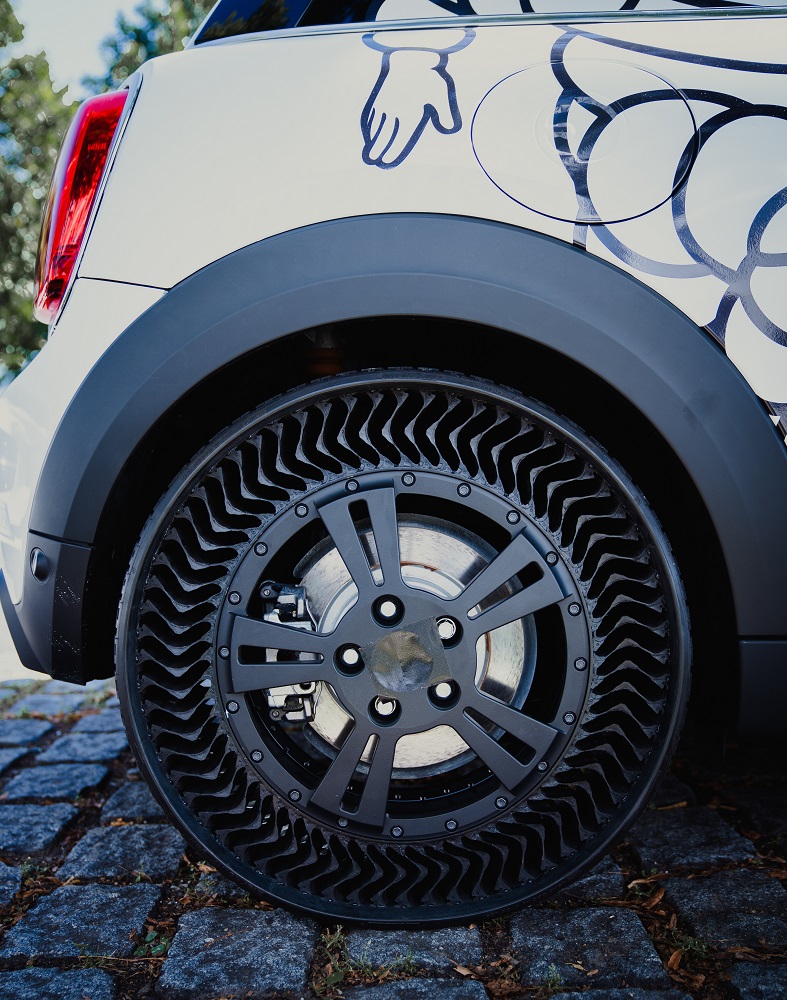 Teaming up with GM to make it happen, the Uptis boasts longer lifespans and greater impact resistance. It does add about 7% to the weight of the wheel though. But that's a small price to pay for being puncture-proof.
"The biggest challenge for the design team was to create an airless innovation that would deliver the same experience that you get on the Michelin tyre." says Cyrille Roget, technical and scientific communication director for the Michelin Group. "So all the performances like safety, wear life, contribution to fuel consumption, comfort, noise were essential to deliver in a airless innovation, equivalent to the pressurised tyre. The resin embedded fiberglass was a key structural innovation that led to the performances of Uptis. "
This vision for a longer lasting tyre fits into Michelin's aims of becoming 100% sustainable by 2050. Viable airless tyres with zero compromises have just gotten one step closer to going to market, colour me excited. Michelin is hoping that they'll be retailing by 2024.