The Beatles, Elmore Leonard and Hush Puppies; they all spent a period of time cooling their heels in the wilderness before they made it big – a period long enough to pump out 23 novels in Elmore's case – but all eventually got 'discovered' by an adoring public. The rest is history as all have become an endearing part of pop culture the world over. In each case the discovery happened initially in one place; Hamburg for the Beatles; the Edgar Awards for Elmore and within urban youth culture for Hush Puppies, before the inevitable world domination that followed.
On a Mission of discovery
Another similar discovery story is happening right now in the Netherlands as New Zealand's Mission Estate wine has suddenly gone off in that central European nation becoming the darling of high-class restaurants all over the country. Why? Well, obviously because of Mission Estate's quality because these are not just corner eateries, they are all Michelin Star restaurants who are only allowed to deal with the very best – or risk losing their Star(s). 
Here are just some of the finest restaurants in the Netherlands who have recently discovered The Mission Estate wines – then instantly added them to their wine lists:
2 Michelin Star restaurants
De Keuken de Arragon (The Kitchen of Arragon) is located within a forest in Fluitenberg, Drenthe so you can be assured that diners only go all that way to be wowed by their experience. And that wow is guaranteed here as there is no set menu at De Keuken, only whatever chef Herco feels like serving that day. But you can be sure that whatever amazing repast Herco devises will be matched by something from Mission Estate by sommelier Cynthia. Her favourites are the Mission Estate Pinot Gris and Mission Reserve Sauvignon Blanc.
In the middle of the Netherlands is the city of Utrecht and on its fringe is the town of Maarssen. Here is Restaurant August where head chef Boy van Rijn is pretty relaxed about what to serve, you can have a 3, 4, 5, 6 or 7-course meal if you like. Heck, you can even dream up your own meal if you want and Boy will make it happen. On the other hand, sommelier Sascha loves the Mission Estate Pinot Gris and the Jewelstone Chardonnay – so naturally you will too.
If you live in or visit Rotterdam regularly and don't know Restaurant Fred then you just aren't any sort of foodie as this is easily one of the most well-known restaurants in the Netherlands. Fred Mustert's masterpiece is everything you would expect a 2 Star Michelin restaurant to be; elegant, of extremely high quality, with impeccable service – and of course; expensive. Starting at 250 euros per person just to eat! Restaurant Fred also serves the Mission Estate Jewelstone Chardonnay and Reserve Sauvignon Blanc. Naturally.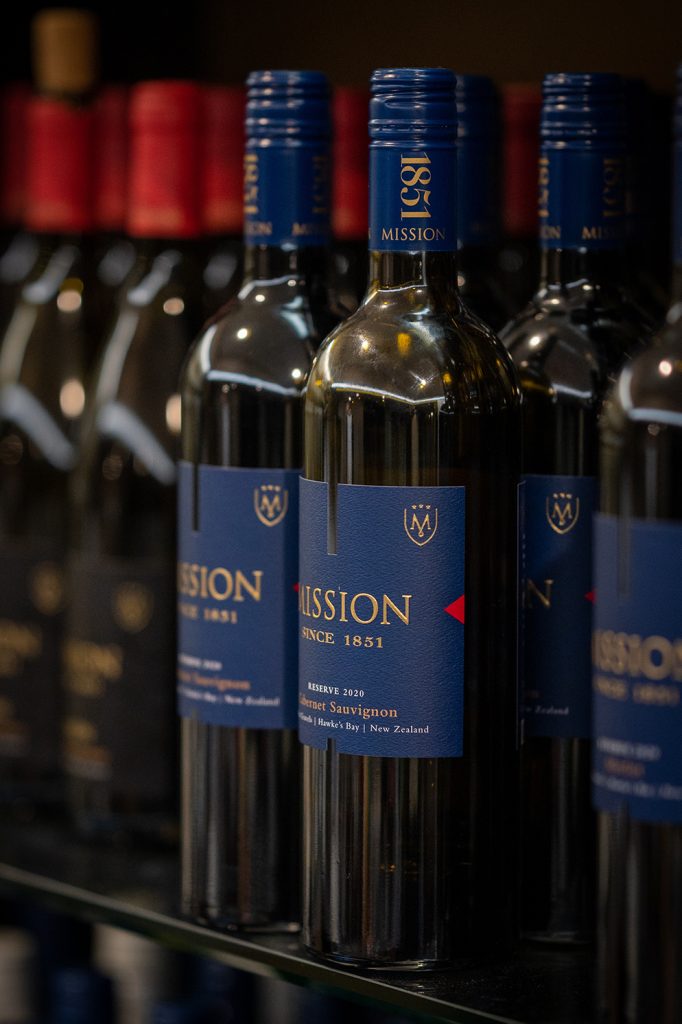 1 Michelin Star restaurants
'Sinne' is a Swedish word for senses, mood and 'state of mind' so expect a high level of pampering on your visit to Restaurant Sinne in Amsterdam. You can also expect to see a lot of the Mission Estate Pinot Gris too as owner Suzanne and chef hubby Alex are big fans. 
It's not just European-style restaurants that have fallen in love with Mission Estate either as R&D in St. Willebrord specialises in Oriental cuisine. Recently voted the best Asian restaurant in the Netherlands, the Tsang family currently use the Mission Estate Pinot Gris as a pairing for their Malaysia, Singapore, Thailand, Hong Kong and Japan-inspired dishes.
Carolien and Mike, the owners of Restaurant Rijnzicht in Doomenburg, had never considered including New Zealand or Australian wines in their restaurant until they tried Mission Estate. It must have been some tasting as now they have the Mission Estate Sauvignon Blanc as their house wine! You can also get the Mission Reserve Sauvignon Blanc, Mission Reserve Chardonnay and the Mission Jewelstone Chardonnay here.
Plus, the list goes on and on; sustainability-based restaurant Het Seminar has their own farm – and the Mission Reserve Syrah on their wine list. Wolfslaar have just made a new wine menu and the Mission Reserve Sauvignon Blanc is on it. Even Eindhoven's Ingrid van Eeghem, who switched from her bricks and mortar Michelin Star restaurant to a delivery service due to Covid, is using the Mission Estate wines. Over the past few months Ingrid bought up all of the Mission's remaining Estate and Reserve wines for her K&H Michelin Star-stranded meal delivery service throughout the Netherlands and other parts of Europe.
The Michelin/Mission link
As you can see; it's the same story all over the country: Mission Estate wines are a natural fit for Michelin Star quality restaurants and they've taken the very best ones in the Netherlands by storm. Plus, if the Beatles, Elmore Leonard and Hush Puppies are any guide; it won't be long before this news spills over the Netherlands' borders and into the rest of Europe – and from there into the rest of the world. 
Of course, you don't have to go all the way over to the Netherlands to enjoy a Mission Estate wine with your meal, you can get one at pretty much any restaurant here. Or, the next time you're in the Hawkes Bay, nip over to the Mission restaurant itself nestled in the Taradale hills. If you're there for lunch why not try the twice baked goat's cheese souffle with caramelised onion, candied tomato, green apple and walnut entrée followed by the braised lamb shank, dark chocolate, chorizo, mashed agria with salsa verde for your main. For dessert, try the Hawkes Bay 'lick this' chefs selection trio of ice cream and all washed down with a bottle of Mission Vineyard Selection Rose that you already tasted at the nearby Cellar Door. Then you'll really know why all Mission Estate is all the rage for high class dining in Europe!