Looking for a gnarly mountain biking ride this weekend but you're on autopilot at Arch Hill and you've worn Woodhill smooth? Dude, get over to Rotovega$! It's squirming with sick trails ranging from granny gambols to as hard out as you can handle. Best of all, it's only a couple of hours away. So chuck the bike onto the back of the ute and get your ass over to the Whakarewarewa Forest for a ride that'll get you as pumped as the first time you ever pushed those pedals.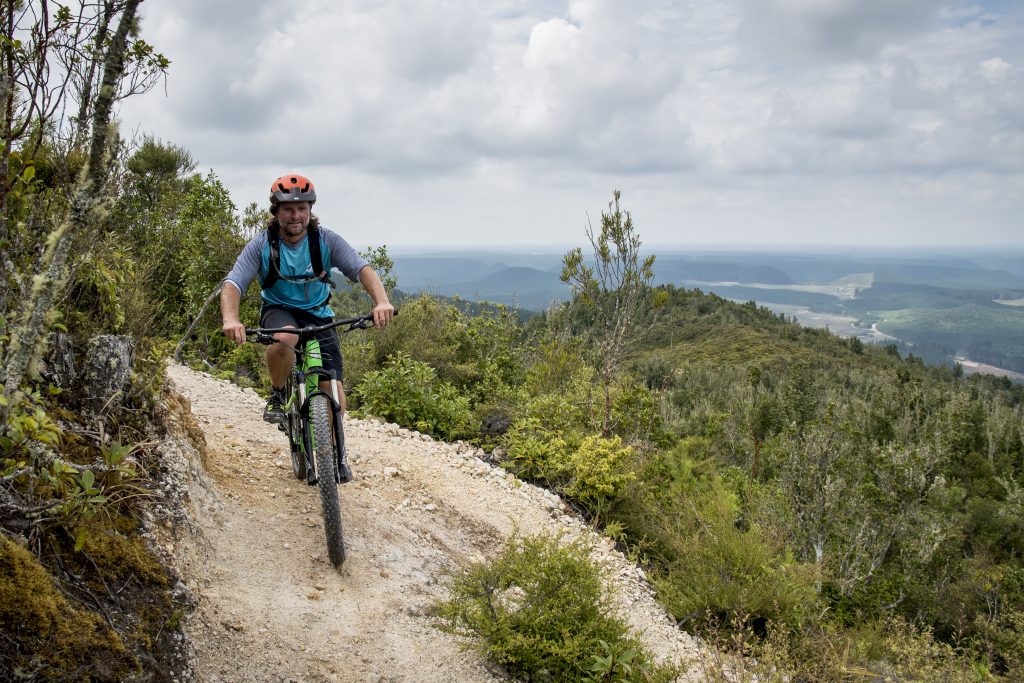 Go For GOLD
Rotorua is one of only two IMBA GOLD level status mountain biking centres in NZ, the other five are all in America. So there are only six other places on the face of this planet that are as good to ride as Rotorua – case closed! Why is Rotorua so good? Because, with nearly 200km of sick trails, there is always somewhere fresh to scope and there's a trail – or four – for every rider level. 
Prep For Your Exam
But in order to squeeze these trails to the max – or any new locale – you need to scope out the lie of the land first. Get your spadework done early by grabbing a map of the area from a local bike shop, an i-SITE, or from the Waipa mountain biking carpark. Wrap your head around the terrain beforehand and it will help you relax into your buzz. The forest here has a high, curving spine along the eastern side. The main entrance is at Waipa, off SH5 just south of town, at the base of a sloping bowl that leads to that spine, 400 metres above. A bunch of trails snake through the flat part of the bowl; roads or trails climb the sides; and trails drop back down from various points along the top edge. You can also zip into the forest from Long Mile Road, easily accessed via trails from town, and at Te Pūtake o Tawa (Forest Hub 2), currently under development on Tarawera Road, on the far side of the spine from Waipa.
Most rides will mean a decent climb to get a good downhill run but don't sweat it, even a mid-level rider with a bit of fitness juice can reach a highpoint in a half hour or so, and can do it a couple of times in a ride. Easy.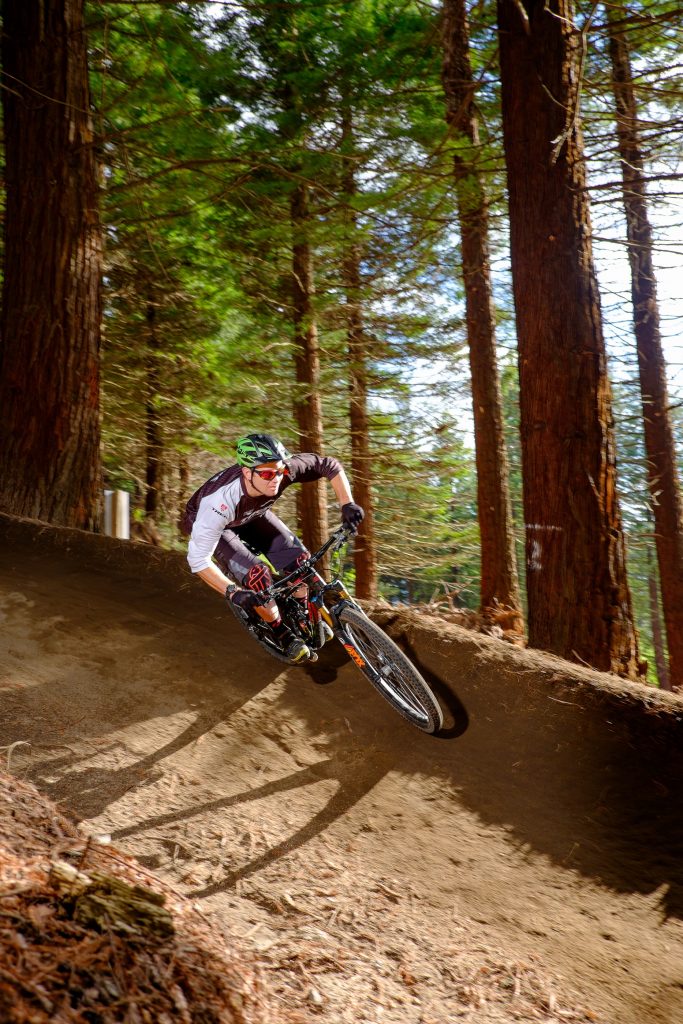 The Options:
Okay, so let's start cruisy; say, a casual sort of rider, looking for a grade 2 or 3 trail. Start at Waipa, pedal out on to Tahi. Follow that to Creek, then decide whether to gas it to the top or take a shuttle. Dawdling up the Wash, Direct Road, and Frontal Lobotomy under pedal power will take a bit longer than riding Mad If You Don't and then taking Hill Road to the shuttle stop, and the bus to the top. Corners back to the bottom is a great run. Eagle vs Shark is a fast-flow trail to the far side of the forest. From there you can turn right towards Lake Tikitapu, and take The Feeder to Tangaroamihi and on around the south side of the forest to finish down the cycleway Te Ara Ahi back to Waipa. Or you can turn left after EvS and head back along Black House Loop to Apumoana. At the top of that cruisy climb, you can ride forestry roads to the lower half of Corners, and home.
Come on, ditch the training wheels!
Okay, so ride Yellow Brick Road, up Sandy Skid Road, and head up to Pondy Elevator. There are no easy beats up here, so suck it up. Take Moerangi Road and TimeWarp, to the best view in Rotorua, and the long, long downhill of Split Enz, Pondy New, RollerCoaster, and on to more trails home.
In a rush?
Sure, start at Long Mile Road, take Katore Road, back down Tokorangi, Turkish Delight, and Challenge Trail.
So, you're all that huh?
Get your carcass to the top, up the road past the shuttle stop. Take on the natural splendour of Tuhoto Ariki, or Tihi-O-Tawa. Pedal up to Kung Fu Walrus or Te Ahi Manawa, and return via Taura. Back at the top you could drop down the first part of Eagle, link over to Whaki, climb Apumoana and descend Hot X Buns.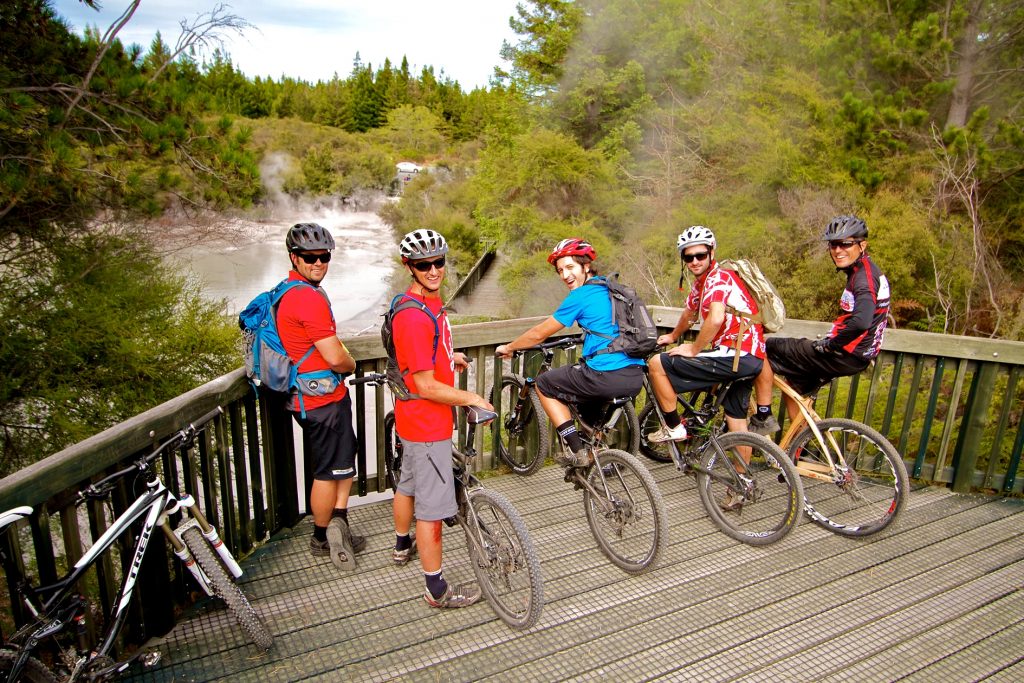 Oh man, you really want Grade 5 and 6? Really?
Sure, dude! Take the route to Split Enz, but turn down Frankn'Furter, and beyond to RiffRaff and Rocky Horror. Or climb to the top and descend Te Rua.
As you can see: options = infinity. And when you know how to stitch together three decent loops, we'll even try them ourselves!
Don't forget, this is Vega$
With the sickest bike community in NZ and the best facilities, there's heaps more to Rotorua than just sweet dusty trails and kickass views. Hit up the hotpools at Secret Spot Hot Tubs after your ride. Have a refreshing beverage while you soak your tired legs in the shinny dip pools unique to Secret Spot. If you need new gear or to hire – Mountain Bike Rotorua is on hand at the Waipa Carpark or any one of the super friendly bike stores in town.
Once you're back from your ride there's heaps more to do in the city with the Luge and the amazing Eat Street in town, plus the infamous Pig Whistle right in the heart of the city. It's long been home base for all types of riders and always has great meals with chill vibes.
Ditch the same old and decamp to Rotorua as you'll never ride the same tracks here, no matter how often you come – so what are you waiting for? Hit the road and see you out on the mountain biking trails here in Rotovega$!
You'll also like: