Like all good high-tier luxury watch brands, Panerai draws on a long and storied history, dating back to the late 1860s, when the company was founded in Florence, Italy. But it was a few decades later in 1936 that the DNA of Panerai was truly molded into shape when the Panerai-created timepiece prototype called the "Radiomir" was distributed among frogmen commandos from the Italian Navy. This spawned a long relationship with the Navy and a legacy of dive watches with a reputation for durability and accuracy in deep water. The original models featured a domed Plexiglas crystal, a large, easy-to-read dial and a strap designed to fit over a dive suit. In the 1950s, Panerai introduced the Luminor and Radiomir models, which featured the iconic crown-guard design and a unique locking system, known as the "crown bridge". In addition, the Luminor and Radiomir models featured an improved dial design, with larger numerals and indices for enhanced legibility underwater. Quick cut to the present day and many of these elements have flowed through to Panerai's archive of some of the most sought-after dive watches in the world. But that doesn't mean that they can't still push the boat out when they want to.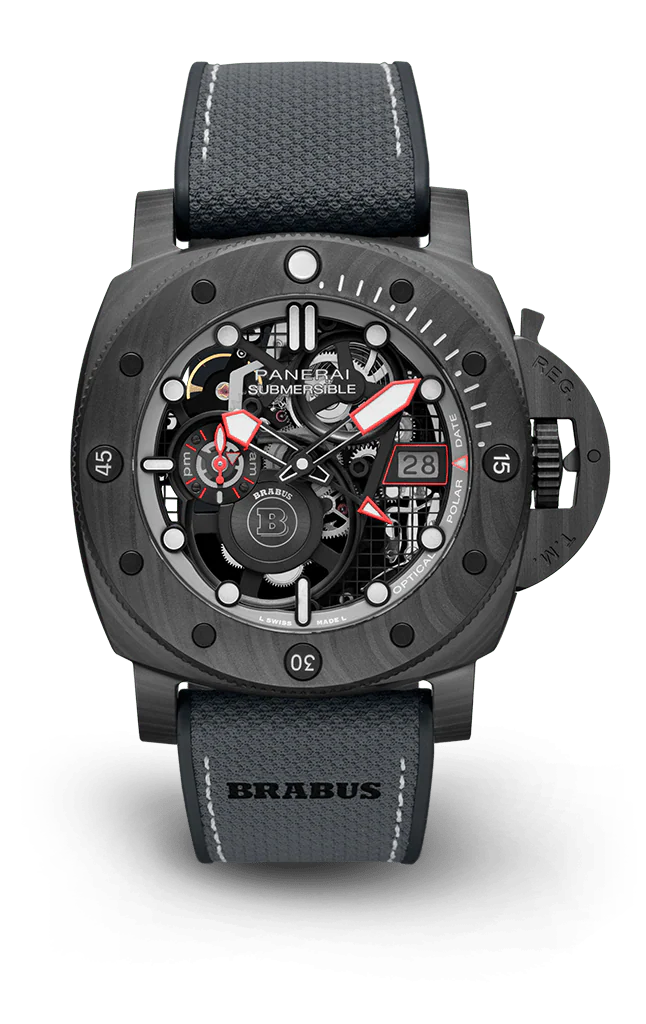 The Panerai Submersible S Brabus Black Ops Edition hints at Panerari's Navy heritage but it seems to have ripped open a wormhole in the time-space continuum because this watch belongs in the future more than the past. While the iconic bezel shape and the iconic crown-guard design carry that famous Panerai DNA, the designers have gone to town on everything else. Made in collaboration with the renowned German automotive tuning company Brabus. This exclusive timepiece features a skeletonised dial that showcases the in-house  P.4001/S movement. This 31-jewel movement offers a power reserve of 3 with a power reserve meter on the back and features KIF Parechoc® anti-shock technology and off-centered oscillating weight in tungsten and comes cocooned in a 47mm Carbotech™  case – a composite material based on carbon fibre.  This material is carried through to the anti-clockwise rotating bezel with graduated scale for the calculation of immersion time. This timepiece also features GMT function, AM/PM indicator and a water resistance rating of 300 metres, making it suitable for both recreational diving, professional deep-sea diving or a spot of special ops, if that's your thing. 
And if you are having a little trouble getting to your dive spot of choice, this timepiece has its own matching boat options in the form of the Brabus "Black Ops" line of luxury dayboats. The crafts feature a sleek, angular design and a heavy dose of gun metal gray colouring which is certainly a point of difference from the usual go-to white. A lovely example of this is the Shadow 500, a limited edition 1 of 28 craft that achieves over 50 knots thanks to Mercury Marine's XS Pro V8 engines. Offsetting the gray is the iconic Brabus red exterior seating. Probably not the most covert decision but it does look great and it matches the colour scheme of your Panerai Submersible S Brabus Black Ops Edition and that's the most important thing.