Sometimes incredible knowledge gets lost to the human race; like how to make Wootz steel for example. Manufactured in India 2,500 years ago it was used to create swords that were highly prized for their strength and unique patterning in the metal. For a millennium it was regarded as the best steel in the world and spawned many inferior versions including Damascus steel. Then, unfortunately, over time the knowledge of how to create it seemingly got lost and no one knew how to make it anymore. Even today, despite extensive research and experimentation, no one has ever been able to replicate it exactly. The skills for creating Wootz steel have been lost forever.
The Great Hawkes Bay Pinot Mystery
But great knowledge doesn't always get lost forever – thankfully sometimes it gets rediscovered. For example, another great mystery that baffled many is why pinot grapes were not grown in the Hawkes Bay for close to a century. Sure, the Hawkes Bay is a warmer climate by New Zealand standards which isn't known for pinot as well as other grape varieties, but there's already a history of pinot from warmer regions in Australia and California. Also, the Bay's climate is not uniform – there are a number of microclimates dotted about the region. Some of which are ideal for growing pinot.
Plus, there was even a precedent! Romeo Bragato, of whom it is probably no stretch to say that he was the most knowledgeable wine person in New Zealand at the time of his visit in 1895, tasted some at Te Mata during his whirlwind tour of the nation at the invitation of New Zealand premier at the time, Richard "King Dick" Seddon. His conclusion? 'A small vineyard of pinots are doing well … Beautiful wine.' In the Hawkes Bay and in the late 19th century…
Local farmer and winemaker Bernard Chambers, upon whose land Te Mata's original vineyard now sits, validated the claim in his diary a year later noting; 'At the end of a busy first day, one vat was filled with pinot, another with the first of the 1897 claret.'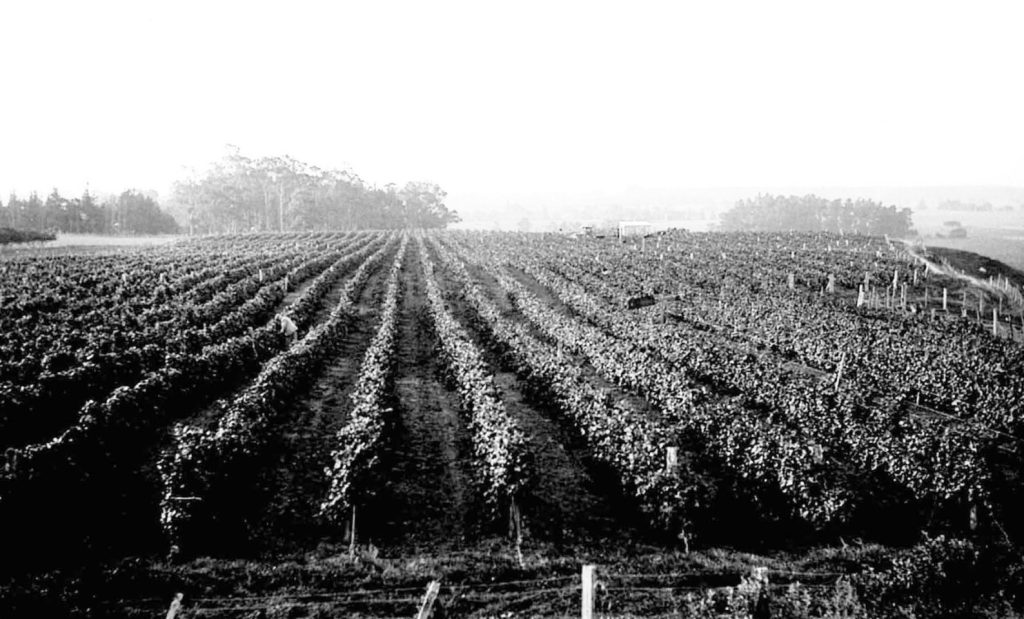 So why did everyone stop making Hawkes Bay pinot for so long? 
It might have been the Temperance movement, phylloxera, a change in consumers taste – we don't really know for sure, but the really good news is; they're doing it again at Te Mata Estate. And not only that, but Te Mata are also producing pinot's cousin gamay. After realising in 1999 their Woodthorpe Terraces vineyard in the Dartmoor Valley on the Southern bank of the Tutaekuri River had the perfect microclimate for these grapes to thrive, Te Mata planted both Gamay Noir and Pinot Noir varieties which are paying handsome dividends now. 
Te Mata Pinot Noir
After noting that Woodthorpe Terraces has cooler night time temperatures than the rest of the Hawkes Bay, Te Mata figured this would be ideal for capturing the subtle nuances and character that top Pinot Noir shows. But in order to make their pinots stand even further apart from those created around the country, Te Mata used exclusive pinot clones beyond the initial four used for previous vintages.
Te Mata Gamay Noir
For the gamay, Te Mata used a superior gamay clone in that it is a red skin/white juice (à Jus Blanc) variety rather than the usual red skin/red juice version – i.e.; it's the same variety most of the best wines from France's Beaujolais region are made from. Usually used for cru wines that are more aromatic, complex and bodied, Te Mata's carbonic maceration gives lots of fresh, crunchy, red-fruit character but with a bit more kick. Influential UK wine writer Jancis Robinson was definitely impressed with an early version; 'It has real bite and full-on refreshment factor so that it would make a great red for the growing band of wine drinkers who choose to drink reds as an aperitif without food. A red for all seasons.'
Unlike Wootz steel, the Hawkes Bay pinot story has a happy ending with the 'lost knowledge' being rediscovered again for us all to benefit. Both the Te Mata Estate Pinot Noir 2021 and Gamay Noir 2021 have clearly proved that, given the right circumstances, Hawkes Bay can actually produce world class pinot. These two vintages are light to mid weight wines that are accessible in their youth and ready to enjoy as soon as they are released. Featuring soft tannins and a silky texture, they are versatile enough to be enjoyed on any occasion on their own or with pretty much any food you like. In summer both wines can stand being lightly chilled.
Visit Te Mata Estate's website to learn more about their Pinot Noir 2021 and Gamay Noir 2021.