CrossFit has taken the exercising world by storm in recent years, with more and more joining the training craze of running, lifting, strengthening and conditioning. We had a chat to Reebok CrossFit Athlete James Connew to get some insight:
What made you first get into CrossFit? It was my brother-in-law who first got me into CrossFit, he was the strength and conditioning coach for Waikato Rugby Union back in 2012. One day he phoned me up and said he was making the rugby team do this CrossFit training, then proceeded to tell me all about it and invited me down for a workout. I got down there, did a workout, loved it and was hooked.
What is your advice for those getting involved in CrossFit this year? My advice is to find a good gym with inspiring people to be around. People with the same goals, whether that be to have fun with training, lose weight, compete, etc. I'd also tell people to take their time with training, CrossFit isn't going anywhere and progressing through skill development and strength will take some time, don't get disheartened when the guy next to you gets a muscle up before you do, you'll get there.
What makes a good CrossFit shoe? A good CrossFit shoe is one that is nice and solid for stability when lifting but also flexible enough to allow running, jumping etc. Find an everything shoe, consider the Reebok Nano 8 or Speed TR – my personal favourites.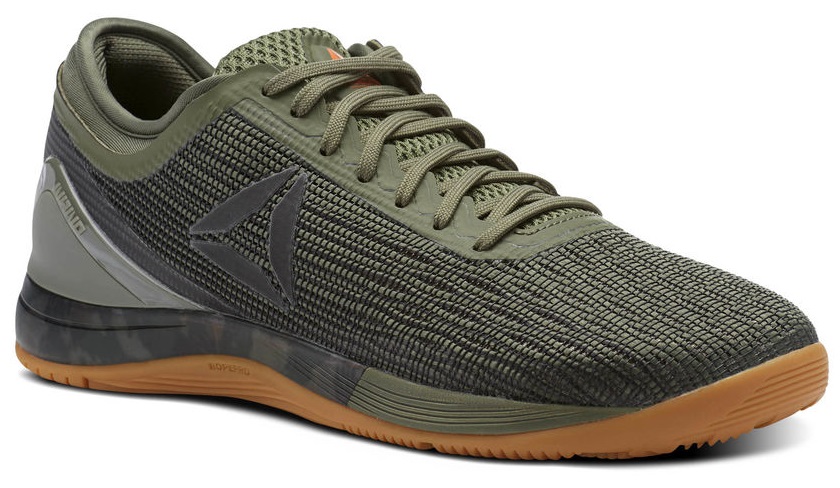 The Nano 8 shoe features Reeboks latest technology, Flexweave – why is this so important? The Nano 8 was developed with insight from the CrossFit community and has been engineered for maximum comfort during all CrossFit training. The CrossFit-specific outsole provides great grip in the box to help hit PBs (personal bests).
What's your morning routine? Sleep, coffee, super greens shake, train, breakfast, coffee, work, sleep, repeat.
What are 5 things people don't know about CrossFit? You don't have to be young or in great shape to start with CrossFit; The 'fitspo' athletes you generally see online are the 1%; CrossFit 'boxes' must meet affiliate requirements, so not just anyone can open one. Affiliation requires an essay and an application, as well as a yearly fee. All instructors must be trained via the CrossFit training course. Many people don't realise that CrossFit emphasises technique. CrossFit teaches you to lift with your legs, not your back, flare out your knees, shift your weight into your heels, use the right grip, and so on and so forth. They want to make sure that you are safe, and that you carry these things into your everyday life (improving your posture, helping you walk taller); CrossFit offers a "kids" program, this program lets parents bring in their children to the gym to train with certified adolescent training professionals. Children will learn to stay healthy in a fun and interactive way; You will make lasting friendships doing CrossFit.
What are some of the biggest benefits from CrossFit over other fitness programmes? Personally, I think the biggest benefit is the variation in training, to get the body guessing all the time, the intensity of workouts, and the comradeship you feel when training with others with the same goals.
What advice do you have for someone who is wanting to change their lifestyle and get fit? Take a leap, it might seem scary or intimidating at first, turning up to a gym with people lying over the floor dying from exhaustion but just remember everyone was in your shoes at some point, the best thing you can do it give it your best and have a go.
What sort of mindset does it take to be good at CrossFit, any tips to staying accountable? A lot of people will have different theories to this, some may think it's just being relentless and training hard every day, not diverting off your diet or training program and to some extent I do too, but I believe it's the mindset of actually enjoying what you are doing, and being able to divert off that diet in the weekend to eat whatever you want. Training smarter not harder, and knowing that every time you do a workout you're giving your best and nothing less.
Talking CrossFit and fitness goals, What's the best advice you've ever been given? To just have fun with it, and never take yourself to seriously. Keep safe and uninjured by wearing CrossFit specific shoes, this will mean less time recovering and more time in the gym.
Shop the Nano 8 look here