It was during a lecture in university, when Matt Nash was studying marketing, when he looked around the room and realised that he was sitting amongst all of the future competition for ground level marketing positions when he graduated. It was then that Matt decided to take his marketing knowledge to create his own pathway.
This has led him on an entrepreneurial journey through many sectors, but has ultimately led him to success at the ground level but in a far different sense. We talk to Matt about his success with his stone cleaning and stone sealing company, Prestige Surfaces, and how much potential there is in the overlooked business opportunities.
Do you think that a lot of entrepreneurs, with all the focus on all the sexy tech stuff, are missing out on real opportunity in some of these other areas?
Yes, 100%. It's so funny, the Instagram boom. 'I'll get an Instagram account, I'll go on Alibaba, pull some product in and think it's going to make me a millionaire.' Do it, go for it, but the reality is there's a good chance you're going to fail, but at least you're going to learn something. 
Don't give up, once you do fail, look back and learn from it. What did I learn? I learned social media. I learned how to do an Instagram account. I learned how to deal with China. I learned how to deal with advertising. I learned how to deal with Google. I learned how to deal with PayPal. I learned how to deal with Shopify. There's so many things that you can learn from doing an exercise like that. So don't look at it as a failure, look at it as a learning exercise.
Keep trying. Maybe don't pull a product in from China because that's been done before too many times and there's a good chance it's not going to work for you. It may, but the chances are against you, I'm sorry to say. 
There are niches out there that are quite lucrative. My niche was not so lucrative when I got into it, but because I was a marketing wizard, I spend about $25,000 a month on marketing now on TV, radio and various advertising forms, I have almost created an industry by doing a lot of marketing. Now it's lucrative, but that just took time. 
It was easy when I was 24 years old. I didn't have a family, I didn't have a house. I lived in a share house. I drove a pretty cheap ute and I'd just gotten a mate whenever I needed some help on the side. But there was not a lot. The risk was pretty low. I didn't have a mortgage that I could have defaulted or anything. When you're younger, it's the perfect opportunity to try to do something like that and give it a crack because you just don't have much to lose. 
It's harder when you're older and you've got a family, you've got a house and the risks are higher. You give up your job to start this business and it does take a few years to get a business off the ground. I think it takes about five years, so it's pretty hard for a 30 something year old with commitments to just give up a salary that pays for their lifestyle and take a punt on starting a business.
If you had not had your experience with marketing in your younger days, is that something that you've brought to this?
Wait until you see the current photoshoot, it's even more extravagant. The reason it's more extravagant is because it's my way of being my creative self. I feel like I'm an artist and I've got a very creative mind and approach. This is just my way of letting loose, having fun, being creative and not caring what people think. 
What I'm doing is kind of ridiculous. I'm sitting on a throne with a snake around my neck, and there's a gorilla in the shot. People tell me they don't get it. It's almost like they are having a go at me and it's a bit of an insult almost. It's just about standing out, that's what marketing is. 
I went through a phase where I was really conscious of what people thought and it even forced me for the last three years to go into hiding almost. I took myself out of the picture. I took myself off social media. I took myself off the platform altogether because I was so afraid of putting myself out there in case I got some criticism. 
I was suppressing that creative flair within me to the point that I just snapped out of it a few months ago. It's really easy to lose focus because of the criticism you get. But then again, it's all part of the journey. It's made me who I am today, so I'm very glad that it happened the way it did.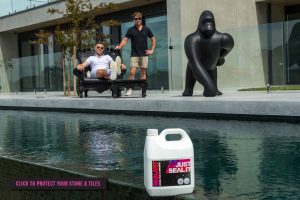 Have we become more architecturally-focused with our houses? Are we getting more into different things?
There's a few things that have happened. Obviously house prices have increased. Our work used to be really limited. Natural stone and concrete are really incredible and popular surfacing options around the home. Architects will specify natural stone and concrete to be used around people's pools and outdoor areas, driveways, facades on a house, benchtops, bathrooms.
Now, as a result of house prices increasing, it's not that scary anymore to invest in quality finishes. With natural stone and concrete, you just can't top those materials. The investment is almost not as noticeable. The price of concrete and stone hasn't gone up, it's the same, but house prices have gone up almost 50% in the last seven years. 
You can really justify spending the money on those quality finishes now.  Before we used to be really limited to the inner city suburbs, now we're going everywhere. Suburbs you would never think would attract high-end finishes can now justify it. There's no restrictions there. The market's grown and, marketing aside, it has become a much more lucrative area.
A few years ago, you weren't really looking at the franchise model. Has there been any change there in order for you to scale and to go into different countries and different cities?
I'm actually looking at a licensing option. The difference with franchising and licensing is there's a lot more legislation with franchising. With licensing, it means you can exclusively use our products. You've got more control, we've got less liability. Franchising is more legislated, you've got to follow guidelines, you've got to give support, you've to maintain control and it's much more difficult. 
I am actually in the process of developing a licensing system where we would essentially sell a licensing arrangement in various countries or states and that would basically give them exclusive access to our product. Which is pretty much why people come to us, because it's a really unique, special product.
That would give them that exclusive access to the product. They would have to market things themselves, they would have to employ people themselves. They have to do everything themselves, all they would get access to was our product. We wouldn't be allowed to give guidance because then it would fall under franchising. 
We're definitely looking into that option and it's actually in the process now of getting developed. Probably in the next six to 18 months we might start doing some trials in certain areas. I think we would probably start off close and just do one in another state within Australia or maybe within New Zealand and we would just monitor it, see how it goes and see if we can work with other people.
I did actually have a meeting with a very successful young entrepreneur a few years ago who had a successful franchise. He was a great guy who had done so well, but he just seemed stressed out. He was getting sued all the time, he just seemed highly strung and stressed out and I just didn't want that for me. I didn't want that sort of energy. It wasn't really something that attracted me a lot after that. 
Now after lots of thinking and research and chats with my lawyers, we've worked out the licensing route would be very practical and suitable for us. So that's definitely the way we will go down should we go down that path.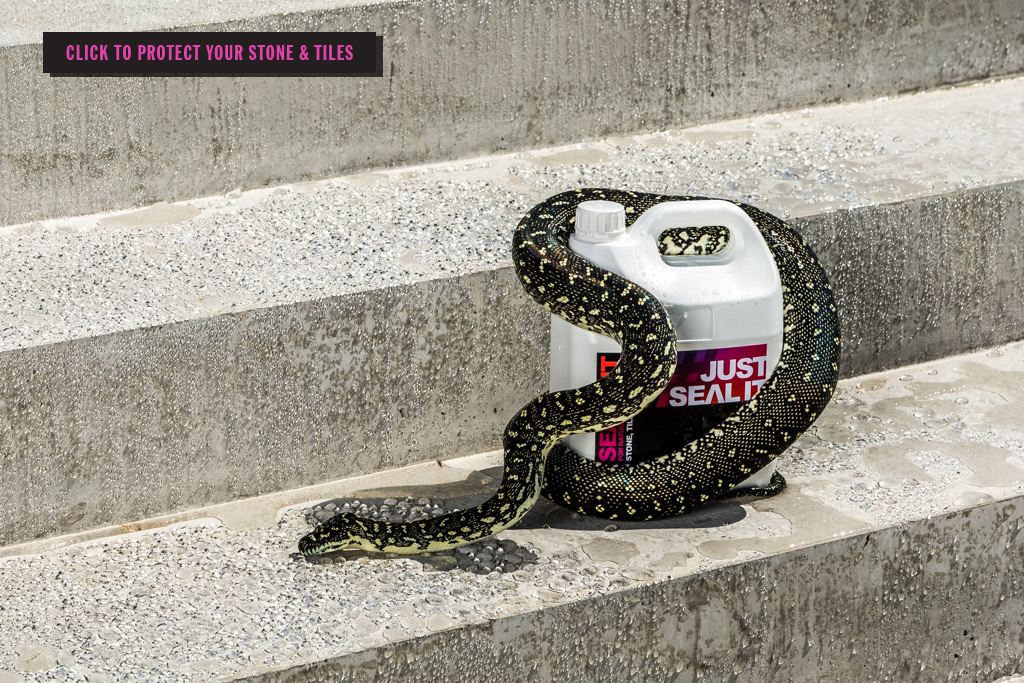 There hasn't quite been the doom and gloom over the past year that everyone was expecting. How have things been for you? Has it worked out good in the end?
For me, it's not an ideal situation but again, it's another situation that has incurred lessons and growth and development, and I can appreciate those elements of the process. Melbourne did go through a very strict lockdown and I have to admit it did affect a lot of people here. It affected a lot of people mentally and financially, there's a lot of different people at the end of it. 
People that were once really happy and positive were almost transformed into something else. It was really noticeable, especially at the beginning once we were released. Even my staff were changed people for a while and we're just starting to see them come back to themselves now after months of being free. It was such an intense experience being confined to your house for a few months and not knowing if it was going to end and then once it did end, we had no trust in the government to keep it that way, we were just waiting for it to come back. 
Now, the confidence is there, people are starting to come good again. But on a mental level, it was a pretty intense experience. In terms of the business, with the lockdown we couldn't do much. Fortunately our government did provide adequate financial support, which was greatly utilised by many businesses. 
Once we could start going out there again, we found that we were even busier than before because people can't travel, they've actually got quite a lot of money. House prices are going up. They're still going up in Melbourne and they're absolutely sky rocketing in rural parts because people are starting to realise they don't have to work in an office anymore, they can work remotely. They're buying up in regional areas, so regional prices are going up. 
People are confined to their houses, so they're at home looking to do home improvement and that's probably going to stay that way for, I'd say a couple of years, at least. There have been some pros and cons but we're very fortunate that in our industry, we were able to continue working and we weren't as heavily affected like people in hospitality were. We were very fortunate in that way, but it was a pretty eye-opening experience.
Are you optimistic about 2021?
Oh, I'm so optimistic about 2021. This is the year. I'm just feeling it on every level. This is our year, for sure.
To find out more visit prestigesurfaces.com.au