If Rolls-Royce was a superhero, Black Badge would be its dark and brooding alter ego. Not entirely evil perse, but with a sardonic and cutting edge. At it seems that Rolls-Royce clientele is lapping up this drive on the wilder side with 27% of the Rolls-Royce commissions donning the Black Badge and its infinity symbol. 
And this kind of makes sense as according to the Rolls-Royce marketing team, there has always been a bit of a rebellious subversive streak in their clients; the people that think outside the square, take risks and reap the rewards. No, it's not just chauffeur-driven landed gentry these are "rebellious women and men who built their success by breaking rules, taking risks and challenging conventions. In the 2020s, these women and men engage with luxury products on their own terms. They reject suits for streetwear, use blockchain, not banks and influence the analogue world through their digital endeavours. In doing so, they have created new codes of luxury that resonate with their sensibilities: darker in aesthetic, assertive in character and bold in design."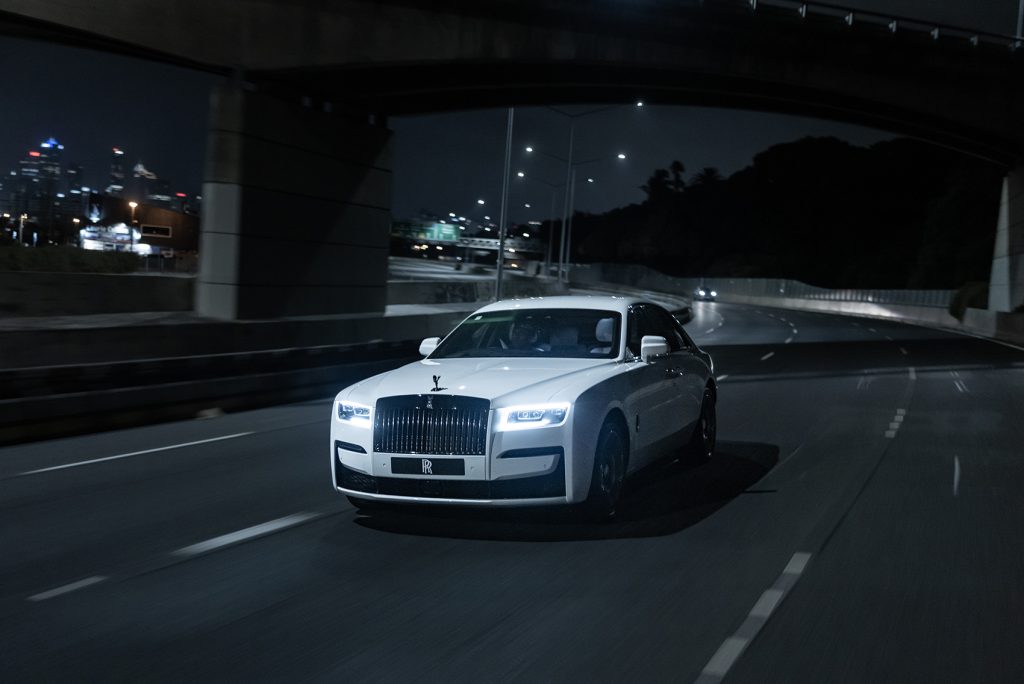 So it was this understanding that the Black Badge was formalised in 2016. A way for Rolls-Royce to provide the car for those rebellious new age titans of industry – digital and otherwise. 
"In the five years since Black Badge became publicly available, this bold family of motor cars has come to symbolise the pinnacle of a new type of super-luxury product, setting in motion a shift across the wider luxury industry. Subsequently, nearly all luxury makers create products that seek to capture the Black Badge spirit," says Torsten Müller-Ötvös, Chief Executive Officer, Rolls-Royce Motor Cars
And out of the dark cool, subversive world has emerged the latest Black Badge offering. Actually, we'll let Müller-Ötvös do the honours…
"Today, we announce a product that represents a new kind of Black Badge motor car, one that seizes on the minimalist, Post Opulent design treatment that has recast the legend of Ghost but amplifies and subverts it with the application of black. Our most advanced motor car yet has been reengineered to characterise the alter ego of Rolls-Royce: assertive, dynamic and potent. This is the purest Black Badge motor car in the marque's history. This is Black Badge Ghost."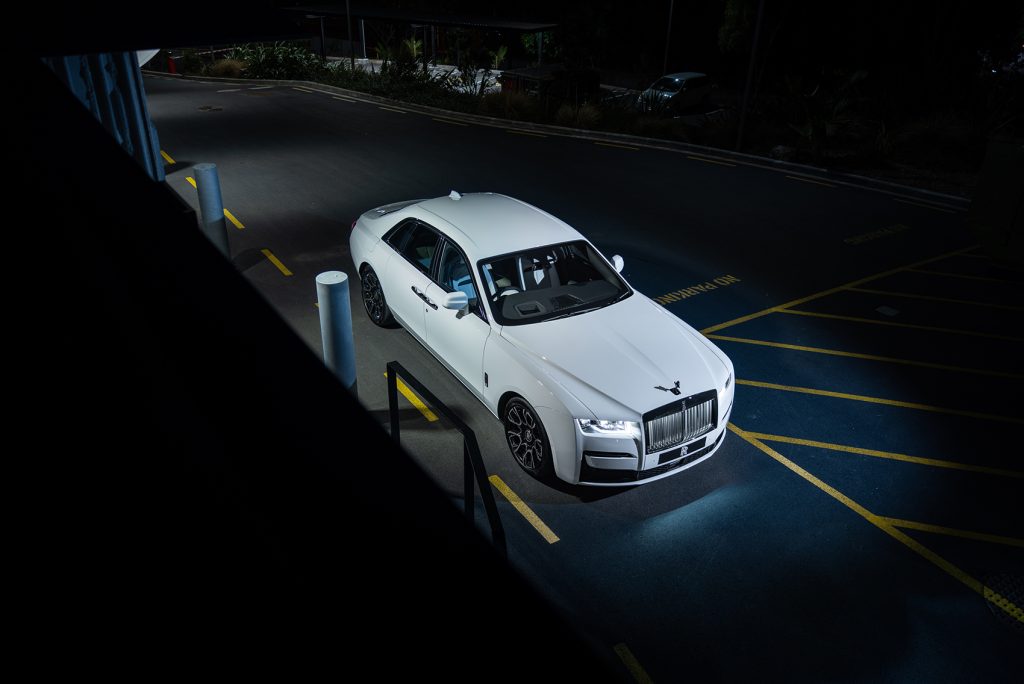 So that is bold talk from the CEO but he's probably actually underselling it even. For a vehicle that is meant to be minimalist the level of detail is bordering on psychedelic. We are not trying to be glib here either. While you can choose one of 44,000 'ready-to-wear' colours or create your own entirely unique Bespoke hue, most people go with the signature Black. And to stare into this paintwork is almost like staring into the abyss of infinity. It is really otherworldly. Rolls-Royce achieve this effect using 45kg of paint which is atomised and applied to an electrostatically charged body in white before being oven-dried. It then receives two layers of clear coat before being hand-polished by a team of four to achieve a high-gloss piano finish. 
This depth of darkness is the perfect canvas to then add a high-contrast, hand-painted Coachline. Rolls-Royce hallmarks such as the high-polished Spirit of Ecstasy and Pantheon Grille then get a unique chrome electrolyte introduced to the traditional chrome plating process that is co-deposited on the stainless-steel substrate, darkening the finish. Its final thickness is just one micrometre – around one-hundredth of the width of a human hair. Each of these components is precision-polished by hand to achieve a mirror-black chrome finish.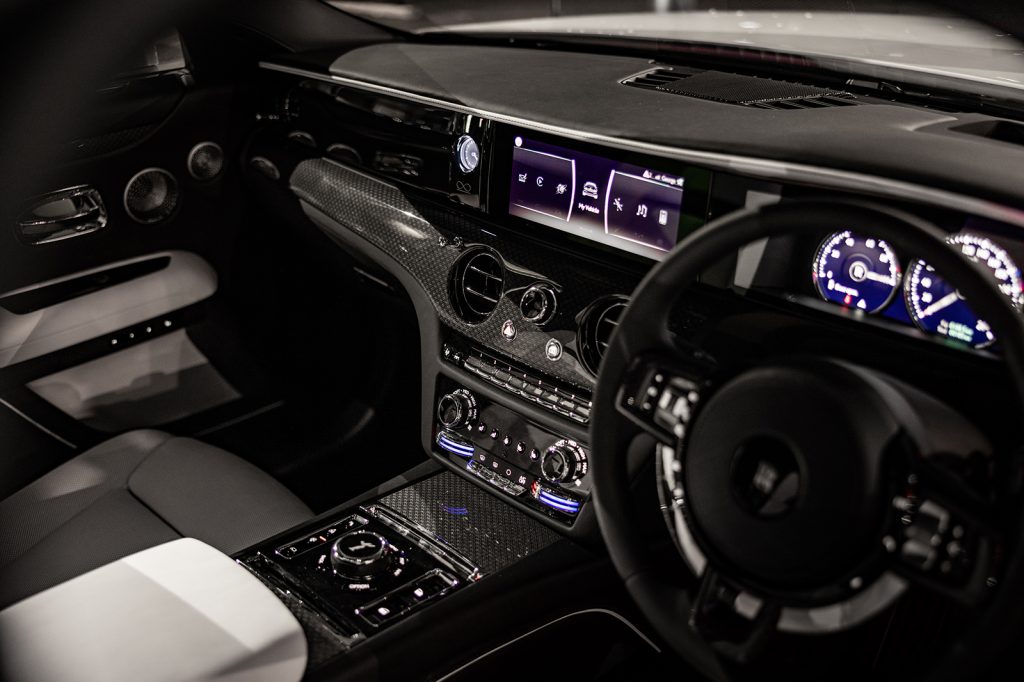 This special motor car gets its own bespoke 21-inch composite wheelset with the barrel of each wheel made up of 22 layers of carbon fibre laid on three axes, then folded back on themselves at the outer edges of the rim, forming a total of 44 layers of carbon fibre for greater strength. A 3D-forged aluminium hub is bonded to the rim using aerospace-grade titanium fasteners. This is finished with the marque's hallmark Floating Hubcap, ensuring the Double R monogram remains upright at all times.
The opulent interior sees an accent base created from multiple wood layers pressed onto the interior component substrates, finished in black Bolivar veneer. Leaves woven from resin-coated carbon and contrasting metal-coated thread laid in a diamond pattern are applied by hand to the components in perfect alignment, creating a three-dimensional effect.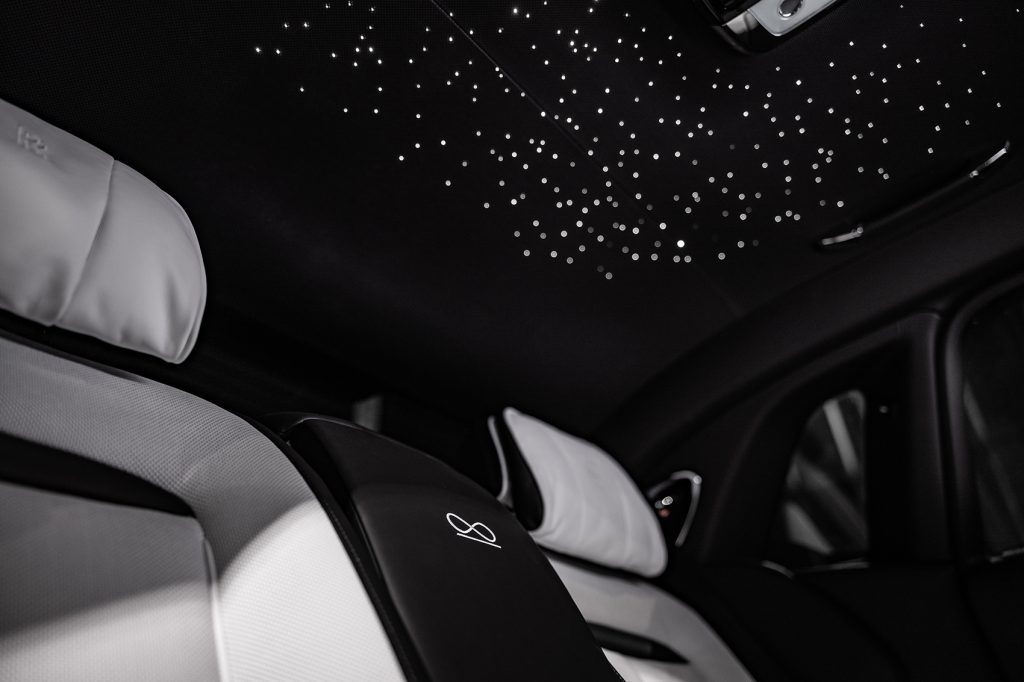 But perhaps some of the most striking details are the ones unseen. The Ghost gets Rolls-Royce's proprietary all-aluminium spaceframe architecture that debuted with Phantom. This sub-structure not only delivers extraordinary body stiffness but its flexibility and scalability allowed Ghost to be equipped with all-wheel drive, four-wheel steering and the award-winning Planar Suspension system. The Black Badge gets more voluminous air springs to alleviate body roll under more assertive cornering. 
All of this dark opulence is propelled by a twin-turbocharged 6.75-litre V12 with a total output of 441kW. The ZF eight-speed gearbox and both front and rear-steered axles work to help things along by working collaboratively to adjust the levels of feedback making for a confident and responsive driving experience. Although you might well just get as much joy just staring at the endless darkness of that stunning paintwork while pondering the meaning of life. 
Check out the Rolls-Royce Black Badge Ghost at their Auckland showroom now.