On my way to Rolls-Royce Motor Cars Auckland in Newmarket, I was making a mental note of road widths, corner angles, gradients and traffic, mapping out a safe route for my test drive with the 2021 Rolls-Royce Black Badge Cullinan. I was going through this exercise because the 2.7-tonne SUV is technically speaking, a beast of gargantuan proportions. At 1.8m high, 5.3m long, and 2m wide, the Cullinan casts an imposing silhouette.
I should have saved the brainpower for some other problem though as soon as the ever suave and effervescent Rolls-Royce Motor Cars Auckland Brand Manager, Ruwan Siriwardena, handed me the key and I got behind the wheel, it all went out the window. It might have been that a bit of Ruwan's casual confidence rubbed off, but it is the fact that the Cullinan is just such a pleasant, easy vehicle to drive. It is like a reverse Tardis – (to keep within the theme of iconic British things). While on the outside the Cullinan looks daunting – especially with the Parthenon grille, painted glossy black in this Black Badge specification offset against the bold metallic Salamanca Blue exterior paint – from the driver's seat though, everything seems just so naturally proportionate. And then once you are there, everything is willing you to drive, including the Spirit of Ecstasy – this time also in black.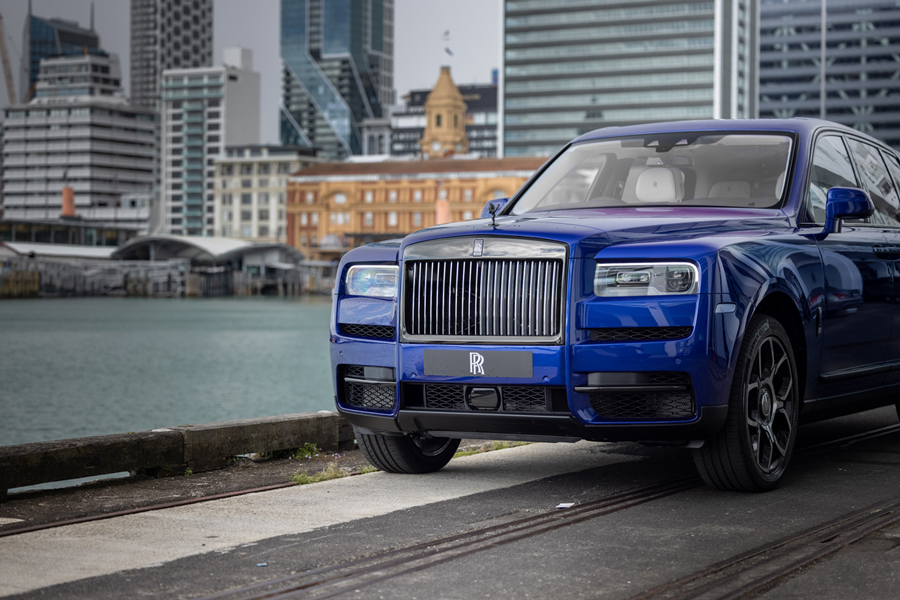 As you close the solid door, it shuts itself into place with a slight excel of air – almost like a spaceship airlock. This is probably not such a dramatic analogy as the Cullinan really does provide a wonderfully insulated double-glazed cocoon against the outside world.
As I adjusted to the silent buffer from the outside world, I also noted my feet settle into the plush lambswool mat. And speaking of tactile, the bespoke interior has a lot going on. This version has supple Grace White natural grain leather offset with Cobalto Blue stitching. A Black Badge Technical Fibre (Carbon Fibre and Lurex Weave) veneer extends across the dashboard. This particular combination of colours and textures is overtly striking at first glance, but then opens up to levels of more subtle detail the more you look.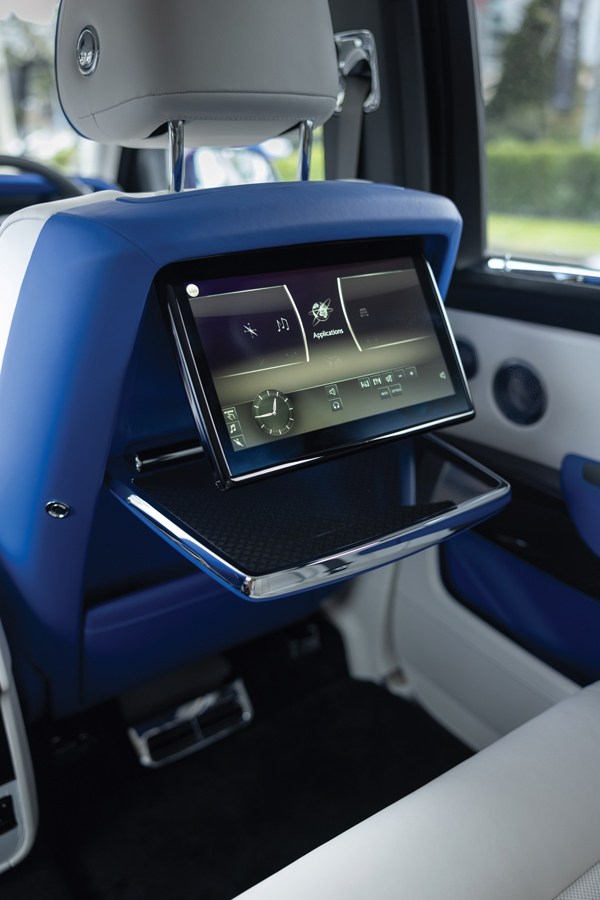 The infotainment screen is easy to navigate and within a few seconds I had my phone synced and my Spotify playlist connected to one of the most impressive automotive audio systems I have ever listened to. My current playlist, mainly because of some kind of personal nostalgic midlife crisis, is comprised of a lot of 90s Trip Hop – I think we can all agree though that this is pretty much the peak of humanity's musical journey. The particular benefit of this particular genre for any level of sophisticated automotive audio analysis is the wide frequency range often found in a single track provides a good testing benchmark for an audio system's tonal range. I'm just kidding, I made that all up because it sounded vaguely scientific. I think there is something to it though as I heard details, and sounds and depth in those tracks that I have never heard in 20 something years of listening – and I don't think my hearing has been getting better over that time.
So from one rhythmic soundtrack to another, and with a simple push of the button, the 6.75-litre, turbocharged V12 engine wakes from its slumber with a roar. A part of me was hoping for a slightly more involved ignition process worthy of such an engine – maybe a red cover over a switch that you have to flick open in like a fighter pilot might do to launch a missile – this might get a little tedious as a daily driver though.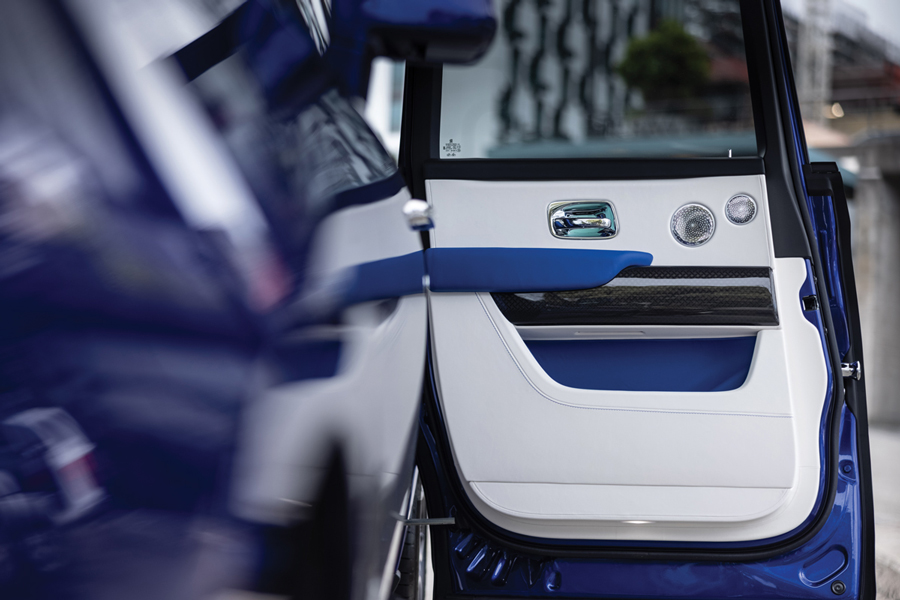 Equally as straightforward was getting it into drive via the column-mounted lever. And then it was off. And while there are a lot of cylinders doing their thing, nothing was overbearing. There is plenty of nuance low down in the power band to be very comfortable at low-speed city driving. I was expecting a bit of fight with the steering wheel, but was instead greeted with responsive obedience. The electric-assisted power steering wrangles the four wheel steering with ease whilst also allowing just enough feedback to feel connected to the road. On the open road though and all of that subtlety turns into pure power when you need it. The Black Badge gets 592 horsepower in fact. This is enough to get the Cullinan to a top speed of 250 km/h and 100 km/h in 5.1s. Not that I tried either benchmark. This vehicle doesn't need to chase anything. It may as well be the centre of its own universe and it will take its own time and do it in refined style without breaking a sweat.
In fact, one of the most enjoyable moments was a stationary one with the engine off. While checking out the rear seats, which are complete with rear comfort headrest cushions, picnic tables, TV tuner, I got lost for a moment staring at the incredible shooting star headliner – yes, a fibre-optic constellation of stars set in the roof. As I watched for the occasional shooting stars cutting across the constellation, soundtracked by Massive Attack's Better Things, I can't help but marvel not just at a beautiful reflection of nature, but just a total celebration of the capacity of people so good at what they do that they can take the best of nature and handcraft it into something utterly transcendent.
Visit Rolls-Royce Motor Cars Auckland for more info on the Rolls-Royce Black Badge Cullinan.