Ever watched those awesome surfers ripping up the waves at Piha and Muriwai with envy and wish you had the energy and the coordination to get up there yourself? While there's no replacement for the feeling of paddling out into the ocean and riding a perfect wave on your own, the electric surfboard is beginning to, excuse the pun, gather momentum, as it makes the grind a little bit less exhausting, and a little bit more accessible for beginners.  
Lift Foils aren't the first company to get an electric surfboard on the market, but they might be one of the most popular right now. Now into their third-generation model, the Puerto Rico-based outfit have been perfecting the art of the battery-powered surfboard for several years, and their latest creation is their most realised version of the unique and fascinating concept. While the images might give off the illusion that the board 'floats' above the water, the Lift3 F utilises a long, slim carbon-fibre hydrofoil attached to the underside of the board.
The long attachment sits under the water's surface and uses a motor, nozzle and a propeller, powered by a lithium-ion battery to give its grunt, propelling the board forward, allowing the rider to maintain speed and momentum regardless of the how big or small the waves under it might be. The foil is able to lift the board fully out of the water, which almost completely eliminates drag and creates an incredible smooth surfing experience.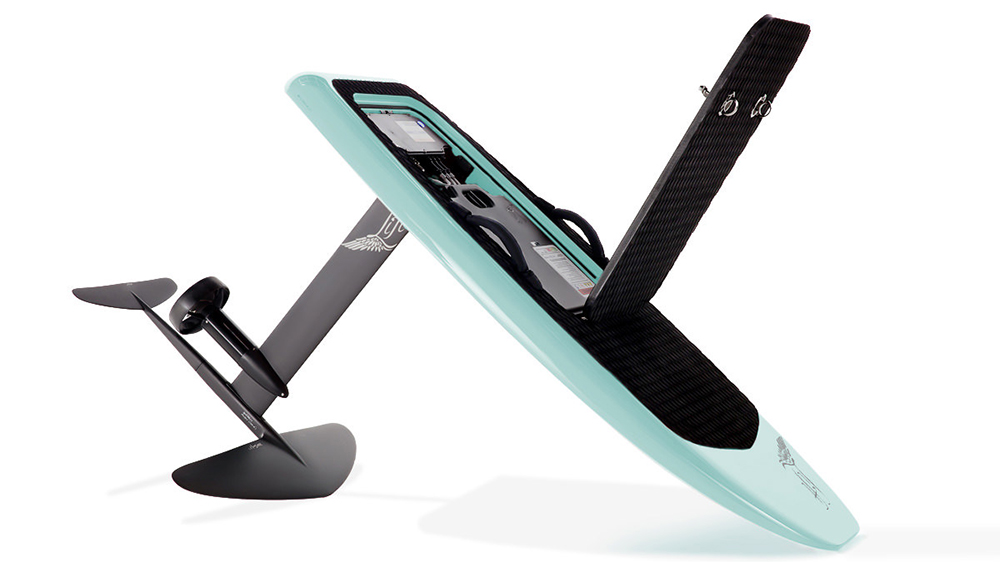 Coming in two sizes (a 5'4 longboard, best for beginners and a 4'9 for more experienced riders), the Lift3 is capable of gliding up to two riders at speeds of up to 48 km/h, and with a battery which lasts for over 100 minutes when fully charged, you can get a great day's surfing done with one of these bad boys.
Obviously, with it being a new and exciting piece of cutting age tech, you can expect the price tag to reflect that and the Lift 3 F is retailing for a $9,995 USD (this includes a handheld Bluetooth controller with throttle trigger and battery indicator). Still, if you've got money to blow and are looking to pick up a new hobby, this seems like a perfect way to help you skip the hard learning curve and get your 'surfing career' kick-started.  
DISCOVER SIMRAD
High Performance Marine Electronics for Powerboats