While a couple of decades in watchmaking years is very, very young, F.P Journe has wasted no time in cementing its position as one of the world's finest watch brands through the wrangling of special materials, innovative engineering and unique designs since its inception in 1999. And the F.P.Journe Chronometre Bleu is a stunning example of this philosophy. 
Let's just start with the case material which is made from tantalum a rare, dark grey metal with blue undertones that is known for its extreme hardness and high resistance to corrosion and wear. These properties make it an ideal material for use in a variety of industries, including aerospace, medical, and chemical processing. However, its use in watchmaking is relatively rare due to the challenges it poses for manufacturers. The metal has a high fusion temperature of 3016° and a density of 16.65 g/cm3, making it difficult to work with and shape. In addition, the process of fashioning tantalum requires specialized equipment and expertise, making it a costly and time-consuming endeavor. So F.P Journe, went ahead and did it anyway and  the result is a stunning grey metal case with blue overtones coming in at 39mm in diameter and 8.3mm thick. Complementing this is the dial with a blue chrome finish perfectly complements the colour of the case, and it features cream-coloured hands and large Arabic numerals.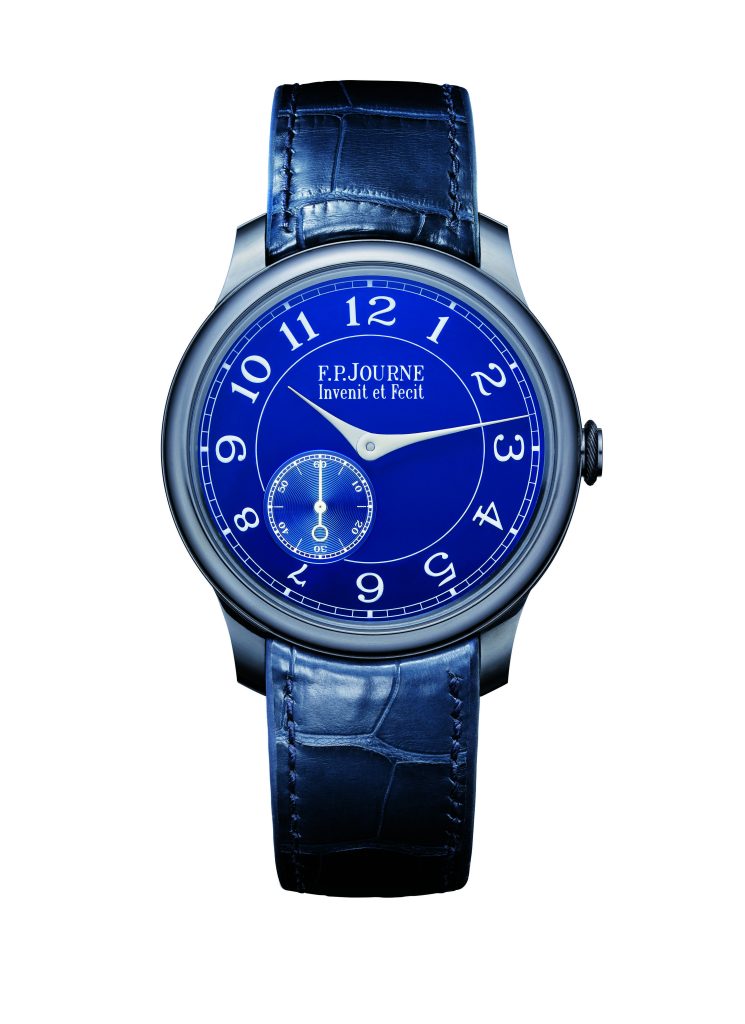 The beating heart of The F.P.Journe Chronometre Bleu is the in-house mechanical movement, calibre 1304. This movement is manually wound, featuring twin barrels that work in parallel to deliver stable power for the watch's 56-hour autonomy. The F.P.Journe freesprung chronometer balance, with inertia adjustment via four opposing weights, is dynamically adjusted in six positions. The balance oscillates at 21,600 vibrations per hour.
One of the unique features of the movement is the use of a pallet escapement with a 15-tooth escape wheel. This traditional mechanism is known for its high level of precision and is often used in high-end timepieces. The escapement is responsible for the transfer of energy from the mainspring to the balance wheel, which controls the timekeeping of the watch.
The movement is constructed with 18K rose gold, featuring 22 jewels, and is decorated with high quality, partly circular-grained base plate, with barleycorn guilloché, polished screw heads, chamfered slots, and pegs with polished rounded ends. 
Given just how firmly,  F.P.Journe Chronometre Bleu cements it self in the canon of horology we are looking forward to the next 24 years.