While the AP Royal Oak might have carved out a well-deserved iconic status, Audemars Piguet are much more than a one-trick pony. Exhibit A. The Code 11.59 Starwheel, an ultra-contemporary watch is a fresh take on a centuries-old horological complication.
Wandering hours, invented in the 17th century, is a system that displays the hours using satellites that rotate around a minute scale in the form of an arc. This aesthetic presentation of the hours and minutes adds a sense of mystique to reading the time. Audemars Piguet reintroduced this system in 1991 under the name Starwheel, and it was used in many models up until the early 2000s.
The Starwheel makes a comeback in the Code 11.59 collection, which highlights this fascinating display while paying tribute to a relatively unknown classic in Haute Horlogerie complications.
To coincide with the launch of this special timepiece, French artist Ugo Gattoni developed an original universe that reflects the contemporary design of the timepiece and the mysterious technicality of the wandering time display. The result is a playful and imaginative world where the Masters of Time advance through intergalactic space.
The time display is achieved with a central rotor that completes a full revolution in three hours, which holds three aluminum discs that rotate on their own axes. Each disc has four digits from 1 to 12 that take turns pointing to the arched sector on the top of the dial where the minute scale is printed. The 18-carat white gold seconds hand is slightly curved at the tip to follow the relief of the discs, and the blue aventurine serves as a shimmering backdrop for the rotating discs.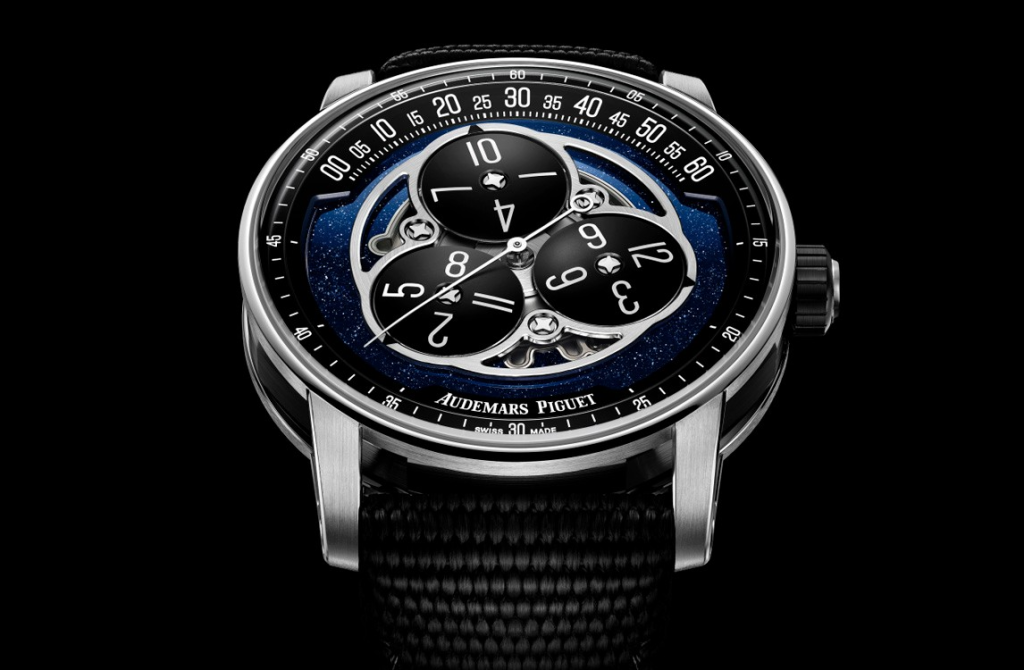 The watch is powered by the self-winding Calibre 4310 movement, which is a next-generation hour, minute and seconds movement directly derived from the Calibre 4309 and featuring a new module, allowing to have the Starwheel display integrated. The watch also plays with materials and colors, like the blue aventurine dial background and the 18-carat white gold trotteuse (seconds hand), creating an infinite play of light that underlines the complex design of the Code 11.59 by Audemars Piguet collection.