It might not be a technical motoring term so to speak, but the Rolls-Royce Boat Tail really is quite simply damn hot. It is probably one of the hottest vehicles ever crafted. I know these are subjective things and you have a right to disagree, but I have on my side one of the world's most respected watchmakers who seem to agree, albeit with a slightly better vocabulary.  
Swiss luxury watchmaker BOVET 1822 love the Boat Tail so much that they have invested 3,000 hours of design, engineering and craftsmanship to create two matching bespoke his and hers timepieces. Each of these special watches are reversible and feature custom designed 44mm 18-karat white gold cases. The men's timepiece is high polish finish, while the women's timepiece is hand-engraved then filled with blue lacquer
The timepieces feature Bovet's signature Amadeo convertible case technology, which allows the watch to be worn as a wristwatch, a pocket watch, table clock or of course a dashboard clock. Designed in collaboration with Rolls-Royce specifically for the still-anonymous owners of Boat Tail, each timepiece features a striking Caleidolegno hand-applied marquetry front dial, which incorporates the same wood as the Boat Tail's rear deck and the famous "Spirit of Ecstasy" on the tourbillon bridge.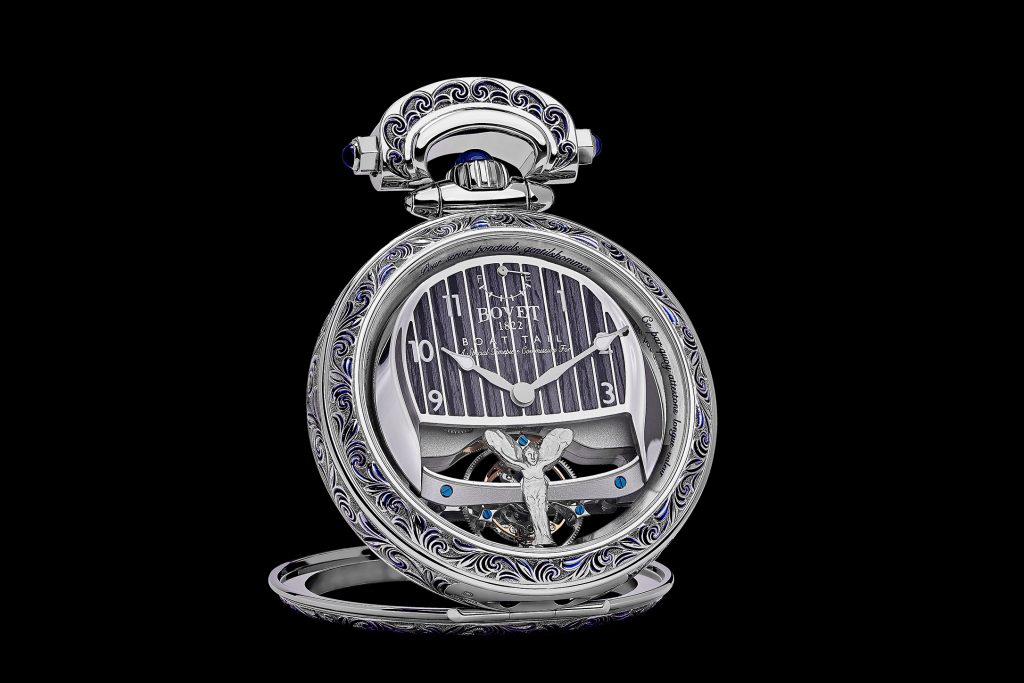 The reverse dials features an aventurine dial for him, while she gets a bouquet of flowers painted on its mother-of-pearl dial. These dials also incorporate a hand-engraved and highly detailed miniature of the Boat Tail. The teams at Rolls-Royce and BOVET 1822 were also able to achieve a precise colour match between the lacquer on this tiny work of art and the full-size motor car.
To make sure any precision isn't affected by being in an upright position when acting as dashboard clocks, the timepieces feature a specially-designed tourbillon. This innovation goes back to the late 1800s when it was found that pocket-watch left static in one position for any length of time suffered from impaired accuracy due to the effect of gravity on key moving parts. Watchmakers solved this by developing the tourbillon, where the escapement and balance wheel are mounted in a cage that slowly revolves, cancelling out the gravitational effect. In a wristwatch, the wearer's natural physical movements do away with the need for the tourbillon. However, when that same timepiece is mounted vertically in a car dashboard for many hours at a time, the tourbillon is a must. An example of the kind of kindred spirits of watchmaking and coachbuilding in where innovation, engineering, craft and art are all one in the same.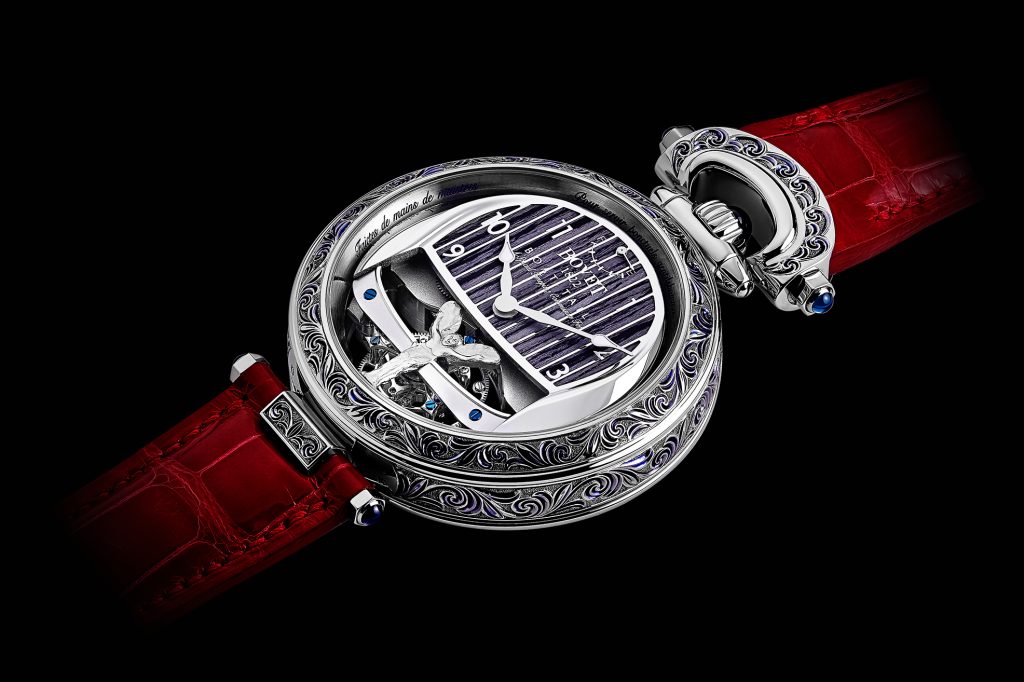 "Rolls-Royce Boat Tail is a pure expression of its owners' interests, influences and passions, with every detail minutely considered. We have enjoyed working with BOVET 1822 to create a pair of exquisite timepieces that also serve as Boat Tail's dashboard clocks. In doing so we have together created historically significant items of detail, precision, and beauty. These remarkable objets d'art, unique to the first iteration of Boat Tail, represent the finest examples of the skills and values shared by our two great luxury Houses" says, Torsten Müller-Ötvös, Chief Executive Officer, Rolls-Royce Motor Cars.
Oh, and another interesting potential dinner conversation subject for these owners is the fact that these watches are most likely the only wristwatches in the world to have their own motoring safety rating.