2021 was a year of many viral sensations which had us all talking, but when it came to streaming, there was one phenomenon which dominated the mainstream conversation like no other; Squid Game. Yes, you simply couldn't look anywhere without seeing, reading or hearing about the Korean Netflix series that didn't have a single recognisable Western figure associated with it, yet remarkably took the world completely by storm and became comfortably the year's biggest TV hit.
Of course, we live in the age where sequels rule the world and when an entity proves popular and profitable, producers will stop at nothing to squeeze every last drop of revenue out of it. As such, we the audience have been conditioned to be constantly looking towards the next chapter and the second the final second of the first season of Squid Game had ticked over, the world was immediately awaiting what was next.  
It should come as a surprise to no-one, then, that the Squid Game story is far from over, and a second season could be only the tip of the iceberg for the cultural phenomenon. Netflix CEO Ted Sarandos confirmed this week that not only is a second season already in development, with the shows original creator Hwang Dong-hyuk expected to be back at the helm, but the streaming powerhouse has a vision for Squid Game that goes far beyond simply producing more television episodes. "The 'Squid Game Universe' has just begun" Sarandos definitively claimed in an earning interview last week.
That term, 'universe', is a pointed one with regard to entertainment entities nowadays, and implies development and expansion beyond the relatively self-contained story of the first season. Minyoung Kim, VP of Content for Netflix Asia Pacific revealed late last year that eyes were already beyond the boundaries of the small screen for Squid Game; "My team's role is to really look at all of those opportunities together, to create that roadmap for the Squid Game IP. We are looking at multiple different areas — from games, consumer product and others".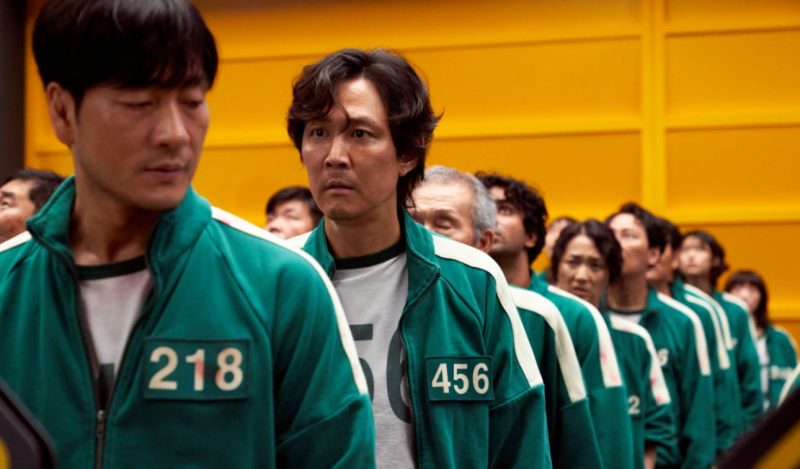 It might be worth noting that Netflix has already begun to get a head start on the gaming front, establishing Netflix Games late last year, and it's incredibly easy to see how a Squid Game entity might find a natural home there. Despite the seemingly endless possibilities for expansion, Hwang has made it clear that his second season will still prominently feature Gi-Hun, the down-on-his-luck protagonist who stumbles his way through the first season with the viewers in tow; "I will promise you this, Gi-hun will come back," Hwang told interviewer when asked about a second season. "He will do something for the world."
 As of right now, there are no dates locked into any future developments, but expect Netflix to strike while the iron is still hot; the cultural cycle moves incredibly fast in this day and age and the more time that passes, the more likely it is the world simply moves on to the next obsession.
Images courtesy of Netflix.