In the transportation transition to electrical, you really have to feel the sorriest for motorbike designers. Unlike other vehicles who can hide their propulsion away under some fancy industrial design, motorbikes (as their name would suggest) have an intrinsic aesthetic connection to the motor. The frame, faring, suspension and all those other essential elements are really hinged off the engine. Regardless of what impact it might be doing to the environment, you can't help but admit that an internal combustion engine with offset cylinders and moulded extraction manifolds just looks cool. It is hard to get as excited about some magnets and woven copper wire. 
Those old experts of motorcycling cool, Triumph are onto the case though with their EV motorcycle project the TE-1. The two-year project, in partnership with Williams Advanced Engineering, Integral Powertrain Ltd, and WMG, at the University of Warwick are collaborating on what is planned to be the future of electrical powerhouses for Triumph.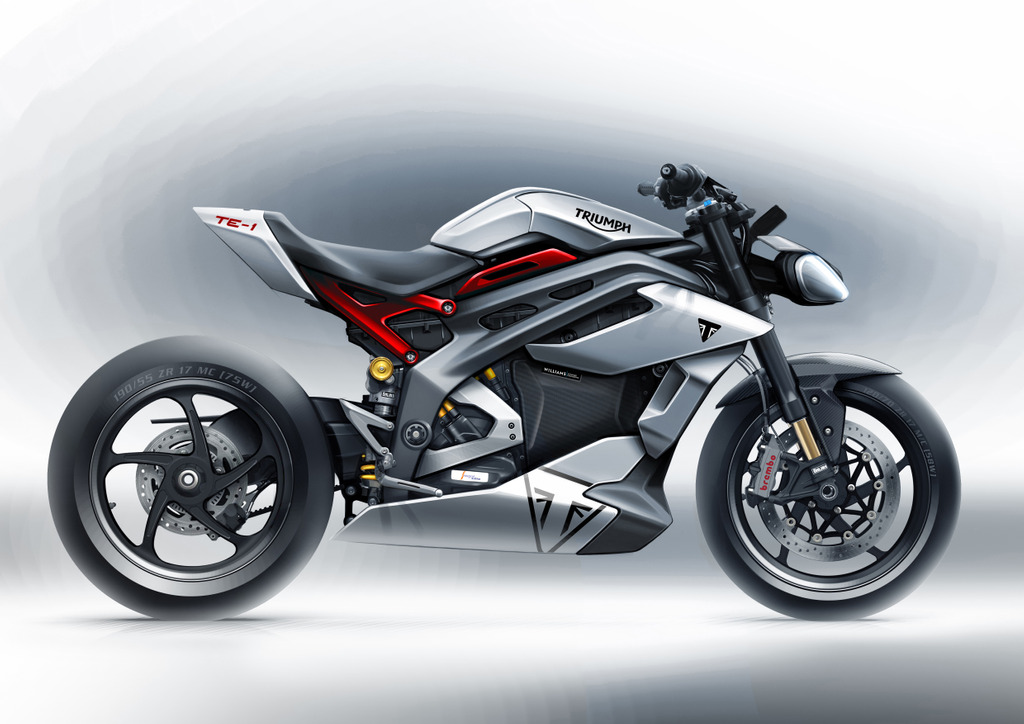 Triumph are focusing on the motorcycle chassis design and engineering expertise, while Williams Advanced Engineering will provide industry-leading lightweight battery design and integration capability, using its test and development facilities to deliver an innovative battery management system combined with vehicle control unit. Integral Powertrain Ltd.'s e-Drive Division will lead the development of bespoke power-dense electric motors and a silicon carbide inverter. 
The collab has reached 'Phase 2' of the four-phase development process, and the 130kW powertrain is largely ready to go.
Steve Sargent, Triumph's Chief Product Officer said "Our future product strategy is focused on delivering the most suitable engine platforms for the changing landscape of customer needs, and we see a Triumph electric powertrain as a significant requirement alongside our signature twin and triple cylinder engines. As part of our electric motorcycle initiative, Project Triumph TE-1 represents an exciting collaboration that will provide valuable input into our future line-up. We are incredibly pleased to have the support of OLEV and Innovate UK, and to be working together with the UK's electrification experts and academic leaders, in an endeavour that ultimately is focused on the future prosperity of British industry, and the future of motorcycling."