The light shines brighter at the edges. It keeps us sharp, at the edge, where we gotta be. At least it did for Al Pacino in Heat, you can add your own finger snaps.
It certainly does for cities too as the 21st century has seen property prices rise so high in the centres that we've all had to move out a lot further in order to find somewhere even remotely affordable to live. And that is how it is going to be for the foreseeable future – unless someone develops an elixir of life that extends our existence on this Earth out to 783 years so we can finally pay off our mortgages.
However, it is one thing to live 30 odd km from work but you also need to let your hair down as well – and travelling all that distance by Uber or public transport for a night out is a time consuming and expensive drag. But luckily, we've moved on a lot from the bad old days when our cities all had the same attitude as provincial towns like Stratford or Levin, where life begins and ends with driving your Mazda RX-8 up and down the main street on a Friday night. 
Now, out of necessity, Muhammad has definitely come to the mountain with our city fringes becoming far more interesting than the mere passive dormitories they once were. In Wellington, the craft beer nirvana of Brew Town has popped up in Upper Hutt some 34km from the city centre, while in Auckland similar cool spots have appeared in what were once far flung quasi-rural outposts of the Empire. We're talking about places like; Hobsonville Point; Riverhead; and of course, the granddaddy of them all; Waiheke. Whereas once these were boltholes you went to get away from the Rat Race, now you are more likely to willingly scuttle there in order to have a good time.
One of these newish Fun Zones in Auckland is Karaka, which is a not insignificant 36.7km away from the White Lady takeaway cart downtown. Yet, like Hobsonville, Riverhead, Waiheke and Upper Hutt, whilst a majority of the neighbourhood houses may be brand spanking, the history of the place is as old as. Excitingly, some of this history has been incorporated or repurposed into awesome new activities that make Karaka well worth the trip – and on purpose too, rather than just via taking the wrong lane at the Papakura off ramp!
New Zealand Bloodstock 
Of course, one of the main – and globally significant – attractions in Karaka is the pedigree racehorse sales that happen every year at the Karaka Sales Centre. This includes the New Zealand Bloodstock National Yearling Sales Series in summer and the National Weanling Sale in June. These events are amazing as you'll get to see all sorts of wealthy horse people from both New Zealand and overseas coming to Karaka to snap up all the blueblood pedigree. Even if you don't have a few spare million of your own to indulge in the sport of kings, you can be an extra in the movie scenes of watching those with incredibly deep pockets outbid each other for the next Melbourne Cup winner.  
Spookers
Just up the road from Karaka is Spookers which is based at the former Kingseat psychiatric hospital – New Zealand's former answer to London's Bedlam as a form of a gothic torture chamber for the mentally ill. The patients were so mistreated at Kingseat in the past that many of them died and are said to still haunt the building and grounds to this day. In fact, there are so many ghosts roaming about that Kingseat is widely regarded as the #1 haunted location in the country – so what better place could there be to run a horror theme park?! 
Spookers is exactly that; a live entertainment experience of themed sets where actors go hard on the special effects and frights to FREAK – YOU – OUT! Well worth a trip although it's best enjoyed in a group – as that'll give you someone to hide behind!
Asylum Paintball
Right next door to Spookers is Asylum Paintball and while you don't have to be crazy to do paintball, sometimes it helps! Again this is best done in a group so gather together a bunch of mates or your families and go shoot each other by day or night. If you've never tried paintball before, do so at once as it is the most fun you can have with your pants on – even if you're a pacifist. There is nothing more satisfying than getting the jump on someone and splattering their overalls with paint.
Auckland Metropolitan Clay Target Club
If the paintball shooting stirred something in your soul then you could have a crack at the real thing with a spot of skeet shooting. Just up the road on the way to Pukekohe is the Auckland Metropolitan Clay Target Club. Here, you can just rock up and blast away at a few targets. You don't need your own gun as the club always has plenty on hand and there are helpful members on hand to guide you on your mission to break a few clays. 
DoubleTree by Hilton Karaka
As there's quite a bit to do in Karaka, why not make a weekend of it? A great place to stay is at the DoubleTree by Hilton Karaka  right next to the New Zealand Bloodstock's Karaka Sales Centre. Featuring four spacious suites, fully equipped gym, pool and two meeting rooms, the hotel also boasts the Ethereal | Artisan Kitchen with a Farm to Table menu by celebrity chef Mark Southon. Here you can watch the chefs in the live kitchen preparing the best local produce from the Karaka region while you sip your cocktail from the HorseShoe Bar.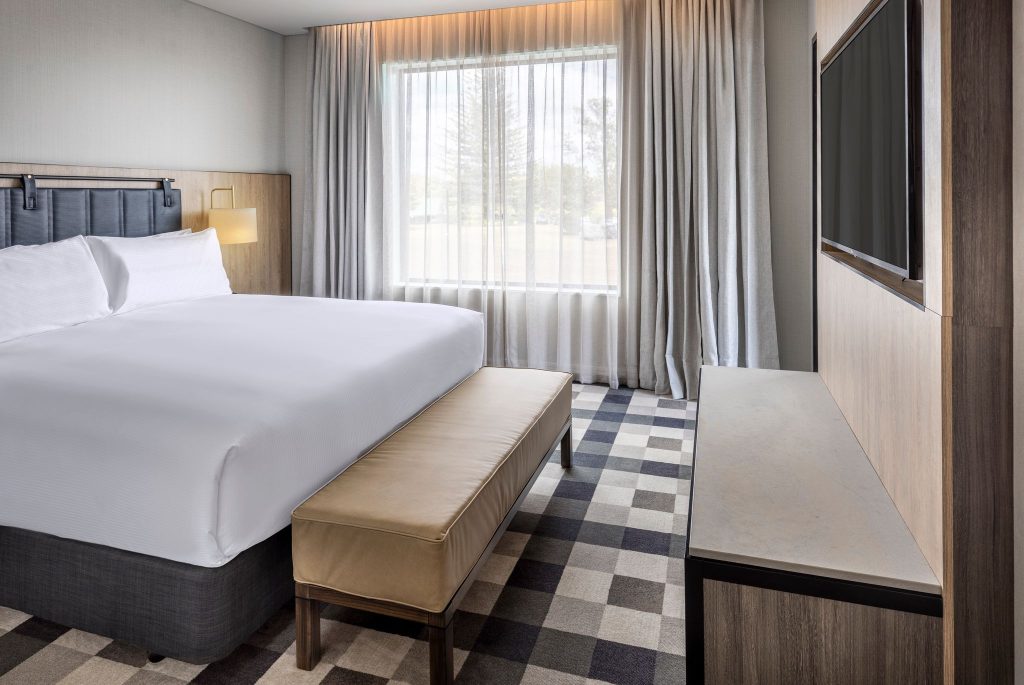 Forget about downtown being the 'heart' of the city, increasingly all of our cities are developing a new soul on the outskirts of town. Like many other lifestyle start ups, Karaka has done a great job of blending the old with the new to create a play zone you'll want to go to again and again. Check it out this weekend.