You may have recently seen the influx of social media users flashing their sparkly smile, crediting their pearlers to a recent at-home teeth whiten. The trend of at-home teeth whitening has grown significantly in the past few years, and while you'll find plenty of overseas-based companies on the market, one Kiwi business is giving locals a convenient and affordable option.
Founded last year between young entrepreneur and social media guru, Kennedy Anderson and innovative businessman, Victor Green, Auckland-based, The Whitening Co., started simply as a conversation between two mates.
Since that initial conversation, they have hit the white-hot influencer market with the brand, getting people talking about their at-home teeth whitening kits. After the success of their at-home kits, Green and Anderson (along with Dental Assistant and Managing Director, Ruby Mills) opened their first walk-in studio in Eden Terrace last October, followed recently by a second luxe studio in Takapuna, offering clients a premium service at an affordable price.
Not just a service for your teeth, The Whitening Co., even help to combat global issues too, donating 10 percent of their home-kit sales to the Fiji Dental & Medical Foundation, which delivers basic medical and dental care to the Mamanuca Islands in Fiji.
Before I had my teeth whitened by Mills, I sat down with Green and Anderson in the Takapuna studio to talk about the business of white teeth, The Whitening Co.'s journey and its outstanding success.
Can you describe your morning routines?
Victor Green: I've got two kids so I've got a really individual morning routine. I get up at 5.30am, go to the gym, in the office by 7am, work through the day and get home before 5pm.
Kennedy Anderson: Mine's a little bit different, I don't have two kids. My morning varies on what we've got going meeting-wise. If we are meeting for The Whitening Co., we meet pretty early. We both have day-to-day business lives as well with separate agencies. If we're having a Whitening Co. meeting, I'm usually up by 6.30am to meet at 7am and in the office around 8.30am.
Do you think a good morning routine contributes to a good business mind?
VG: Personally, I can't do without it. I don't have the luxury of having the evenings anymore. Some days, I'll have a full morning, in the office by 7am and I'll work until 5pm, put the kids to bed and then be back in the office until 11pm.
I think it's instrumental if dealing with more than one business. In the long term, it's the best approach, but we're not at that point yet.
KA: As far as mind-set goes, absolutely it contributes. When I get up early and the day is well-planned, I have a way better outlook. I'm not saying I'm perfect at it, though.
VG: It's the consistency we have to be weary of. Consistency is key. There's something about waking up before everyone else that's appealing. When everyone else has come into the office, but you've already done an hour of work, you just feel ahead of the game. That carries into your attitude and how you hold yourself throughout the day.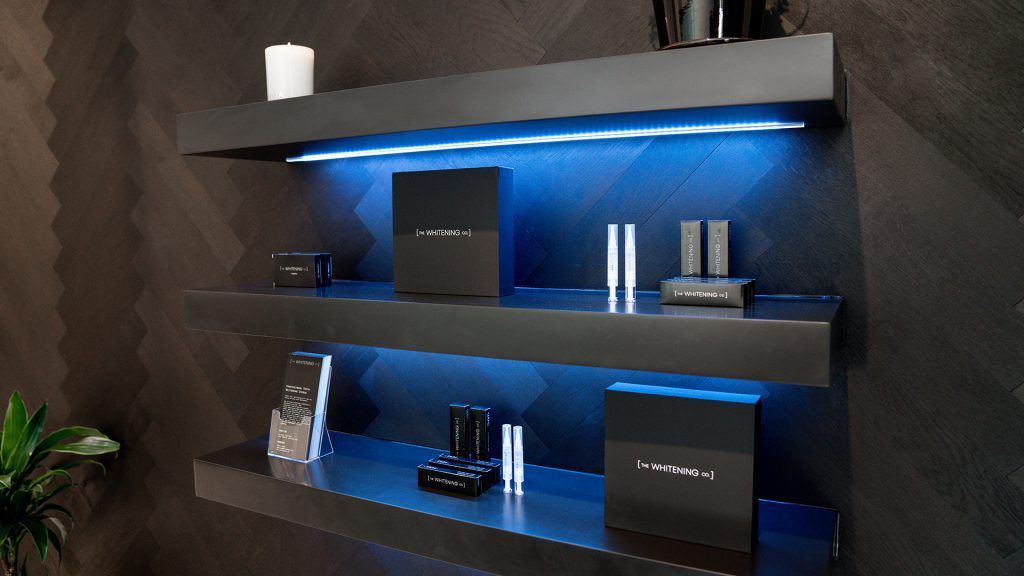 How did The Whitening Co. journey start?
VG: The journey started with Kennedy expressing interest in getting into the whitening industry, by way of buying into another company. I suggested that we start our own. I didn't necessarily rate the options that were present at the time, so we started brainstorming ideas.
KA: I think that with our joint skill set – whether it was for whitening or not – there was a lot of opportunity for design, social media, marketing.
VG: We have 30 people working for us between us, so if we have an idea that gels, we can get the cogs moving quickly. From the idea, to the brand, to influencer marketing, to content – it's all been smooth.
KA: Since February last year, we've developed an online presence and two stores. It's been fast-paced, but rewarding. We've only recently opened up our Takapuna store and our other store in Mt. Eden has been open since October last year.
We had a great response to it and it created a lot of validation of the brand. Teeth whitening on a whole can be considered a little bit of mumbo-jumbo. Some people wonder if it's even possible or safe. There's speculation around it, so we figured that a big chunk of the market was in studio experiences that create more validation for us.
That's why everything is so white and new-looking at the Takapuna store. It's a bit more of a spa vibe, like a hair-treatment. People get excited about visiting a salon and clients go out feeling great. You can see that on social media, everyone who leaves can't stop smiling.
In the days of everyone being so busy, people love the fact that they can have an hour to themselves where they can sit down and completely relax. I'm personally convincing myself to book in again!
VG: The model we were working with was a reversed dentist model. A dentist generally might have one chair that costs tens of thousands, plus equipment, with a reception, a dentist and an assistant servicing one person at a time. We can reverse that by having five chairs with two people working.
It's the complete opposite of a dentist. We have noise-cancelling headphones, mounts for people to put their phones – in winter we even provide blankets. It's very peaceful, everyone falls asleep.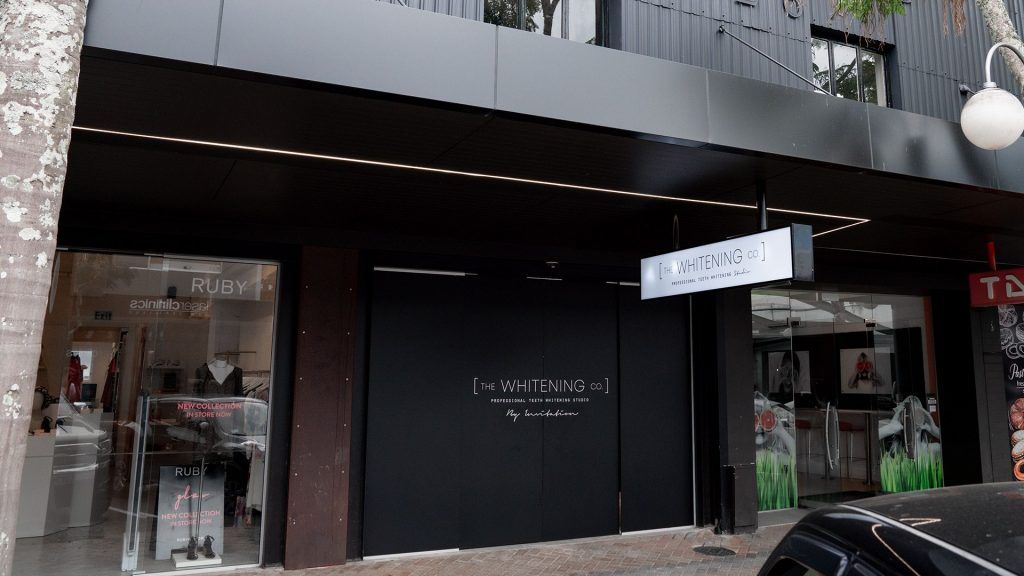 What whitening process does The Whitening Co. use?
KA: We have our own formula at The Whitening Co. that our suppliers formulate. It's proven quite popular. The main ingredient we use is hydrogen peroxide. We're pretty open on the fact that we use it. It's a strong chemical, so we like to promote that it's not going to hurt because we use it right.
There's a lot of natural teeth whitening products on the market, like charcoal. It's not a whitening ingredient and is quite abrasive. We like the idea that ours is a dental grade, strong product.
VG: At the end of the day, your teeth are porous. That's how they get stained in the first place.
KA: Your results look awesome just after they've been whitened, but in the 24 hours following, your teeth are going to get whiter. They keep the whiteness in there. If you keep drinking black coffee though, you're going to have to keep coming back into one of our stores.
What other businesses do you guys have besides The Whitening Co.?
VG: I have a digital marketing agency, a production agency and a real estate marketing agency, which markets listings for some Ray White and other agencies like that. The Whitening Co. is a passion project.
KA: I have an agency called Kollab which is a social media creative agency, and The Whitening Co. I'm also a shareholder in a meal replacement company. Trying to lock us both down for a meeting is always fun.
The Whitening Co. donates 10 percent of profits to the Fiji Dental & Medical Foundation. Can you talk about that?
VG: Specifically, The Whitening Co. is split into three different businesses. We've got the two store locations and the online store. The 10 percent comes from our online kit sales and started from the get-go in order to give back to people who don't have the infrastructure of oral health or the care they deserve. We saw Fiji had been introduced to sugar, but did not have the support they need from a dental perspective.
KA: We were talking about different, innovative ways to help change. For example, the environment and using our reusable and recyclable packaging. When we were talking about a charity to support, we thought that Fiji was a feasible option. If we chose a country that no one had really heard about, then it would've been harder to sell the products and give back at the same time. We want to make a change.
Do you think that giving back is a successful business model?
VG: Absolutely! We looked at different ways to do it. We've reviewed the Fiji Medical & Dental contribution a few times and we've been brainstorming different things that have that same model, but closer to home.
We've been thinking about kids in schools, school lunches and kids in poverty too. We've done a couple of talks with kids. It's something that we're always passionate about. We'd recommend other companies to do the same.
KA: In the world of oral health, it's definitely not a cheap world. There are margins in the oral health world that I would consider too dear. We feel very fortunate in our position to promote this model.
VG: New Zealand has something like 400,000 small business owners. That's ridiculous per capita. That's a large number of people making money, so if they're making it, then they should be contributing. It's a profit, not a revenue. If you're making money, it doesn't hurt to give back a bit.
From a market perspective, it positions you better too. If the clients agree with the social terms, others are benefiting, not just you.
What's been the best moment in The Whitening Co.?
VG: I'd almost say we're in it. We've just opened the second store after validating the idea online and in our first store. We have numerous locations we've been looking to grow further.
KA: There was definitely the first couple of weeks before the store opened that added to the stress. At the same time, it's so exciting for us. Ever since opening the Takapuna store, the response has been bigger than Eden Terrace. They just walk into the store and comment on how relaxed it makes them feel. It makes Victor and I feel good too when we get feedback like that.
VG: It was fun putting our heads together on how we were going to fit the place out as well. We wanted the right look and feel. Even down to the smell, we have a Whitening Co. smell which we use in the two stores. As much as people don't really give it that much recognition, they notice it. It's something that becomes part of the brand.
KA: I think it was clear when we started seeing repeat bookings and we took it down to the fact that it does have that 'hair salon' model. People coming back in to get a 'touch up'.
Do you think people are way too conscious nowadays about their teeth?
VG: Without getting into too much detail, people are getting more conscious about how they look in general. There are options out there for how people can look 'better'. We're not just talking about teeth whitening, there's eyelashes, eyebrows, their lips, botox, and this has been around for a while.
It's becoming more accessible for everyone and as it's becoming more accessible, more people are jumping onto the trend. It doesn't all come from appearance in this perspective. There's confidence and health. Fitness and wellness have both been huge trends within the last 10 years. It's carrying on from that.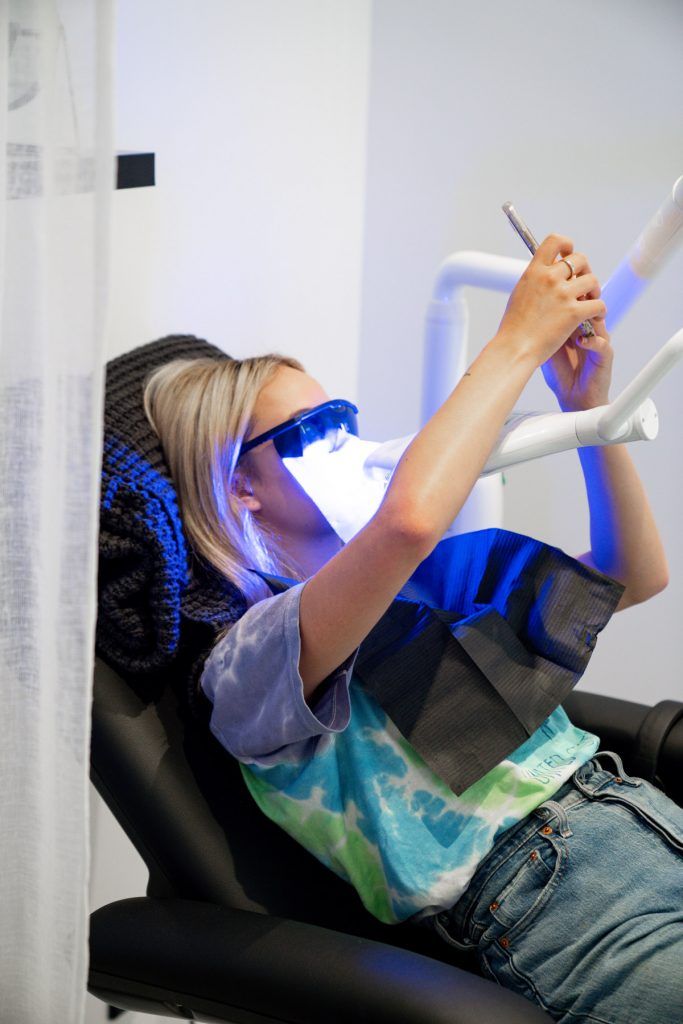 KA: Everybody knows that you always feel better mentally. Our tagline is 'Smile With Confidence' because people leave here beaming and it totally shows. There's the old adage that 'A smile is contagious'. That's no lie. If people leave here absolutely buzzed and jazzed, hopefully it'll travel. That's why social media is so important when people say how confident and smiley they are because of The Whitening Co. It's awesome.
VG: I think that whitening has an opportunity to make people more aware of their teeth. They'd been more inclined to take care of them, making them something to be proud of.
KA: It's also cool how The Whitening Co. have someone like Ruby, who has a dental background. She's not out there telling people what they need done, but it's cool that she can give that friendly advice.
It's scary, right? People just don't like the dentist. Coming in here and getting advice on that sort of stuff is like an entryway into dental and oral health.
The Whitening Co. has a whitening kit people can use at home. Can you talk about these?
VG: The kits are a little bit different to the stores. You can plug them into your phones or any electronic devices. They're good for travelling. By using the phone battery, it's actually 1.5 times stronger with its UV light. The stronger the light, the faster the chemicals in your mouth will work.
KA: Even the way we sell them is different. We have a voucher system too and a discount for influencers and their kits. In store, they sign up to get a voucher sent to them, which is a different experience. The discount system was a bit of a push in the market, whereas this voucher experience allowed them to feel like they were getting something physical, as opposed to a discount.
How did you go about getting your kits out there, but also customers in your stores too?
VG: Kennedy owns a social media marketing agency. I own a full-service digital agency, so between us this has been an on-going conversation.
KA: Between us, it's our main goal to get people in. We know the customers well, because we are the customers too. We use a lot of influencers on social media. We've maxed out on the influencers, it feels. They're sharing, following and we've even had a couple get kits sent over to Aussie too.
There's a misconception about influencer marketing where it doesn't have the backing after the influencer first comes in, but that comes back to re-marketing and pushing the content through them.
VG: We've set up the infrastructure for a large routine model too. We know how to engage people when we need to. It all comes back to a broader strategy, though. You've got to pick the market and follow it up with all the right key messages.
Where would The Whitening Co. want to expand to?
VG: We've had a strategy meeting internally about if we'd like to expand to Australia, and the answer is, we'd love to! Going further than that, we'd think there's a bigger opportunity for the NZ market. I think we're sitting in a nice niche market over here.
When we decided to have a second store, we decided on a 10 store strategy, so if we're going to roll that out, we want to head to every major city.
KA: If customers get the experience of coming into a store plus having results that actually work – that's a win-win. And it's not overly expensive, which is great.
You offer a wide range of teeth whitening packages. Can you explain what they are?
KA: We've got The Confidence Package which is what we invite our first-timers to do. It's an hour-long package and is priced at $229. It gives you two 25 minute sessions. You lie down, you put the gel on, zone out and Ruby will come along halfway through to take off the gel and then reapply it.
We have so much saliva in our mouths, that when the saliva mixes with the gel, it dilutes it, so we reapply to make sure that the customer will get the most out of the hour possible. The next package is the Touch-Up, which is just that first 25 minute block. We recommend that package for the regulars.
The next is the Double Deal. The Double Deal is an awesome experience for you and your partner where you can keep the curtain open and have some fun. It lets the two of you get what you would from The Confidence Package at a bit of a cheaper rate of $399 together.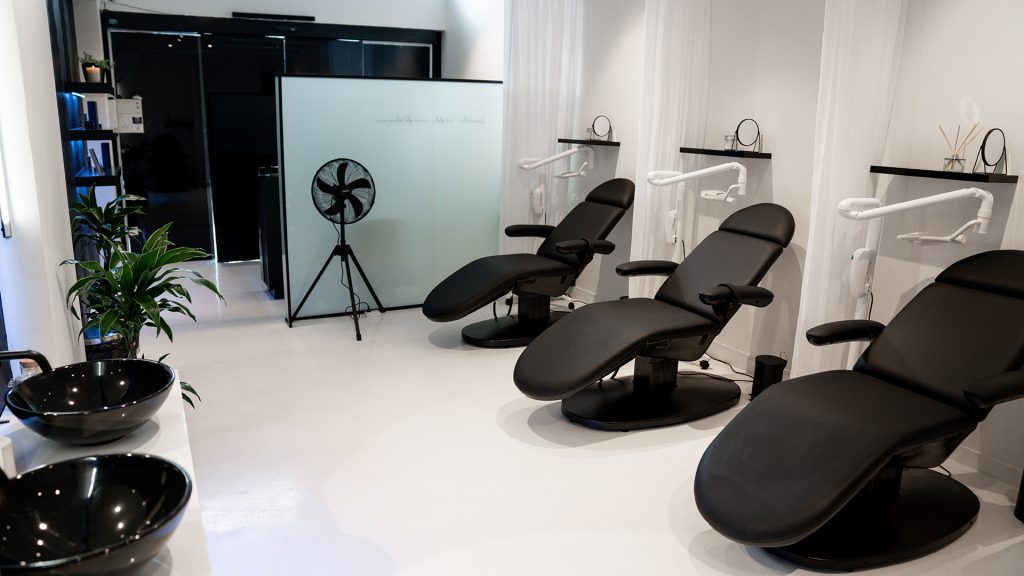 The next one is the Package Deal, which lets you buy the Confidence and the Touch Up all in one. It's a guarantee for people we know are going to come in later, for a cheaper rate.
Finally, the Wedding Package is a four-person minimum package (it could be more), where we block off the afternoon for you, get a bottle of Champers, and girls or guys can come have fun and get their teeth whitened for their wedding. It's definitely not just for brides and grooms, though. We've had a lot of people enquire about non-wedding events and we absolutely say yes.
What exciting things have you got planned for the future?
KA: The expansion, it's limitless. We've got so many plans and strategies in place at the moment to keep growing. There are a couple of things that are in the pipeline as far as new products. There's some exciting things on the horizon.
VG: We've been exploring since the first round of products. We just want the best whitening experience. The second we nailed that, we're now going, what's the next thing?
KA: We had to redesign and rethink when we moved into the Takapuna store. We have a little bag, called The Whitening Co. Instore Kit, which we don't sell, but we needed to decide what went into it and what we can sell that will go back to the consumer. It's super on-brand too, down to our dental bibs and sunglasses. Everything is black, which was very hard to find as well. Ruby's outfit, dental masks, all were designed by us.
It is quite a cool experience. We just want to keep that buzz going at the moment and everyone seems to be talking about us. We're young guys running a beauty store, which is a slightly different avenue, as well as being young Kiwis creating a brick and mortar store.
Everyone is talking about how eCommerce is so easy to jump into. It's not that easy, but we're taking it one step further. At the beginning, it was sort of a joke, but I got a call from Victor being like, 'So, we've got a lease'. It was a little idea and then in two months, we had a store.
VG: The Eden Terrace store was very daunting, because of the time we needed to turn everything around in. We wanted it to be really exciting. We learnt a lot from the first store and this is how the Takapuna store came about. We then want to build a third store from what we learned.
KA: The design in the Takapuna store is very much closer to us. The Takapuna one was a blank canvas at the start, so we got to fully deck it out as we see The Whitening Co. Takapuna as our flagship. When we had moved into Eden Terrace, we had more of an epic location to work with.
VG: Before we started the company, the goal came from the idea to help all people with their confidence. I hope we can help people do just that.
The Whitening Co.
8 Hurstmere Road, Takapuna
Open Tuesday to Saturday (Closed Sunday Monday)