For as long as we have been conscious of the effects of petrol emissions have on our environment, gas guzzling pick up trucks have been squarely in the cross hairs of environmentalists looking to see changes implemented. As a result, EV manufacturers have been doing their part to change the narrative and make sure the beloved model survives the ongoing transition from gas to electric.  
The latest presentation from Ford Motors is one that has already turned heads, as the concept looks to entice traditional pick up fans by dressing its future-thinking mechanics with a design clearing paying homage to an iconic model from the past. Calling upon the services of MLe Race Cars and utilising a Roadster Shop custom-built chassis, the Ford F-100 Eluminator was unveiled as part of last week's SEMA Show in Las Vegas and adopts the retro design of a wonderfully nostalgic custom 1978 F-100 pickup, while modernising the classic look with the same e-crate battery and motors used in Ford's already popular 2021 Mustang Mach-E GT Performance Edition.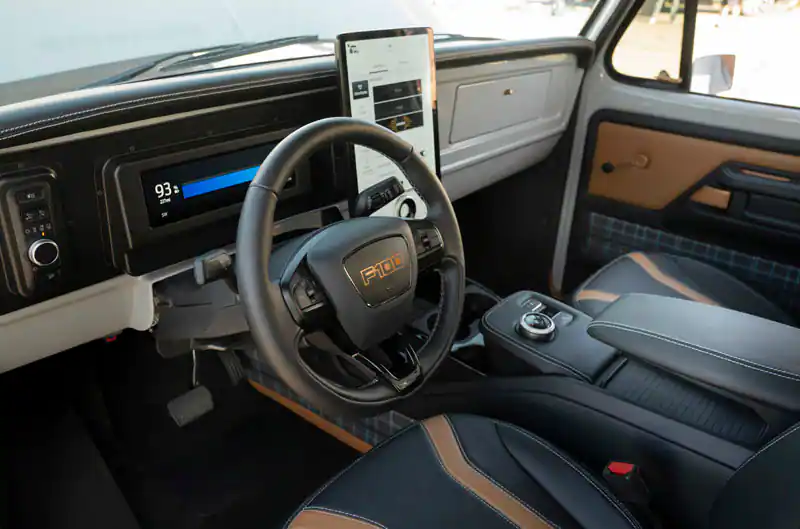 The interior of the car gives away its modern identity, with a classy modern tanned leather colour scheme and aluminium dashboard, as well as adopting the Mach-E's stylish center touchscreen (weren't many of those around in the 70's). The concept car was made primarily as a showcase for the e-crate 'Eluminator' motor, which is currently being produced and sold separately to customers looking to build or customise. The 281-horsepower motor has already proved immensely sought after, selling out just days after the SEMA Show despite retailing at a fairly pricey $3,999 USD, a positive sign both for Ford and proponents of the EV push in general. 
Ford Global Director of Vehicle Personalization, Accessories, Licensing and Performance Parts (now that's a job title) Eric Cin stated in a press release that the vehicle F-100 Eluminator "is a preview of how we're supporting customers as they go all-electric and embrace zero-tailpipe emissions performance, even for our heritage vehicles." The Eluminator concept demonstration is another step in Ford's ongoing effort to generate anticipation towards the eventual unveiling of the highly-anticipated F150 Lightning, which we expect to see at some point in 2022 
While it is yet to be seen whether pick up truck drivers will be jumping to 'get with the times', so to speak, and make the switch to EV but it seems from the manufacturers end, one thing is becoming clear; Ford and other major brands are pulling out all the stops to satisfy the demands of those who might be skeptical. 
Images courtesy of Ford Motors