Winkl is quickly disrupting one of our most clunky and inflexible industries – the mattress sector. Expensive offerings, slow delivery times and an old school shopping experience prompted ex–KPMG business strategist, Simon Sheterline, to change things up, and not only is he helping the New Zealand market sleep a whole lot easier, but he is using his business as a way to give back to the community. Winkl supports our vulnerable Kiwi population, plus any returned mattresses are donated to the Salvation Army. 
And while Winkl has seen exponential growth and proven itself in the market, Simon put everything on the line to get it going. He shares with us his drivers, the highs and the sleepless nights involved in disrupting an industry.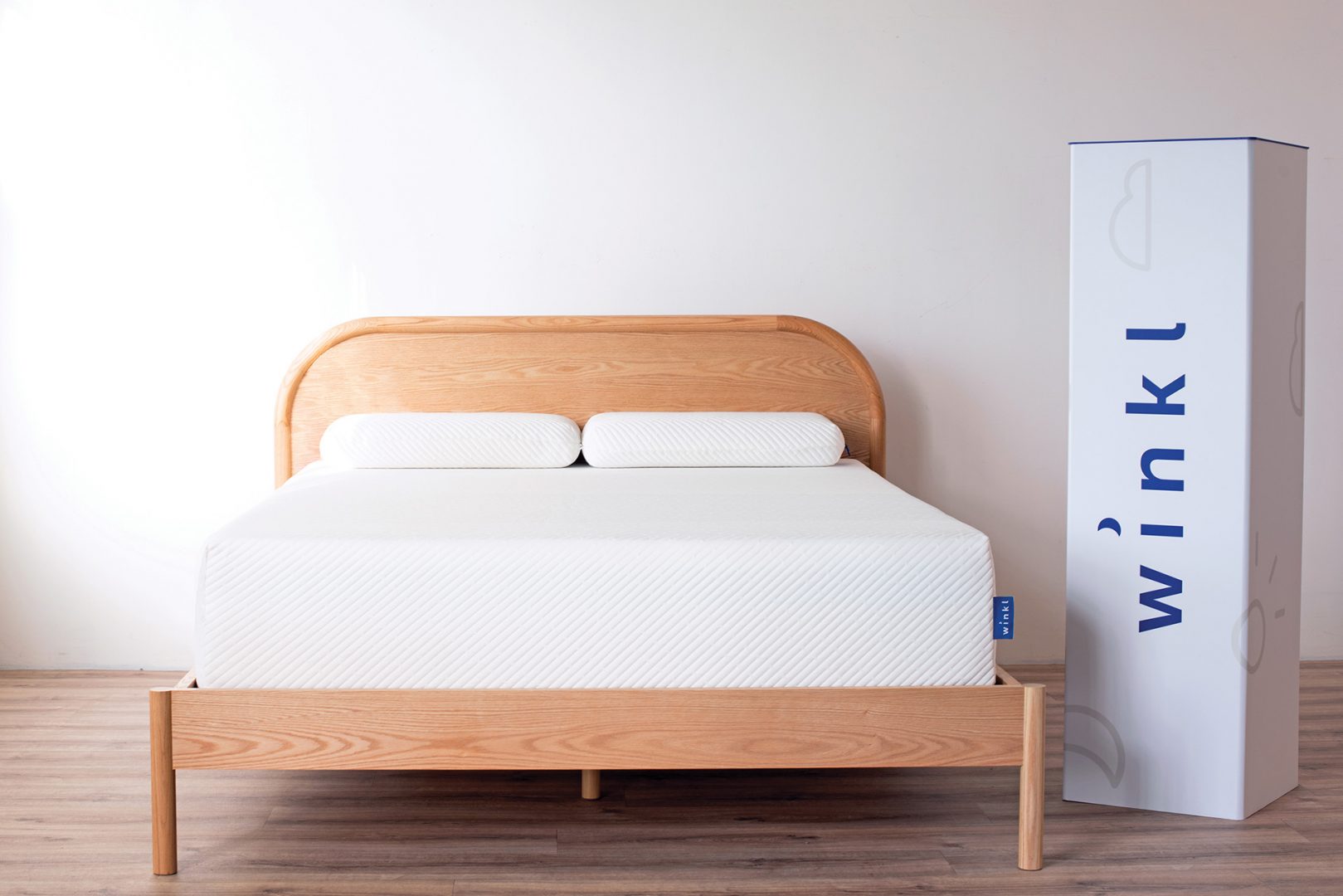 Can we start off with the mattress industry – is it a little bit broken?
I definitely think so. Think about the last time you bought a mattress. You're off all weekend, visiting bed store after bed store, trying bed after bed. It's a super long, time consuming process. While your buddies are watching football and having a pint on a Saturday, you're hanging out with pushy sales guys pitching you space grade technology and other things that don't help you sleep. 
After your third weekend, you reluctantly decide to buy one. Then, as you're paying, the guy tells you it'll be four to six weeks before you get it. It also costs another $150 to get delivered unless you can transport it yourself, which no one can. Once the mattress is home, you sleep on it and after a couple of nights, you realise, after spending about $4,000, it isn't comfortable and you can't return it. 
From a customer perspective, I just don't know how that's a thing in 2021. It's clear the industry has lost touch with what is good for consumers and focused on the pursuit of profits for too long.
How have you found the process of fixing the industry?
It's had its challenges. Finding someone to make us a product was hard. One of the things we wanted to do was manufacture onshore, but when we reached out to industry, funnily we found nobody really bought into our vision. In most cases, there was little appetite to produce a mattress-in-a-box and we experienced a lot of radio silence. That meant we had to go off shore to find people willing and able to produce the product for us. 
This wasn't an easy decision but we made it with the customer in mind and it's turned out to be a good one because we've been able to greatly reduce manufacturing costs. We've then been able to reinvest the savings back into the product and offer really high quality mattresses at much lower prices.
We've had cease and desist letters thrown at us and leaders from competitor companies trolling our social media pages, which was a bit of a laugh. But we wear this sort of stuff like a badge of honour. It tells us we're on the right track. 
There have of course been other challenges, such as launching right before Covid. Having limited capital is always a challenge. Building trust in the market is tough early on and so is getting the product and your advertising right. Preparing the family for entrepreneurship was important. 
But none of these challenges were insurmountable. You can move forward through them as long as you have a plan.
You mentioned this inertia that seems to be there within the industry. Is it like this mattress mafia? 
Yeah, that's one way to describe it. We sometimes use the term 'Big Mattress Incorporated'. The category in New Zealand is dominated by one or two big players. They own all the big retail brands and a lot of the retail stores. They also control manufacturing, from raw materials to finished goods. This gives them quite a bit of power. 
It's been this way for a long time and the result is Kiwis are paying high prices and huge retail mark-ups for a relatively simple product. We found a mattress in one store on sale for $15,000. It's not unusual to pay well over $6,000 or $7,000 dollars for a good nights sleep. We think it's time this changed.
You have talked about having to put everything on the line to do this. What was it about the state of the industry that got you so riled up that you would make such a change to your lifestyle and your career, and put everything at risk?
It was driven by a combination of personal experience and my background. I felt, as a Kiwi consumer, trying to quickly find a mattress that gave me a great sleep at an affordable price was just about impossible. We seemed to be always trading off quality for price, which didn't seem right. That's what piqued my initial interest. 
Then, because of my time as a strategy consultant, I couldn't help but dig into the value chain to understand why things were so hard and prices were so high. It became immediately clear there were opportunities to completely eliminate parts of the traditional mattress model and optimise others for cost. 
Experience has shown me that designing the value chain with customer outcomes in mind can lead to good results. And ultimately a fairer, more equitable outcomes for the customer, which I guess is what got me really motivated in the end.
The more you uncovered about the industry and this mafioso structure to it, did you really feel like there was an opportunity for someone to come in and disrupt the industry?
Yeah absolutely. Our hypothesis was if we focused on three things – making mattresses better to buy, better to try and better for your wallet – we could be quite disruptive. So we eliminated the retail stores and made Winkl mattresses available online only. They're delivered free to your door anywhere in the country. They're also delivered in under 12 hours in some areas, which means you can wake up one morning, order your mattress and sleep on it that night. 
We also thought if we could make trying a mattress less risky, that would be really beneficial. So we let customers try ours at home for 120 nights to make sure they're comfortable. If you're uncomfortable for any reason, we pick up the mattress and donate it to charity on your behalf. Which is great because it gives somebody in the community a shot at a good sleep and keeps waste out of the landfill. Then we refund all of your money. 
This new approach makes for a quick no-risk buying experience. It takes us to a world where mattress buying can be quick, cost-effective, a little bit of fun, and something that you can be emotionally connected to in a positive way.
What's the return rate like?
Great question! We pay plenty of attention to this number. Our aim when it came to the product was to simplify. We did away with all of the pointless technologies that don't help you sleep and all the confusing firmness variations to offer a mattress we believe is suitable for the majority of Kiwi sleepers. Keeping in mind our four month return policy and the cost associated with it, this was a big risk. 
Rather than setting out to become mattress scientists and polymer experts, we took a data driven approach to our design. We looked at the data available online in terms of what consumers were saying in their reviews about leading mattresses. This gave us a view of what people did and didn't like to buy. We looked at competitor reviews and comparison websites from the US and UK. They had done really, really in-depth breakdowns and reviews of various mattress types, so it wasn't hard to see what was good. 
It was obvious there was one firmness that 85% of the market liked, and there were only two or three things that you really needed to make a mattress that felt good to sleep on. We just put all those things together and launched it. Since then, we've served thousands of happy customers, had hundreds of five-star reviews and we've got a very low return rate.
If we go back a few years, when you were in a high flying position at KPMG. Could you ever imagine the future where you'd be looking at polymers and general sleeping habits?
To be honest, I never really thought of myself as a good fit for the corporate world because I like to do things my way. Toward the end of my time with KPMG, I was finding I wasn't adding as much value as I like, which was red flag. This lead me to start looking for opportunities and analysing categories, but I definitely didn't see myself landing in the mattress space!
Leaving the security of my career was a real thing, but I left it chasing fulfillment and new opportunities.
What do you think it was that enabled this belief or this internal strength to make that leap into the unknown?
Aside from believing in the opportunity, it was probably a bit of fear and a bit about breaking free from normality. The idea that you're born, you get educated, you work really hard for somebody, then you retire and expire is scary to me. Sometimes it feels like we're almost forced down that path and I'm the sort of person that, if forced to do something, will probably end up trying to do the opposite and that's how I was feeling at the time, so here I am. 
I also didn't find working my way up a corporate ladder was leading to a better life. Just more taxes. So I decided I wanted to stand on my own two feet and see what I could achieve. We certainly left a comfortable security blanket. Getting my partner Nikki and our two kids on board was understandably challenging. 
The day I told her we were giving everything up to get into mattresses was a bit of a WTF moment. Telling her we were going to sell the house to fund the business was an even bigger moment, but I never saw this as a risk, just a way to free up cheap capital and get moving. Her support and belief has been a great source of strength and all is working out well.
Instead of selling their house, some entrepreneurs might spend their time on an IM and find some VCs or angel investors to put some money in. Did you consider that side?
Yes, but it's hard to find capital when you don't even have a product. Each path comes with its trade-offs and it depends what you are trying to achieve. You can put together a good pitch deck and go through the process of getting investment from VCs, which is certainly good if you want to front load your growth and accelerate things. But, after all your blood, sweat and tears, it comes at the cost of your equity. 
The alternative is you work on good unit economics, be patient and boot strap your way up, which is what we're doing.
On one hand, you're working with this high growth capital and on the other hand, it's your skin in the game. Do you imagine that there is a psychological difference in how you treat the money?
I think using all your own money brings less pressure because you only have yourself to answer to. But, having VC or other people's money at stake would drive positive action and can create an additional layer of good pressure. It provides a sense of, I've got to do well, I've got to look after the people that are backing my idea. 
Getting them a return on their money is important and an obligation, especially if you went out and asked for it. It's not quite the same when it's all your money.
Were there things that surprised you about jumping in and creating your own thing?
One surprise that comes to mind is the amount of inertia working against you. There are constant cost pressures, customer pressures, internal pressures and fires to fight. At times it can feel like the whole world is working against you and you just can't work out why.
There are also a lot of naysayers out there when you're trying to do something new and different. It's not easy getting people on-board with a new idea, like not trying a mattress before you buy it. Pushing through the doubt this creates and doing what you know is right is key.
I've also learned that partnerships are a great way to go fast, but they take time, patience and compromise. It takes a long time for a partnership to gel and work for both teams. At times it may seem like they aren't paying your business enough attention, but keep in mind they aren't there to bring your vision to life. They're on their own mission, chasing their own goals and you have to support them with this.
Bottom line is you have to push hard if you're going to achieve whatever it is you're trying to achieve. And I think unless it's hard, unless you're feeling like you've got to push and you're feeling like everything is working against you, you're probably not doing something new and different.

Where do you think the drive comes from? Are there some days where you just want to stop?
Not so much with me. I tend to like the pressure and sense of achievement. The more pressure I get, the harder I want to push and test myself. That said, some days I struggle to get out of bed, but mainly because of a lack of sleep, which is ironic. You know what it's like working late, being up all night with young kids and having the business on your mind.
If I think about what's driving me, it's lots of things. My early childhood was full of uncertainty. We grew up in South Auckland where money was tight. So there's a healthy fear that pushes me to work hard so I can provide a great life for my family and friends. My mum was diagnosed with cancer in her thirties and battled the disease until she passed in her forties. Making her proud is always front of mind. Her journey taught me what determination and resilience is all about. This also pushes me today to make sure my family have everything they need to be okay.
The idea of creating jobs is also a great source of motivation and so is giving back to the community that helped bring me up.
It seems like entrepreneurs are really passionate about using their skills for wider impact. Are you starting to see that?
That's an interesting question. After completing my MBA I found myself at an inflection point. Asking how I could have a wider impact and if a non-profit path would be better than a commercial path. But the non-profit space looked hard and felt constrained by funding, politics and other issues.
It kind of also felt like I'd only be able to give my time. Whereas with business, I felt if I had a good idea and built a company on sound commercial principles, I could generate cash and direct it to community initiatives that were meaningful to me. So I ended up falling on the commercial side of the coin.
Today I'm able to channel profits from the value we create at Winkl into our community through partnerships with the Salvation Army and the National Kiwi Hatchery Aotearoa, which is awesome.
Building brands that improve the local economy, community and environment excites me a lot and I do think there are more and more entrepreneurs out there excited by this opportunity.
See Inside Our Recent M2 Magazines