Sam Dunleavy, Te Motu Vineyard    
Sam Dunleavy is part of a new breed of winemakers. One that has access to a level of innovation, technology, marketing and distribution like never before. Yet at the same time he is carrying on a generational legacy with methods set in place by his father John, uncle Paul, and grandfather Terry. Methods and an approach to winemaking that has helped establish Te Motu Vineyard as one of Waiheke Island's defining vineyards.  
Where did your inspiration to become a winemaker come from? Was there an epiphany moment you can recall?
My inspiration to become a winemaker came from my family. My grandfather, uncle and father started Te Motu and built it up to what it is today. My passion to carry on their hard work into the next generation is my inspiration. I did have an epiphany moment. This was when travelling in Europe, seeing old French and Italian winemaking regions, and meeting families that have rich history and tradition in the region with their vineyards and wineries handed down generation after generation. This spurred an emotion in me to carry on our family vineyard and traditions for the next generation.
Describe an average day in winemaking …
For me there is no average day at Te Motu. Being a small family run operation we all do a bit of everything. Whether it's in the vineyard, winery, office or on the tools with building maintenance or fixing tractors there's usually a bit of all of that mixed into any given day.
Where is the growth?  If you are talking about scaling up, is that still within the tourism market or is there potential for further export?
For us growth would be starting to explore export markets. This, however, would require an increase in our production, as currently the majority of our wine production is sold onsite at the cellar door and restaurant. We still have more plantable land on Waiheke, which is good as not a lot of people have that. But also, we have our family vineyards in Marlborough, so we could look to move into different varietals for export potentially down the track. I believe tourism will just scale naturally with the steady increase already shown on Waiheke, through promotion individually and from Waiheke as a whole to the world.
You seem to have a really collaborative relationship with other wine makers, is there a competitive element in there as well?
Well I guess there is always an underlying competitive element with your mates. However, on Waiheke we are more about collaborating together to share ideas and build our brands as a whole, rather than keep all the secrets to ourselves. We have all got our unique vineyards, viticulture and winemaking techniques, so that shows through in the wines no matter what.  No two wines are going to be the same.  You are always going to have that difference. To be able to help out your peers and try and figure things out for the greater good of the Waiheke region, I believe is good. We've got a pretty tight knit crew here on Waiheke, especially with my generation of wine makers coming through now.
What was the hardest moment in your winemaking career?
The hardest moment in my winemaking career came a few weeks ago. My father retired from the vineyard and winery for the first time since he, my uncle and grandfather started it 30 years ago. He has physically built Te Motu from the ground up, made stunning wine for 25 years and is now handing the reins over to me to carry on. Seeing him step off the property to retire from Te Motu has be the hardest moment in my career so far, and not in terms of the extra responsibility I now have but more witnessing the end of his era.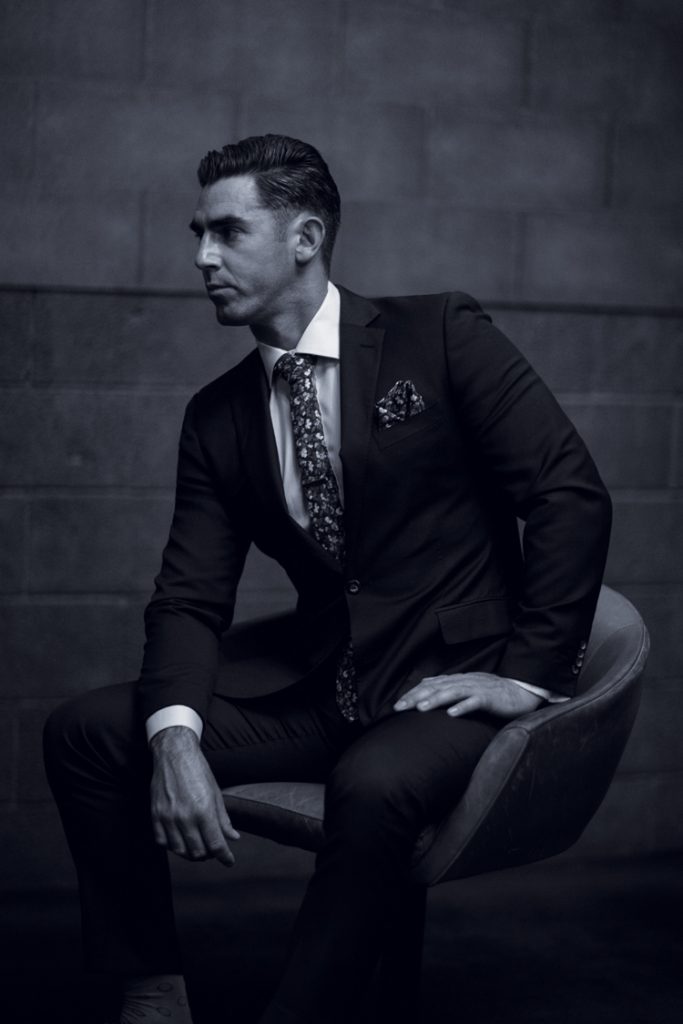 I guess there is an element of legacy, so there is a lot of responsibility on your shoulders. Do you feel that weight? 
Yeah, 100%.  It is a huge weight on my shoulders.  Each one of my grandfather, uncle and father had their role to play in building Te Motu to where it is today. My father's role was the hands on one, the viticulturist and winemaker. That is the area of the business that I have taken over now, and Dad has made some pretty outstanding wines throughout those years and always been meticulous at what he does. It is a pretty huge thing to take that over after 30 years. Not everyone has the opportunity to be able to carry on a legacy that their family has started. I feel quite privileged in that regard. I'm looking forward to bringing new ideas and innovation but still honouring the old ways as well.
What is the secret to a healthy relationship within family businesses?
I think compromise and understanding. Understanding how each different person in the relationship thinks and operates and respecting that. Then compromising when and where it needed and not getting too hung up on small things, rather just agree what is best for the business as a whole and carry on. Easier said that done however! I think anyone with brothers and sisters understand it's not always that straightforward.
With most businesses you have your 5 year and maybe 10 year planning if you are really longsighted with something like this where you are talking generational impact, does that change your time frame of planning?
When my uncle first had the idea to start a vineyard, his idea was to be able to provide a business for the family generations to come, to have employment and be able to work and take over. He has always had the view and the dream of knowing it is likely not going to benefit him immediately, but it will benefit his family and our family later on in the piece. That is the thing with vineyards – it takes a long time to build up, a lot of time, hard work and money, to get to a point where it can then be sustained and passed over.
It is a pretty amazing concept to think about business in that way. Do you think that other businesses need to take on that approach as well? Do you think that things would be more sustainable across the board if we were all thinking like that?
Haha. I don't think the generational business model would be sustainable for any business intending to make money any time soon! But if that is not the intention then yeah, it brings great culture and history. Our specific business model is a bit different to anyone else on Waiheke as well. We intentionally hold our flagship wines back for a minimum of three to five years in bottle, rather than releasing them immediatly. The concept is providing the customer with a wine that has had time to develop which when tasted alongside some of our earlier release styles, enables you to see how our wines progress over time. It was tough financially in the eary years as you obviously have limited wine avaliable for sale. But like the generational model there comes a time, which for us is now, where you have a cellar full of aged wines to share. Not a lot of wineries can offer that because their earlier vintages have sold out a long time ago.
Was the strategy behind that to increase the value or was it really to have that competitive edge, or both?
There was always a strategy, but it was more of a philosophy. From the onset the family set out to make premium wines from the traditional Bordeaux grape varietals of Cabernet Sauvignon, Merlot and Cabernet Franc. And like the Bordelais people, we believed Cabernet Sauvignon dominant wines get better with age. We wanted to release our flagship wines when we believed they were starting to show their best. Ironically, that philosophy has now developed into a competitive edge for those customers that enjoy aged wines of our style, and those who haven't had the opportunity to taste older Waiheke wines and now can do so at our cellar door at Te Motu.  With regards to value, there is always value in quality aged wines that are rare, because at the end of the day there is only a certain number bottles and once they have gone, they're gone.
Are there easier ways to make money?
There are much easier ways to make money!  This is not that model. It comes back to the old generational investment really and legacy. And if you don't see that as your goal at the beginning, I don't think it is something that you want to get into.
Do you feel the pressure to raise winemaking children so that they can carry it on?
My parents always told me that don't feel you ever have to stay and do the viticulture and winemaking thing just because we have done it, you have the freedom of doing whatever you chose to do. That is the best way to do it, because if you are pressured into something generally you don't want to do it.  The key is having freedom of choice I believe. I went off and did a sports science degree at Otago University and then went traveling and then when I was travelling I realised that the vineyard was where I wanted to be. When you have seen the world and you realise how good you've got it back home and where your roots are, it draws you back and it happens organically. When I have kids, if they get keen to carry on that direction that is awesome, but I don't think they should be pressured.  It needs to happen organically otherwise it won't be right.
Which wines have you been most proud of?
From my career to date I am proud of all the wines I have been involved with alongside my father and the rest of our team involved. If I had to choose one currently it would be our 2017 late harvest Cabernet Sauvignon Rose. It was a first for us at Te Motu so was somewhat of an experiment and we were unsure how it would be received. I wanted to make a sweet wine with fresh acidity that could be enjoyed with delicious cheeses and desserts. It has turned out to be one of our best sellers, so I guess the experiment was a success.
What was the best piece of advice you've ever been given?
The best piece of advice I have been given in respect to winemaking is from my father. He has always told me that the more you do to a wine the more you take away from it. Do the hard work in the vineyard to get the best quality grapes you can, then assist those grapes through the winemaking process to give the best expression you can of your unique terroir and style. Not surprisingly, his advice has become my winemaking philosophy.