Sneakers can be an expensive obsession. Every true sneakerhead knows that you've got to fork out some serious cash to get the real prized pairs, especially ones that are limited edition or game-worn. Your average buyer might spend a few hundred bucks on a really nice pair, but hardcore collectors will happily go into the thousands and at the very, very top, seven-figure trades are beginning to become more and more commonplace as the trend only grows in popularity. Of course, when it comes to sneakers, no name holds more gravity than Jordan, Michael Jordan to be exact, the basketball legend who has particularly become synonymous with the word 'sneakers'.  It makes sense then that a pair of Nike's worn by Jordan himself in one of his first games on an NBA court just became the most expensive sneakers every sold at auction, drawing a staggering price just shy of $1.5 million USD.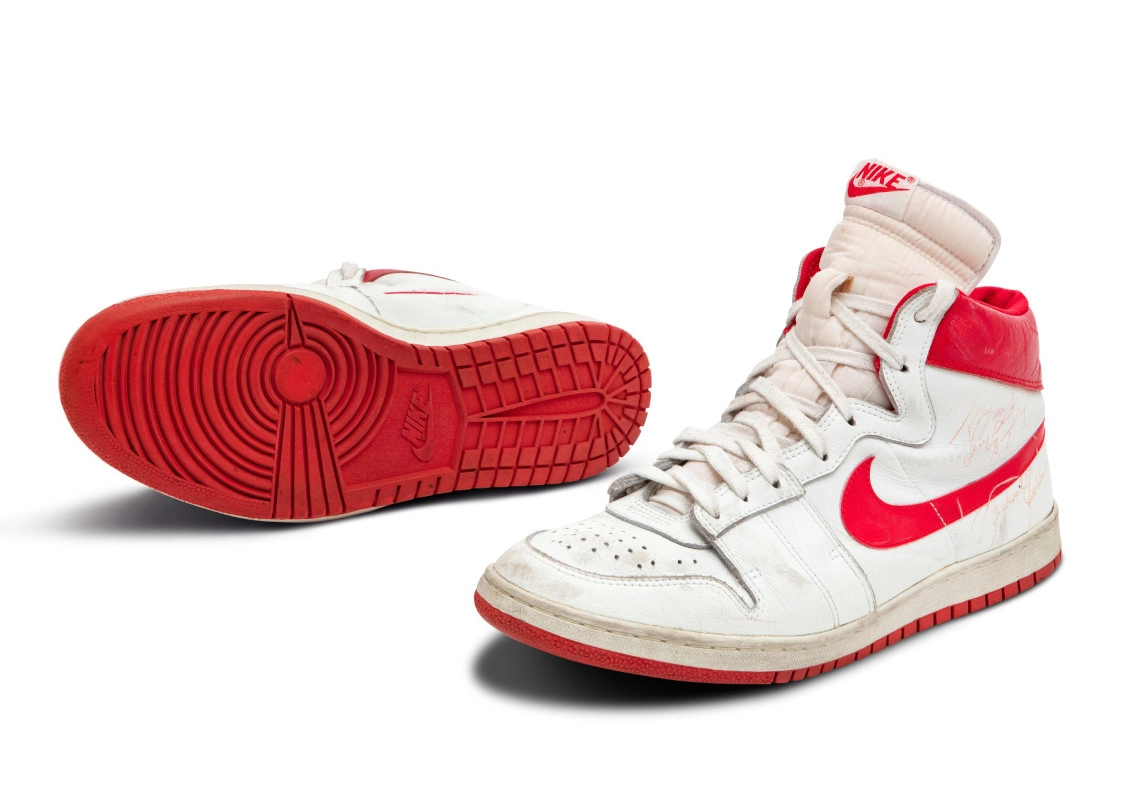 The autographed white and red size-13 Nike Air Ships were donned by Jordan in just his fifth game for the Chicago Bulls in his rookie year in 1984. If you're wondering why he was not wearing a pair from his own Air Jordan range, the answer is that at that time, Air Jordan was yet to come to fruition, though the aesthetics of the Air Ships inspired the eventual design of the original Air Jordan I's later that year. The pair were first gifted from Jordan to then-Denver Nuggets ballboy Tommie Tim III Lewis following the game. They now fall into the hands of prolific collector and insurance CEO Nick Fiorella, who came away from the Sotheby's auction with a $1,472,000 (around $2,055,000 NZD) hole in his pocket, but a unique piece of sport and fashion history in his possession. The sale smashed the previous record for most valuable sneakers sold at auction, a pair of Air Jordan 1 High's (also worn by Jordan himself, naturally) which went for $615,000 USD at a Christie's auction last year.  
Extortionately expensive sneaker sales are becoming far more common place in recent times, for which there are many possible contributors (repeated celebrity endorsement, a cultural trend towards casual dress codes in general, etc.). It's also probably worth noting that the kids who grew up idolising the '90 basketball stars that made their signature sneakers so desirable are now the young CEO's of the day with all the expendable cash. Whatever the reason may be, we can probably expect this record to be short-lived, as there will no doubt be another game-worn pair floating out there right now with even more staggering value and a sneaker-crazed billionaire with enough change in his pockets to meet the price. For those without a spare $2 million to spend on a pair of Nike's, I think you can get a nice pair of online for about 100 bucks (although I cannot confirm whether Jordan himself wore all those ones too).
Images courtesy of Sothesby's